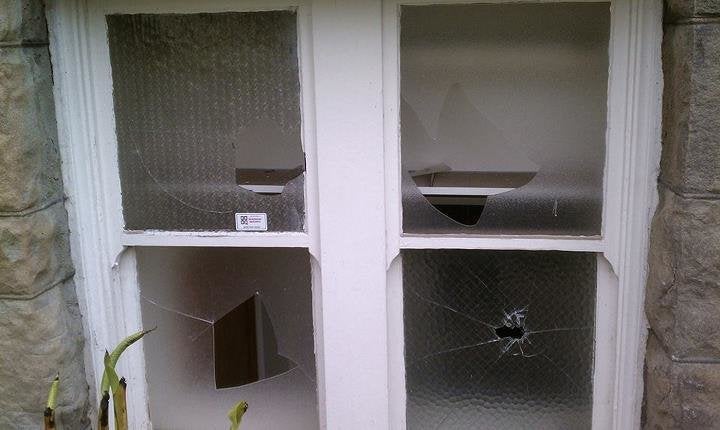 By Stephen Beaven
Religion News Service
PORTLAND, Ore. (RNS) A satellite church affiliated with controversial Seattle pastor Mark Driscoll was vandalized early Tuesday (April 24) and a group calling itself the "Angry Queers" has reportedly taken responsibility.
Stained glass and other windows were broken at the Mars Hill Church, according to a post on the Facebook page of Pastor Tim Smith.
"Neighbors of the church reported seeing several young adults in black masks throwing large rocks into the windows," a church news release said. "Police stated that a bank in the area was also vandalized in the same way and that they believe the vandalism was planned ahead of time, most likely by an activist group."
On Tuesday, KPTV FOX 12 reported it had received an email from someone using the name "Angry Queers" and claiming responsibility.
Mars Hill Portland opened last October. During the first service, protesters gathered in front of the church and yelled obscenities at worshipers to speak out against the church's stance on homosexuality.
Mars Hill Church was founded in Seattle about 15 years ago by Pastor Mark Driscoll, who preaches against homosexuality and believes it's a sin.
In his Facebook message, Smith encouraged church members to continue their work.
"The good news is our church is off to a great start," he wrote. "A few piles of broken glass doesn't change anything for us."
The Rev. Chuck Currie, a liberal Portland pastor who has criticized Mars Hill's theology, nonetheless urged that the vandalism be treated as a hate crime.
"If Mars Hills Church represents the worst of Christianity, and I believe it sadly does, those response for this attack represent the worst of Portland," Currie said.
(Stephen Beaven writes for The Oregonian)
Related
Popular in the Community