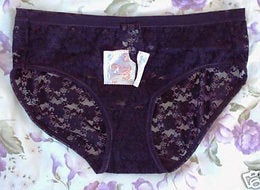 An Australian woman has taken revenge on her cheating husband by putting a photograph of his lover's underpants up for sale on the auction site eBay.
In the listing the woman says she is selling a picture of a pair of lacy black knickers and an empty condom wrapper "size small" found in her bed after her husband had an affair with another woman.
The seller -- identified on eBay only as annastella007 -- provides a rather unflattering description of the knickers.
"They are so huge I thought they may make someone a nice shawl or, even better, something for Halloween perhaps."
Click here to see the eBay listing and read the entire saga.
Popular in the Community