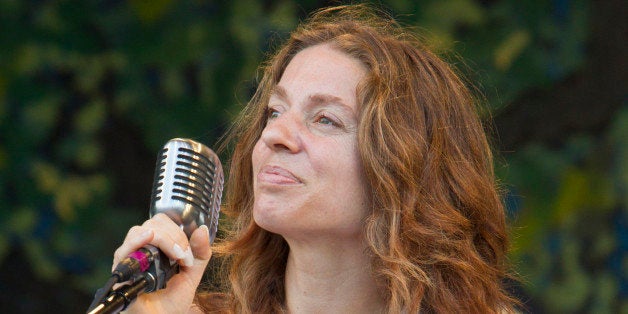 The year isn't closing out smoothly for Ani DiFranco. Not only did the feminist icon incite significant public outcry for spearheading a songwriting retreat on a former slave plantation, the apology she issued this morning isn't going over well.
The singer's four-day Righteous Retreat was to be held at Nottoway Plantation, a hotel in Louisiana. Writing on her website today to announce its cancellation, DiFranco said she initially accepted a promoter's invitation simply to host a retreat near her house in New Orleans. The idea appealed to her partly because she "could potentially come home to my own bed each night."
Once she found out the specifics -- that the site was in fact a former slave plantation -- she didn't change her plans. Instead, the songwriter wrote:
"When i [sic] found out it was to be held at a resort on a former plantation, I thought to myself, 'whoa.'"
So begins what critics are calling "a remarkably unapologetic apology." In a message posted on her website today, DiFranco announced that she didn't expect the location would "trigger such collective outrage or result in so much high velocity bitterness."
Instead, she said she expected participants -- each paying more than $1000 for intimate workshops with DiFranco and a few other songwriters -- to accept a harsh truth: that "the history of slavery and exploitation is at the foundation of much of our infrastructure in this country." Her hope, she wrote, was that "the setting would become a participant in the event."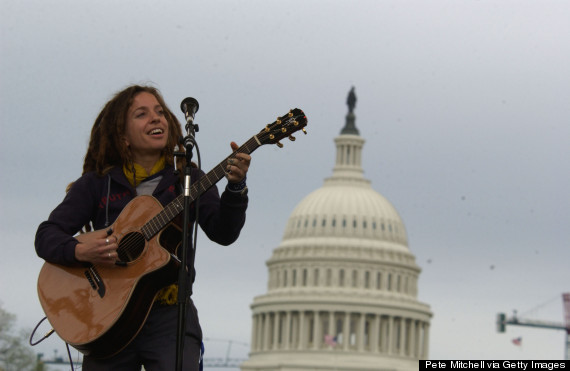 Ani DeFranco performing during March for Women's Lives on the National Mall Washington, DC USA April 25, 2004 at the National Mall in Washington, DC (Photo by Pete Mitchell/WireImage)
On the face of things, Nottoway seems like the last place that would appeal to DiFranco, a singer who has made themes of equality her material.
"Tours are given daily, and you are invited to sample the absolute delights afforded the white slave owners who once resided in the massive opulent home. Like all former plantations turned educational sites, the information about the lives of the men and women enslaved there focuses on how nice their master and mistress were to them."
The text on the official Nottoway site reinforces this characterization, referring to the slaves once housed on the premises as a "willing workforce":
"Ever the astute businessman, Randolph [Nottoway] knew that in order to maintain a willing workforce, it was necessary to provide not only for his slaves' basic needs for housing, food and medicine, but to also offer additional compensation and rewards when their work was especially productive."
Then there is the fact of the plantation's current owner, the Paul Ramsay Group. Paul Ramsay himself, an Australian billionaire, has a track record of making lavish donations to Australia's overtly homophobic and sexist right-wing party.
That intel, DiFranco wrote, "does disturb me. but it also begs further questions: who are all the owners of all the venues i or any other musician play? the performing arts centers? the theaters? the night clubs? i bet there are a lot of rich white dudes with conservative political leanings on the list."
Some are defending DiFranco's reasoning. "Her blogpost is not simple... and is not glossing over anything," writes one Jezebel commenter. "She basically asks how far her responsibility should go in these matters."
Others find little mystery in that question. Toshi Reagon, a black lesbian folk musician, and close friend to DiFranco, wrote on Facebook that she also heard about the specifics of the site after agreeing to participate in the retreat. Where DiFranco equivocated, Reagon was firm. She did not want to go through with it:
"I don't like big white buildings -- you can call it a mansion all you want -- I just say it's the big house... Even though I never had to pick cotton -- whenever I see places like that -- I feel like I can see people picking cotton. So I never would want to be at Nottoway... I would never want to sing there."
Popular in the Community