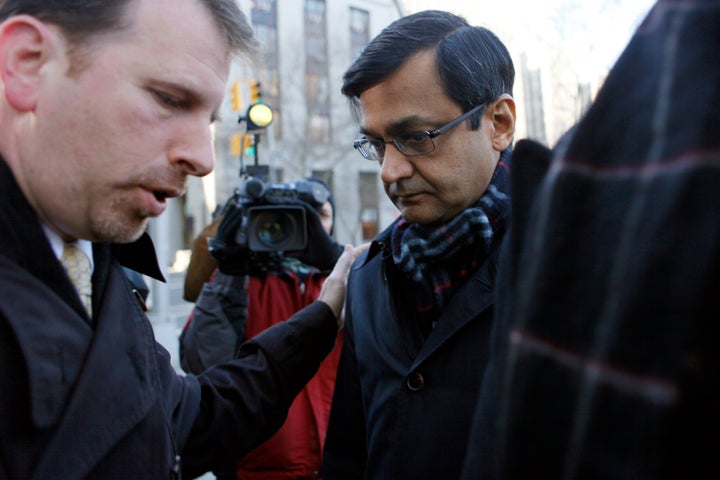 * Kumar to be sentenced Thursday, faces up to 25 years
* US praises Kumar for testimony against Rajaratnam, Gupta
* Kumar pleaded guilty to helping Rajaratnam
NEW YORK, July 16 (Reuters) - A disgraced former McKinsey & Co partner whose testimony helped convict Wall Street giants Raj Rajaratnam and Rajat Gupta on insider trading charges deserves leniency at sentencing because his cooperation was exceptional, federal prosecutors said
In a letter to Judge Denny Chin on Monday, Manhattan federal prosecutors said that Anil Kumar's cooperation was "nothing short of extraordinary."
Kumar, 53, is expected to be sentenced on Thursday in Manhattan federal court. He is among a handful of people who, after being charged criminally, chose to plead guilty and help prosecutors and the Federal Bureau of Investigation in their wide-ranging probe of illicit trading on Wall Street.
"From the first day of Kumar's cooperation through the present, he's been one of the best and most important cooperating witnesses that the (prosecutors) working on the Rajaratnam investigation have worked with in securities fraud cases," the letter said.
In the letter, prosecutors said Kumar was essential in helping the government improve its case and convict Rajaratnam and Gupta, "two of the most important securities fraud trials in history."
They said Kumar's testimony at the successive trials of the two men was particularly convincing because he had opted to turn against one person who had been his friend for over 25 years, and the other who had been his mentor at McKinsey.
Galleon-group hedge fund founder Rajaratnam is serving an 11-year prison term after being convicted last year.
Gupta, a former board member at Goldman Sachs who headed elite business consultancy McKinsey & Co for nine years, was convicted in June. He faces up to 25 years in prison when he is sentenced in October.
Kumar's lawyer, Gregory Morvillo, declined comment on any sentencing submission by Kumar's defense because it had not yet been made public.
"We are very pleased that the United States Attorney's Office thought so highly of Mr. Kumar's cooperation," Morvillo said. "We think it is a very strong letter."
Kumar, as part of an agreement with prosecutors, pleaded guilty in January 2010 to one count of conspiracy to commit securities fraud and one count of securities fraud tied to feeding Rajaratnam secret stock tips. The charges carry a combined maximum of 25 years in prison.
Known as a "5K1" letter, Monday's filing is standard. The letter tells the judge in the case whether the defendant fulfilled the terms agreed to in his cooperation agreement with prosecutors, and if so, how much assistance he provided and at what personal cost.
It is then up to the judge to decide whether to credit the assistance and give the defendant a break in his sentence.
In fact, as is common in these types of cases, Judge Chin may opt to impose only a very light prison term on Kumar, or may decide that no prison time at all is warranted. Kumar is free on bail and lives in California.
Last month, Adam Smith, a former Galleon employee turned government cooperator, was sentenced to two years probation by U.S. District Judge Jed Rakoff in Manhattan. Rakoff also oversaw the Gupta trial.
The case is USA v. Anil Kumar, U.S. District Court, Southern District of New York, No. 10-cr-00013.
Calling all HuffPost superfans!
Sign up for membership to become a founding member and help shape HuffPost's next chapter
BEFORE YOU GO