Like thousands of race horses born into the "sport of kings" every year, Dr. Drip was a magnificent Quarter Horse. With an impressive pedigree, he was born April 15, 2004 and destined for greatness.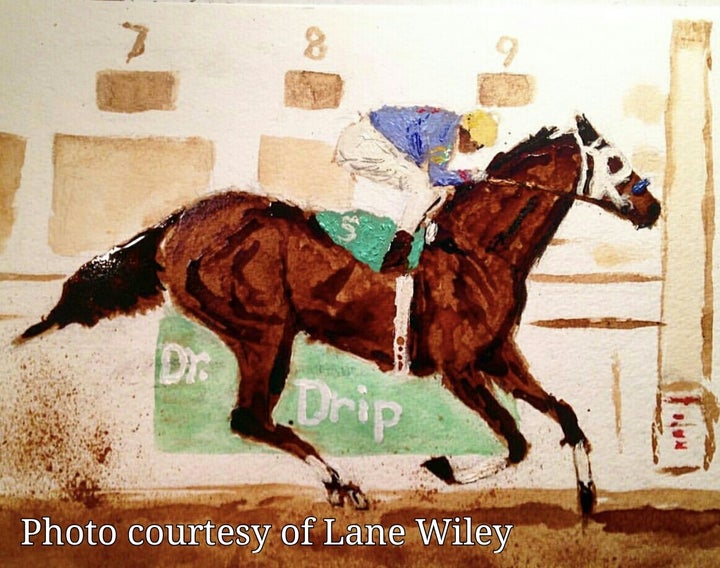 Indeed, his training yielded victories and prize money many would be proud of. As a Multiple Stakes Winner , Dr. Drip earned over $254,000.00 during his racing career and ran his last race in 2014. Despite his great accomplishments, like thousands of other race horses across the United States, Dr. Drip was only a means to an end, as his sole purpose was to earn money in the multi- billion dollar Louisiana horseracing industry. Unlike some that enjoy a permanent retirement, Dr. Drip represents the majority of race horses that are discarded after their money-making days are over.
He was passed from his owner to an individual, for what could have been his retirement. But tragically, he later passed through other hands and was lost to unconscionable suffering from neglect and abuse that lead to his tragic death in Opelousas, Louisiana this past summer. Please note that it has not been confirmed publicly what the specific substance is that is referenced to have been put on Dr. Drip's wounds that are shown in this link.
"On behalf of thousands of concerned citizens, we hope the story of Dr. Drip's needless suffering and death will help to promote change in the legal system through continued public involvement and to bring justice to Dr. Drip and other neglected, abused animals in Louisiana and across the country.", said Kim Sheppard, of Pegasus Equine Guardian Association.
St. Landry Parish Sheriff Bobby Guidroz stated "On June 26, 2017, an arrest has been made in connection to a felony cruelty to an animal complaint of the retired local race horse, Dr. Drip. On June 20, 2017, St. Landry Parish Animal Control notified Sheriff's Office of a possible animal cruelty complaint. An anonymous source told Animal Control that a horse was severely malnourished. Detectives drove to the land and assisted Animal Control in locating the horse. The horse was malnourished to an extent that the vast majority of the rib bones of the horse were easily observed. The horse had several saddle sores along the back area of the horse and a substantial amount of maggots and flies populating were on the saddle sores. Detectives were able to contact the land owner and gave authorization to enter his property in order for the animal to be seized by St. Landry Parish Animal Control. Local veterinarians affiliated with the Acadiana Equine Hospital, examined the horse and began treatment for the ailments. On June 21, 2017, Animal Control contacted the Acadiana Equine Hospital and informed them the horses condition had worsened. Another examination of the horse was conducted and the determination was made that the horse should be euthanized. The horse was euthanized by the examining doctor. Saint Landry Parish Animal Control began their investigation obtaining statements from the parties involved and the case was found to be a felony criminal act.", Guidroz stated.
St. Landry Parish Animal Control officer Stacey Alleman indicated her office completed a thorough and detailed report on the condition of Dr. Drip and that Jermaine Dewayne Doucet Jr. (18) was given a citation under Louisiana Animal Cruelty statutes for 1)no water, 2)molded hay and 3)withholding proper veterinary care from the emaciated, neglected horse.
The case was then turned over to the St. Landry Parish Sheriff's Office Detective Section where two detectives were assigned to the case almost a week later. Guidrozs' report indicated that the horse was purchased by the care taker of the land for Doucet and that he agreed to Jermaine's horse to kept on the land. On June 26, 2017, Doucet was interviewed at the St. Landry Parish Sheriff's Office and indicated he owned the horse and he was arrested.
At the 3 month mark after Doucet's arrest, some continue to ask if justice is really being served with only the sole arrest of an 18 year old who lived in an impoverished community and had little or no financial means to care for or feed the horse long-term. "231,000+ citizens don't think so. They have signed a petition (readers here may also sign), urging Saint Landry Parish law enforcement to investigate and prosecute all parties who may also have culpability in the abuse and neglect of the horse," Sheppard said.
As of the writing of this article, only Doucet has been arrested and charged with Felony Cruelty to Animals, with a bond set at $5,000.00. Some are asking if the person who helped obtain the horse for Doucet and allowed him to keep the horse on the land he leased and reportedly kept horses on was thoroughly investigated.
Ms. Alleman indicated Dr. Drip was reportedly seen being ridden within days before he was discovered and that he was so weak, he was unable to move his tail to swish flies. She advised that even the underside of his body was covered with open sores and that the attending veterinarian directing his care administered fluids and removed many maggots, that witnesses described as audibly chewing at the flesh in his wounds.
Alleman further advised the emaciated horse was transported to the Saint Landry Parish Animal Control shelter to stay overnight. She remembered that one thing Dr. Drip appreciated upon his arrival was a simple tub of cool water that he would drink from and put his head in.
An equine intensive care facility with the capability to meet Dr. Drip's unique veterinary medical needs reserved a spot for his further care. He was to be transported from the shelter to the facility the following morning. But the neglect and abuse he had endured took its final toll. Though he held on and waited for someone, anyone to come sooner, it was too late, even though caring humans surrounding him in his last hours tried to help him. The next morning when he was to be transported to the icu, Dr. Drip collapsed and the decision was made to humanely euthanize him.
Due to the egregiously cruel circumstances surrounding Dr. Drip's suffering and death, concerned citizens strongly urge the courts to deliver maximum sentencing for already established felony charges by Saint Landry Parish law enforcement, as well as investigate other parties that may have culpability in these heinous crimes against Dr. Drip, whose identity was only traced by the tattoo in his ulcerated lip, According to Alleman.
How could this happen? Sadly the horses running on a track one day, with cheering crowds adorned in fancy attire and hats and enjoying champagne celebrations, may be gone, instead of retired in the weeks following their last race. If injured or not winning, they are simply dispensable. Some go to slaughter and can be seen at auctions including Dominique's Livestock Market in Opelousas, LA often on a weekly basis. It is important to note that some former race horses have been discovered with the tattoo either cut or burned out of the lip and the only way to identify them might be by their markings.
Like Dr. Drip, some horses are given away with no known paper trail and end up in neglectful or abusive situations. It is believed that the 13 year old former race horse gelding may have been in a thin state months ago and that he continued to suffer and waste away, with no shelter or reprieve from the heat, still with shoes nailed on his hooves; when he was discovered by authorities the day before he was euthanized.
Though he is pictured in the lower right hand corner below, there are many Dr. Drips, but some are not racehorses. They actually are of every size, shape and breed and are sometimes left tied or confined with little or no food or water or shelter from the elements to simply suffer and die alone, or even amidst other dying animals. This has also happened in Texas and Florida with the recent flooding, requiring animal control workers and volunteers to work around the clock to help as many animals as possible.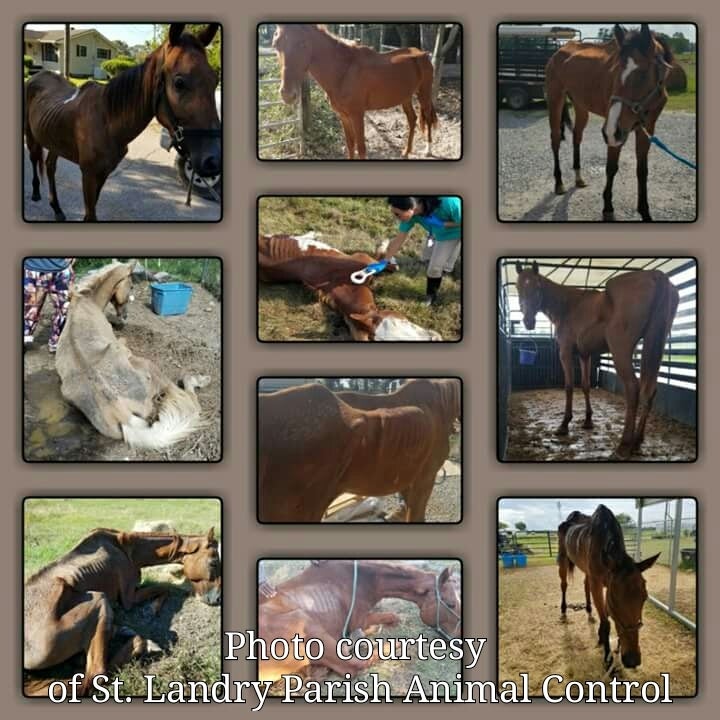 "If we trade places with them, imagining how they feel- hungry, thirsty, afraid, alone, sick, injured and in pain, we might better understand how they are sometimes finally overcome with defeat in a world of apathy that forgot and failed them. Some just give up, knowing no one cared or came to their aid soon enough.", Sheppard said.
Regarding progression of the neglect abuse case involving Dr. Drip, a concerned advocate received a long awaited status in August in an email stating, "The case is in the district attorney's hands. If you call 337 948-3041 and ask for Donna Slate she might be able to give you and others more information. If she denies receiving the file, let me know and I can send you verification. Bobby J. Guidroz, Sheriff".
It was verified that the preliminary file for review was turned over to the office of District Attorney Earl Taylor. However, neither office has been able to provide any further updates on the case. Concerned citizens would like the St. Landry Parish Sheriff's Department to work with animal control, as well as the District Attorney on this and every case, including those never investigated or prosecuted in St. Landry Parish.
If you witness abuse or neglect of any kind to any animal, please call your local animal control agency and your sheriff's office or 911 as needed and document all reporting attempts to authorities until the situation is addressed. Removing the animal(s) from neglectful or abusive situations, along with possible criminal investigations and prosecution of culpable parties, according to state and federal law may be needed.
St. Landry Parish Animal Control advised, "No one person can battle ANIMAL CRUELTY ALONE. It takes us all. It takes concern, compassion and commitment. To be better. To want better. To do better...REPORT ANIMAL ABUSE".
When agencies do not handle these cases, not only do the animals continue to suffer, but it is now recognized by leading sources that there is a strong correlation between animal abuse and neglect and similar pattern dangers to humans because the behaviors are a symptom of character flaws or underlying mental illness.
Please follow and share this article series, it will include updates on this important case. Future articles will discuss how animal abuse is often handled in our legal system, along with more information on horse racing and other animal welfare topics.
Related
Popular in the Community