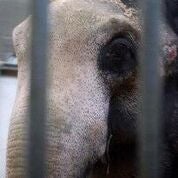 Animal advocates from In Defense of Animals and Free the Oregon Zoo Elephants are urgently calling on citizens to plea for the life of beloved elephant Packy, following a leak of the Oregon Zoo's apparent plans to kill him. An elephant keeper and another Zoo employee, calling themselves "Team Packy", have exposed what appears to be a closed-door, lethal discussion between the Oregon Zoo management and Metro Council.
A statement by the keeper on a dedicated Facebook page reads, "It appears Zoo Management and Metro are about to make the decision to put Packy down and this decision is not based on science, safety or Packy's best interest. It is a risk based decision made by politicians, attorneys and other officials who fear the future repercussions of keeping him alive."
54-year old Asian elephant Packy is the oldest known Asian male elephant in North America. He was diagnosed with tuberculosis in 2013 but reportedly shows no signs of suffering from the disease. According to his keeper, "Packy has yet to show any symptoms or signs of being ill. So should they really be considering euthanasia if he has the disease, but is not sick?"
In answer to someone who asked if Packy is in any pain or suffering, the zoo answered, "Packy has never shown any signs or symptoms of the TB infection. He is showing no signs of pain or discomfort. He is active, playful and engaged with keeper staff every day." The Zoo's own Facebook page repeatedly corroborates the absence of signs of illness in Packy, and in December a Zoo official told the Portland Tribune, "Day to day he doesn't appear to be suffering…" "If Packy really is not suffering, the zoo owes him hospice, not death," said In Defense of Animals President, Dr. Marilyn Kroplick. "Research shows that elephants are self aware and conscious animals. Oregon Zoo brought Packy into the world and profited from him; now they need to provide the care he needs."
If Packy is killed he will be zoothanized, not euthanized
"Make no mistake, this would not be 'euthanasia' but 'zoothanasia,'" said Toni Frohoff, Ph.D., Elephant Scientist for In Defense of Animals, referring to the controversial practice of destroying animals who are considered surplus to zoo breeding programs because of age or genetics. "Euthanasia is killing out of compassion to alleviate an individual's suffering. This does not appear to be the case for Packy."
Marius, the young giraffe who became the "poster corpse" for zoothanasia
I coined the word "zoothanasia" to refer to the egregious practice of killing otherwise healthy animals because zoos often need more room for other animals who they can force to breed to make more individuals who will spend their lives in cages. The "poster corpse" for this egregious slaughter, some rightfully call murder, is Marius, a young giraffe who was heartlessly killed because he didn't fit into the Copenhagen zoo's breeding program. Marius was killed although there were facilities that had offered him a home. For more on the topic of zoothanasia please see "Killing Healthy Animals in Zoos: "Zoothanasia" is a Reality," "Zoothanasia" Is Not Euthanasia: Words Matter," and many links therein. Zoos do indeed kill otherwise healthy animals. While cute and charismatic Marius became the "poster corpse" for animals needlessly killed in zoos, the routine slaughter of thousands of other healthy sentient beings goes unnoticed as business as usual. For more discussion of the sad fate of Marius and other examples of needless and heartless zoothanasia at the Copenhagen Zoo please see Ian Parker's "KILLING ANIMALS AT THE ZOO and for more on the topic of killing animals in zoos please see "How many healthy animals do zoos put down?"
Frohoff continued, "In Defense of Animals is demanding that the Oregon Zoo immediately produce Packy's clinical veterinary records, which would detail his actual health status. The Zoo is responsible for providing Packy with the best quality of life for as long as possible, and the only way to ensure that is through complete transparency and accountability to the public."
Courtney Scott of Free the Oregon Zoo Elephants said, "We join the efforts of Packy's keepers in trying to stop any plans to destroy Packy for no other reason than convenience. His keepers are arguing that he is not suffering, protocols are in place, and the keepers have requested few reasonable modifications to keep him from infecting others. If Packy is not suffering, he should not be killed."
Team Packy has raised concerns that "We keepers spend more time with the elephants than any of the decision makers I mentioned before but our wants and wishes and suggestions are not being heard." The keeper made an impassioned plea for the public to help stop an "irreversible mistake" being made. "If you agree that putting down an animal who has a disease, but shows no signs of feeling ill is as disturbing as we do, we ask you to let everyone know how you feel in emails of protest to the Metro Council and Zoo Director."
While In Defense of Animals and Free the Oregon Zoo Elephants does not support the keeping of elephants in captivity in zoos, they commend the compassion and professionalism shown by "Team Packy" for supporting Packy's right to life and by being transparent with the public that funds this zoo with tax dollars.
Please contact Oregon Zoo, the Zoo Foundation, and Metro Council to plea for Packy's life: Oregon Zoo's Director, Don Moore, 503-220-2450; Metro Council President, Tom Hughes, 503-797-1989; Oregon Zoo Foundation Communications Coordinator, Rita Paolo, 503-220-5771.
Killing healthy animals in zoos isn't a myth, it's business as usual
Zoos, as long as they exist, must be for the animals who are forced to live there, not for the people who visit or run them. We really need some radical changes now that emphasize how important the life of every single animal living in captivity is. Glib excuses for killing any individual must be countered and zoo personnel (and others including those who write for mass media) must refer to the animals as who they really are, not as disposable, unneeded, or surplus objects "that" don't, for example, fit into their breeding programs, programs that don't really do much if anything for the individuals themselves or for others of their species.
Given what is known about Packy, he must not be killed. Period.
Marc Bekoff's latest books are Jasper's Story: Saving Moon Bears (with Jill Robinson), Ignoring Nature No More: The Case for Compassionate Conservation, Why Dogs Hump and Bees Get Depressed: The Fascinating Science of Animal Intelligence, Emotions, Friendship, and Conservation, Rewilding Our Hearts: Building Pathways of Compassion and Coexistence, and The Jane Effect: Celebrating Jane Goodall (edited with Dale Peterson). The Animals' Agenda: Freedom, Compassion, and Coexistence in the Human Age (with Jessica Pierce) will be published in April 2017 and Canine Confidential: An Insider's Guide to the Best Lives For Dogs and Us will be published in early 2018.
Calling all HuffPost superfans!
Sign up for membership to become a founding member and help shape HuffPost's next chapter
This post was published on the now-closed HuffPost Contributor platform. Contributors control their own work and posted freely to our site. If you need to flag this entry as abusive,
send us an email
.