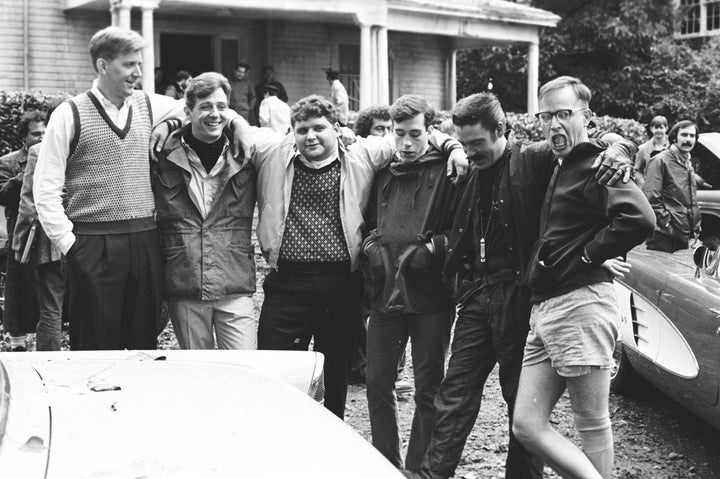 We published the first issue of the National Lampoon in March of 1970. The early writers included Doug Kenney, Henry Beard and Michael O'Donoghue. Over the years such writers as P.J. O'Rourke, John Hughes, Larry David, Christopher Cerf, John Weidman, Ted Mann and many others would start their careers at the magazine. O'Donoghue would go on to be the head-writer and creator of Saturday Night Live, editors Al Jean and Michael Reiss would later produce The Simpsons for more than 15 years. Jim Downey would replace O'Donoghue as head-writer of Saturday Night Live and continues in that position. The last editor of the magazine before I sold control in 1989 was Larry Sloman, who went on to write a number of best sellers, as did Tony Hendra. There were many more who went from the Lampoon to dominant film and television comedy. In 1975, we put Doug Kenney, actor/writer Harold Ramis and short story writer Chris Miller together to write the first National Lampoon film. Their first pass was about life in high school but there was too much drinking, sex and other assorted behavior so we moved it to college using Miller's Lampoon short stories about his fraternity life at Dartmouth as the basis.
The result: National Lampoon's Animal House. The movie cost $2.8 million and grossed, all in, something like six hundred million dollars. For more than 34 years, Animal House has led every poll and survey taken to select America's most popular comedy.
Fat, Drunk and Stupid [St. Martin's Press, $25.99] is the story of how the picture got to be made, was made and released with enormous success. The book is filled with anecdotes and stories about the people who made the movie and the audience that reacted to it. For the first time, scenes that were cut from the script and the film are written about and selections from proposed sequels are included.
The book has already received rave reviews from newspaper, radio and television critics all over America.
PHOTO GALLERY
Animal House
REAL LIFE. REAL NEWS. REAL VOICES.
Help us tell more of the stories that matter from voices that too often remain unheard.