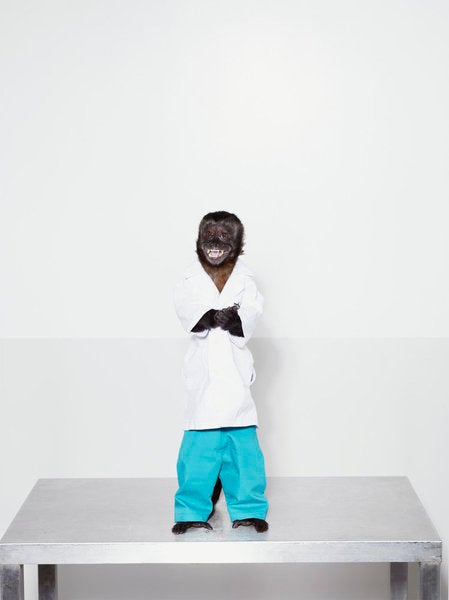 The group took to its website to denounce the comedy:
"Animals who are thrust into the spotlight of Hollywood are deprived of everything that is natural and important to them throughout their lives," PETA wrote. "In fact, many of the telltale signs of animal distress and anxiety can be seen throughout NBC's show. For example, the "smile" that Crystal exhibits on the program is actually an expression that typically indicates fear or aggression in capuchin monkeys. Capuchin expert Dr. Eduardo Ottoni states, "[S]ince we do not usually understand their communicative behaviors properly, fear, submission, or avoidance displays can easily be mistaken for 'smiles.'"
Experts also warn that featuring animal actors often leads to a dangerous trend of misguided enthusiasts purchasing, and later discarding, the featured animals. Such was the case for dogs after the release of 101 Dalmatians and Beverly Hills Chihuahua, owls after the first Harry Potter movie, and even capuchin monkeys after Crystal was featured in The Hangover Part II."
Elsewhere, producer Gavin Polone ("Gilmore Girls," "Curb Your Enthusiasm") wrote a scathing indictment of the series for Vulture, criticizing the show for "irresponsibly exploiting" Crystal:
[T]his social creature has been doomed to an unnaturally solitary life in an unsuitable environment, so that it can be trained to look as if she is laughing at the unfunny jokes made by the characters on this unfunny show while what she really may be experiencing is high stress.

I asked Primate Veterinarian Dr. Mel Richardson to watch the "Animal Practice" pilot for his take on Crystal's seemingly jocular mannerisms and he said, "Crystal's natural response to a threat, sometimes called a fear grimace, has been reinforced and used in the show. This expression is often interpreted by the uninformed as a smile or laugh. But during her training, at some point the stimulus of fear had to be introduced. Though I don't know how Crystal was trained, typically they use intimidation to get [monkeys] to make the open-mouth expression."
"Animal Practice" premieres September 26 at 8 p.m. ET on NBC.
PHOTO GALLERY
NBC's New Shows
REAL LIFE. REAL NEWS. REAL VOICES.
Help us tell more of the stories that matter from voices that too often remain unheard.