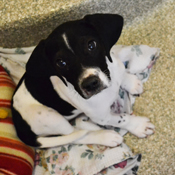 Hamlin was a dog nobody wanted. One of a litter of four unplanned and unexpected puppies, he was born in a backyard in West Virginia to a mother of no specific breed. We decided he's a "mixed hound," but that's really anybody's guess. His owner placed a free-to-good-home ad on Craigslist and, one by one, Hamlin's siblings drove off to unknown fates. Maybe the homes really were good. But if you work at an animal shelter, as I do, you tend to be pretty cynical about Craigslist homes.
No one came for Hamlin. And that may have been the best thing that could have happened to the puppy. As a last ditch effort, the woman who placed the online ad called the local animal rescue group. They came and collected Hamlin, who was just 12 weeks old at that point.
The rescue group, Potomac Highlands Animal Rescue (PHAR) consists of a small, all-volunteer cadre of deeply committed animal advocates. They find abandoned dogs in the woods and take others off of chains when owners move away and leave their pets behind. They carry armloads of cats out of hoarders' trailers. Living where they do, they can hardly go to the local grocery store without returning with a few "free" kittens or a lost dog.
The supply of homeless animals there, as in many rural communities, is endless. Sadly, the supply of adopters is not. In fact, that is almost non-existent. So for years now, PHAR -- along with quite a few other groups -- has been bringing animals to our shelter in D.C. Hamlin arrived on October 7.
Hamlin represents what, in my opinion, is the biggest problem today in animal welfare: too many animals where no one wants them and too few where they do. Hamlin had the misfortune of becoming one of the hundreds of thousands of surplus dogs and cats in the United States. Shelters like ours, and groups like PHAR, work hard to change that equation and move the surplus to where the homes are. There is no other option besides euthanasia.
The next day, the puppy met the first veterinarian he had ever seen. Looking Hamlin over, that veterinarian met a lot of giardia and other parasites that he had seen all too often. But after a few days in our Medical Center, Hamlin was given a clean bill of health and moved to the adoption area, where he had a clean bed of his own, toys, regular nutritious meals, and even an education of sorts. Our behavior and training team makes sure that puppies in their formative months get off to a good start by introducing them to lots of different people, a variety of dogs, and things like umbrellas and wheelchairs so that they grow up to be confident and well-socialized pets.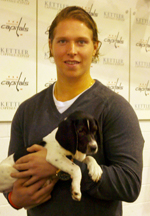 That's standard practice. But Hamlin got in some extra-curricular activities. The Washington Capitals hockey team called to say that they were producing a calendar to benefit the League, and Nicklas Backstrom needed a puppy to pose with. So here's Hamlin with the Capitals' beloved center and alternate captain.
And Hamlin's education included an additional unit on Cultural Traditions of Post-Modern America. Here he is learning about Halloween.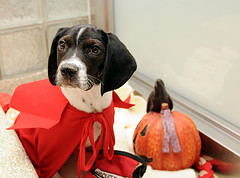 It was this second photo, appearing on Facebook and Flickr the day after the photo op with the Capitals, that won Hamlin his current -- and permanent -- home. In a coincidence almost too good to be true, he now lives on Hamlin Street in the District with a young family who is glad to have him. He's no longer the dog no one wanted; he's got a devoted family of his own now. After his whirlwind journey through the pages of Craigslist and as poster dog for the Capital's 2012 calendar, he can get down to the serious business of being a really great dog. One anybody would want.
Popular in the Community