Human-animal reunions are issues of the heart and based on deeply shared emotions
A new Nature TV program called Animal Reunions (please also see) is one of the most outstanding and fascinating films I've seen in a long time. It will air Wednesday, March 30, 2016 at 8pm (ET) on PBS (please check local listings).
The forthcoming documentary's description says it all:
What happens when people are reunited with the wild animals with which they forged a deep bond years ago? Will these gorillas, elephants, cheetahs and chimpanzees still recognize their human caregivers and how will they react? That is the premise of this program which also raises the question whether wild creatures can really experience emotions like joy, devotion, and love. It's a debate that many animal lovers are convinced is true and the scientific community is beginning to accept. Animal Reunions -- narrated by actor Richard Thomas -- contains interviews with scientists, authors, and caregivers including scenes of their journeys to reconnect with their former wild charges.
The filmmakers introduce Damian Aspinall, a millionaire entrepreneur and conservationist, who now runs the family animal sanctuary in England called Howletts Wildlife Park. Aspinall views the animals in his care as friends and believes he gains a gorilla's trust in the same way he would a human's, by treating it with kindness and as an equal. Despite his attachment, Aspinall believes animals have a right to live in the wild if protected, so the program follows the journey of seven captive-born gorillas to a West African national park. The story is revisited five years later when Aspinall arrives to try and find Kwibi, one of the male gorillas.
Likewise, wildlife cameraman Kim Wolhuter says he had to establish trust with a cheetah to develop a bond with the fastest mammal on earth. It took 18 months, but his persistence paid off until she disappeared one day prompting Wolhuter to set out to find her. Another segment profiles Dr. Rebeca Atencia, a vet who cares for sick and orphaned chimpanzees with the aim of returning them to the wild. She attempts to reunite with a female chimp named Kudia, with whom she formed a maternal bond, two years after the latter's release in Congo's wild forests. The film also covers the reunion of former head keeper Edwin Lusichi, who spent 16 years rehabilitating orphaned elephants, with two of his favorites now in the process of beginning their reintroduction into the wild.
Animal Reunions includes the insights of several experts such as noted ethologist Dr. Jane Goodall who maintains it was crucial for her to establish a trusting relationship with wild chimpanzees or she wouldn't have been able to observe them. Her long-term studies led to a new way of thinking about the emotional capacities of animals. In a touching sequence, a chimp initiates a long hug with her when being released into the wild, but Goodall admits she still doesn't know what motivated the primate. Marc Bekoff PhD (My Bionic Pet, Animal Odd Couples), Professor Emeritus, Ecology & Evolutionary Biology at the University of Colorado, agrees with Goodall, but believes the chimp's gesture is clearly "an indication of an incredible bond." Science writer and author Virginia Morell comments that we humans "want to know what animals think and feel" and the information gleaned from these animal reunions is a step towards trying to answer these questions.
"It's you, it's really you!"
As I watched this film, the story that ran through my head and heart is that the animals were saying something like, "It's you, it's really you!" Clearly they had long-term and fond memories of the humans with whom they had formed very close and deeply meaningful relationships. As Virginia Morell notes, Animal Reunions gives the animals their own biographies.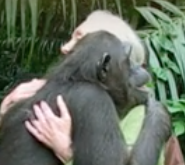 The film ends with Jane Goodall meeting and saying goodbye to a chimpanzee named Wounda (Wounda means "close to dying"). You can watch this incredible scene here. Jane had only known Wounda for one hour! Bring the tissues!
The science of animal reunions
Viewers will not only see amazing and heartwarming scenes of formerly captive animals reuniting with their human friends, but also listen to informed discussions about some of the latest research on rehabilitating deeply traumatized animals and the heartfelt and rich emotions ranging from joy and happiness to deep grief that are shared between the humans and the nonhumans. Rehabilitation is a two-way street as the humans give the animals deep love as they work closely with them, and the animals return the love with total commitment. It's also clear that these and other animals are distinct individuals with their own personalities. (For more on what often are called "odd couples" please see "Odd Couples: Compassion Doesn't Know Species Lines" and "Odd Couples Redux: Animals Make Friends with Other Species.") There is no need to embellish other animals, because research clearly shows how they've evolved advanced cognitive abilities and a wide-range of emotions.
Socialization and domestication are not the same thing. Another very important point made in this film is that these and other animals are not domesticated, but rather socialized to humans. Domestication is an evolutionary process so, for example, a wolf who forms social bonds with humans is socialized -- a domesticated wolf is a dog.
One question I continually asked myself is is it fair to form deep and meaningful bonds with needy animals, release them into the wild, go see them again, and leave them once more. I honestly go back and forth about this situation, but it's clear that in the examples used in this film, the animals were doing well after being released and there is no indication that the reunions had any ill effect.
Animal Reunions is a must-see for audiences of all ages
A film such as Animal Reunions is just what is needed as attitudes about human-animal relationships are rapidly changing (please see "85% of Americans Support Animal Protection: A Positive Shift"). It surely should have a strong positive effect on human-animal relationships as people see other animals as deeply sentient beings who experience a wide array of emotions.
Allowing Animal Reunions to move your heart is an integral part of personal rewilding, and it is impossible to watch this video and not appreciate other animals for whom they truly are and to fully understand that they, like us, want to live in peace and safety and to experience love. Watch this film, share it, and watch it again, it is that good.
Marc Bekoff's latest books are Jasper's Story: Saving Moon Bears (with Jill Robinson), Ignoring Nature No More: The Case for Compassionate Conservation, Why Dogs Hump and Bees Get Depressed: The Fascinating Science of Animal Intelligence, Emotions, Friendship, and Conservation, Rewilding Our Hearts: Building Pathways of Compassion and Coexistence, and The Jane Effect: Celebrating Jane Goodall (edited with Dale Peterson). (Homepage: marcbekoff.com; @MarcBekoff)
Calling all HuffPost superfans!
Sign up for membership to become a founding member and help shape HuffPost's next chapter