"More victories than ever."
This past weekend, dozens of animal rights organizations and hundreds of advocates gathered in Los Angeles to network, learn about each other's work, and, possibly more than in any other year, share stories of success. This was the take-home message from the "State of the Movement for Farmed Animals" presentation by David Coman-Hidy, Executive Director of The Humane League. Coman-Hidy's organization and others at the conference have made huge strides for animals in the past year. In closing, he said:
"So, what is the state of the movement?
More outreach than ever.
More protests than ever.
More legal protections than ever.
More tech solutions than ever.
More victories than ever.
More powerful than ever!"
Huge progress over the past year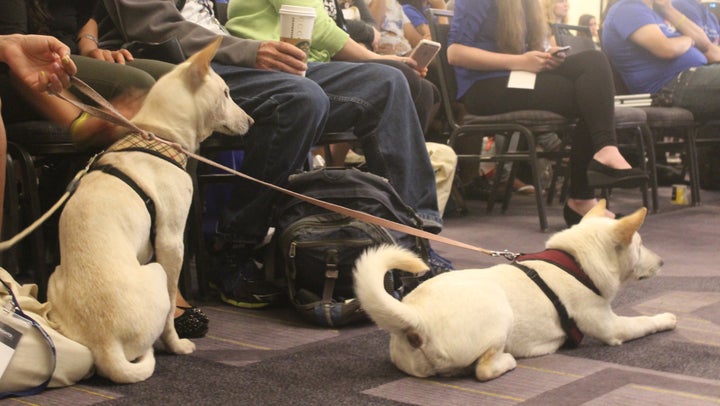 For farmed animals, who represent the vast majority of the animals used and abused by humans, the victories discussed at the Animal Rights 2016 National Conference fall into two major categories: eliminating some of the worst forms of cruelty, and reducing the total number of animals raised and killed.
In the first category, a huge success has been the remarkable number of food companies such as Walmart and Costco who have committed to eliminating the use of cages in egg production. The most common cages — called "battery cages" for their side-to-side structure that resembles electrical batteries — are so small that chickens can't even stretch their wings.

Unfortunately, many welfare policy changes are limited in their impact. When I visited a California egg farm earlier this year, the farmer had simply removed some of the dividers between battery cages to comply with Prop 2 — the anti-confinement legislation passed in 2008 with the highest positive voter turnout in California's history — technically giving each hen a bigger battery "cell," but confining her with more cellmates. Moreover, the air was still choking with ammonia like in the original battery cage facility. The hens were still neurotic, starved, and stressed.
Fortunately, the corporate commitments in 2015 and 2016 were to eliminate the use of all cages, even the bigger ones, making a substantial improvement in animal welfare. In 2016, there was another huge commitment by United Egg Producers — the industry group that represents over 95% of US egg production — to end the horrific practice of grinding up male chicks because they can't provide eggs. Just a few weeks ago, the country's largest chicken meat producer, Perdue, committed to improve welfare in that industry, such as by switching slaughter methods from shackling and throat-slitting to killing the animals with inert gasses.
In his presentation, Coman-Hidy quoted the President of United Egg Producers describing the situation:
"Chaos, market disruption, and complete lack of control...[animal activists] have been 'harassing and bombarding' every retailer, every food manufacturer, every food company there is with a 'very aggressive' cage-free campaign. 'They're the ones that have been driving this; there is no question about it.'"
However, despite the impact of cage-free reforms, the new systems still cause enormous amounts of suffering. Birds are still packed tightly into sheds, debeaked to prevent them from injuring each other due to the stress, and have high rates of chronic health issues.
To fully protect the rights and interests of these animals, advocates are reducing the total size of the animal farming industry. For example, advocates at the Humane Society of the United States have helped major institutions such as Compass Group, Miami-Dade County Public Schools, and the US National Guard enact new policies to reduce public consumption of animal products. These policies have health and environmental benefits in addition to their impact for animals.
Victories are numerous outside of the US, and for other groups of animals, such as those used in laboratories. Just last month, the University of Tennessee College of Medicine ended its shameful distinction as the last US medical school to use live animals in its education programs, which experts agree is both ethically worrisome and a less effective teaching tool than the human-based simulations now available.
Sharon Núñez Gough spoke at the conference about her work at Animal Equality, an international advocacy advocacy organization. Their outreach, including the iAnimal virtual reality program, has educated millions about the individuality of these animals and the injustices they face. Núñez Gough told me on the last day of the conference, "It's great to see so many different groups coming together from around the country, and around the world. Everyone is leaving the conference feeling energized."
Chen Cohen, an Israeli animal advocate, shared the amazing story of the country's growing vegan movement. Sparked by a viral video, the "Best Speech You Will Ever Hear," and a tightly connected activist network, they now march in the streets with tens of thousands of supported and have around 13% of the country's population identifying as fully vegan or vegetarian.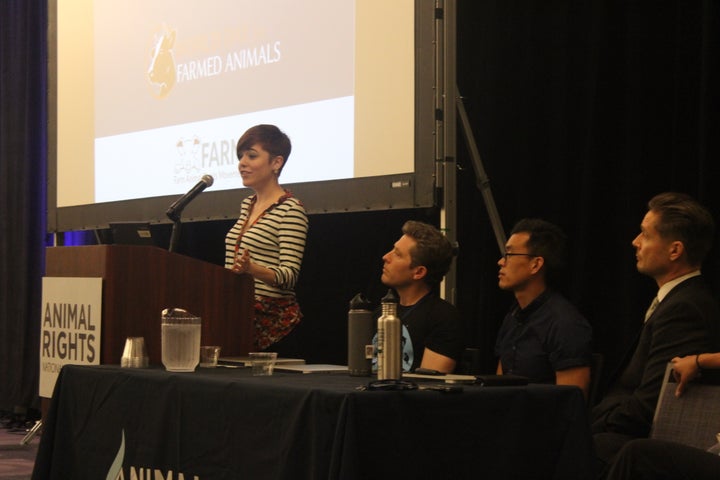 These tremendous victories have been accompanied by a growing focus on effectiveness and data in the animal rights community. Resources are moving towards the most impactful charity programs. For example, research shows that corporate campaigns for farmed animals described above could have an impact equivalent to sparing over 100 years of cage confinement for every dollar received by the charity.
Not only do those campaigns make an immediate reduction in suffering, but they build momentum for animals that leads to further welfare improvements and the promotion of animal-free foods. While some animal advocates are having difficulty accepting research results and being willing to change strategies to help more animals in need, an increasing number of attendees every year are excited to engage with the evidence from psychology, historical social movements, and other areas on what works and what doesn't.
The tone of the conference, while grounded in the achievements of the past, was decidedly forward focused. Many impact-driven advocates want to work for food technology start-ups like Clara Foods, a San Francisco-based company making egg whites with the same technology used to produce insulin, which could solve the problems of both the ethics and the sustainability of chicken farming.
Arturo Elizondo, CEO of Clara Foods, saw ample support from conference attendees. He told me, "It was amazing to see so much zeal and excitement for what we're working on. I think people really get that innovation will be key — that developing better and better alternatives can fundamentally transform our food system."
Hearing from Elizondo and other movement leaders really drove this point home for me: Modern technologies and inspiring social changes are paving the way for a food revolution. With major victories behind us, and such exciting opportunities ahead of us, it's clear that we are well on our way to ending animal exploitation.
Popular in the Community