Although giving a live animal as a holiday gift is never a good idea, a number of organizations that rescue and care for abused and neglected animals offer the opportunity to "adopt" their shelter residents in name only, without the responsibilities that accompany "real life" adoptions. These sponsorships can be made in the name of a loved one, co-worker, friend or acquaintance, making for thoughtful, generous and fun offerings that embrace the rewards of caring for an animal, without jeopardizing their wellbeing. Why give yet another sweater, holiday-themed tie, or stack of top 40 CDs when you can gift someone with the joy of being an honorary adoptive parent to a homeless cat or dog for as little as $25? Sponsorships for the holidays abound, offering affordable gifts that nourish the spirit for both giver and recipient -- and help save the lives of the animals.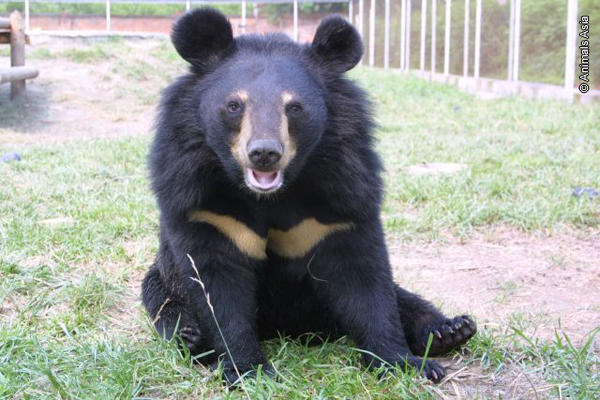 Oh how we loved curling up with our teddy bears when we were little. So fuzzy and cuddly -- their warmth helped lull so many of us to sleep. Though we cherish the coziness of bears, they are certainly not practical to have in our homes. In Asia, thousands of live moon bears -- beautiful and sentient animals with the intelligence of a three-year-old -- are farmed for their bile, for use in traditional Asian medicine. Held in "crush cages," often without the space to stand or even turn around, they suffer great emotional and physical pain while being milked through (often rusty) catheters or holes cut in their abdomens. International animal welfare nonprofit Animals Asia works with government officials and bear farmers to free these bears and bring them to the organization's two placid moon bear rescue centers (in China and Vietnam) -- peaceful and beautiful sanctuaries where the bears can live out the rest of their lives in joyful comfort, with the best of care.
Bears such as Jasper, adored by humans and other bears alike, spend their days lolling on specially-made swings, playing with their friends and munching on delicious fruity treats. Adorable as they are, moon bears are wild animals and not companion animals for humans. However, for $45 per month, Animals Asia offers the opportunity to give the gift of sponsoring a rescued bears on behalf of someone else. You'll receive a giftable sponsorship certificate, photo of the sponsored bear, and information about the bear and his/her character to give to the adoptive parent. A great present for a teenager with an interest in animals, or a friend who seems to have bought everything they could ever want for themselves!
Children have a natural connection with farm animals. There is a peacefulness and love of life that they appear to share in common and revel in when together. It seems that as we get older, we disconnect from our pals on the farm. Farm animals have families and friends, just like we do. They play and express emotion and even respond to music, just like we do. Yet each year billions of them are held in atrocious conditions without access to any of their basic necessities (air, wholesome food, room to move) on industrialized factory farms in the United States. Farm Sanctuary is a national nonprofit organization that rescues, educates about and advocates for farm animals. Rescued animals are brought to live in the organization's three expansive shelters, located in upstate New York and California, where they are offered exceptional veterinary care, space to run, clean and sturdy shelter, plenty of healthy food and the respect of those who care for them. For the holidays, Farm Sanctuary offers the opportunity to give the sponsorship of one of their sweet residents as a present. You can give the gift of adopting a chicken named Dandypants for $10 a month or a steer named Blitzen for $50 a month. Other animals up for adoption include sheep, goats, ducks and pigs. The giftable sponsorship package includes a personalized adoption certificate, beautiful color photo and details about scheduling a VIP tour for the recipient to meet their new adopted friend. Now that's a lot more exciting than yet another plush animal toy under the tree!
If you'd like to support your local animal welfare organizations, many are also offering animal sponsorships as holiday gifts. Through the Hinsdale Humane Society in Hinsdale, Ill., one can sponsor a homeless cat or dog for a minimum donation of $50. Gift givers may choose a dog, cat, kitten or puppy with recipients being sent a personalized Hinsdale Humane Society Gift Sponsorship Certificate including a photograph of the adoptee. On the west coast, Tony LaRussa's Animal Rescue Foundation (ARF) in Walnut Creek, Cal. also offers a chance to give the gift of adoption without jeopardizing the welfare of an animal. Gift givers, for a donation of $25 or more, will be able to sponsor a homeless cat or dog, with a personalized eCard being sent to the recipient. Now, why give a generic gift certificate from a department store when for the same amount you can share the joy of helping a beautiful animal in need?
With all of the wonderful sponsorship opportunities offered by rescue organizations this gift giving season, there's no need to try to guess what your assistant will like or what size your aunt wears. Just think of all of the joy you can bring to humans and animals alike!
The above image appears courtesy of Animals Asia
Maya Gottfried is the author of books about animals, including the children's book Our Farm: By the Animals of Farm Sanctuary. Maya was inspired to write Our Farm after learning about Farm Sanctuary online and working as a volunteer in New York City. Buy her books and read her blog on Red Room.
Calling all HuffPost superfans!
Sign up for membership to become a founding member and help shape HuffPost's next chapter