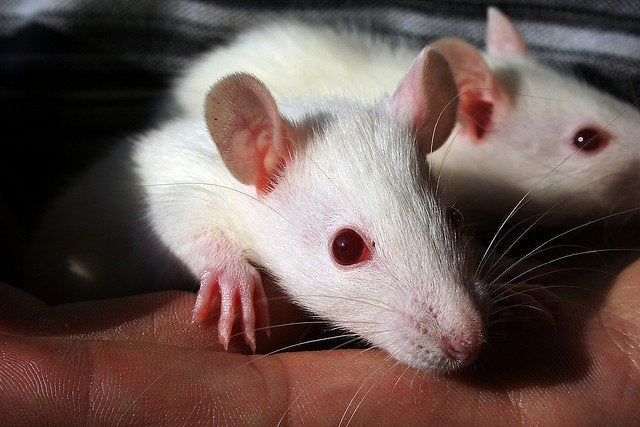 If rats could clap, they just might. That's because German scientists have developed a new technology they say could reduce the number of experiments that expose rats, mice, rabbits, and other animals to potentially harmful chemicals.
Some call such experiments "animal cruelty." Others say animal experimentation is essential because it helps catch dangerous chemicals before humans are exposed to them.

The technology makes use of so-called nanosensors, minute particles that test the health effects of chemicals not on living, breathing animals but on human and animal cells.
"We're basically using a test tube to study the effects of chemicals and their potential risks," Dr. Jennifer Schmidt, a researcher at Munich's Fraunhofer Research Institution for Modular Solid State Technologists, said in a written statement. "What we do is take living cells, which were isolated from human and animal tissue and grown in cell cultures, and expose them to the substance under investigation."
The nanoparticles are said to be harmless and able to pass through cell membranes. How do they reveal information about a cell's well-being? They contain fluorescent dyes that show changes in levels of adenosine triphosphate (ATP), a compound that cells use to store energy. High levels suggest robust health, low levels indicate the cells are being harmed.
Researchers simply add the nanoparticles to living cells and watch for tell-tale color changes using a special fluorescence microscope.

"We could in future use cancer cells to test the effectiveness of newly developed chemotherapy agents," Dr. Schmidt said. "If the nanosensors detect a low concentration of ATP in the cells, we'll know that the new treatment is either inhibiting tumor cell growth or even killing them."

Dr. Schmidt said the nanoparticles needed lots of additional testing, along with regulatory approval, before they'll be commercially available. And even if the sensors and similar approaches prove successful, experts say it's far-fetched to think that animal testing will go away entirely.
"I don't think it'll happen during my lifetime," Frankie Trull, president of the Foundation for Biomedical Research (which promotes responsible animal testing), told Time magazine in 2008. "People in the research community will be the first to tell you they still don't know enough about how the complex living organism works in order to duplicate it. Animals are not perfect. They're definitely not a perfect mimic of a human, but they're [still] as close as we're going to get without using a human."
RELATED: ANIMAL EXPERIMENTS YOU WON'T BELIEVE
PHOTO GALLERY
Animal Experiment You Won't Believe
REAL LIFE. REAL NEWS. REAL VOICES.
Help us tell more of the stories that matter from voices that too often remain unheard.
BEFORE YOU GO