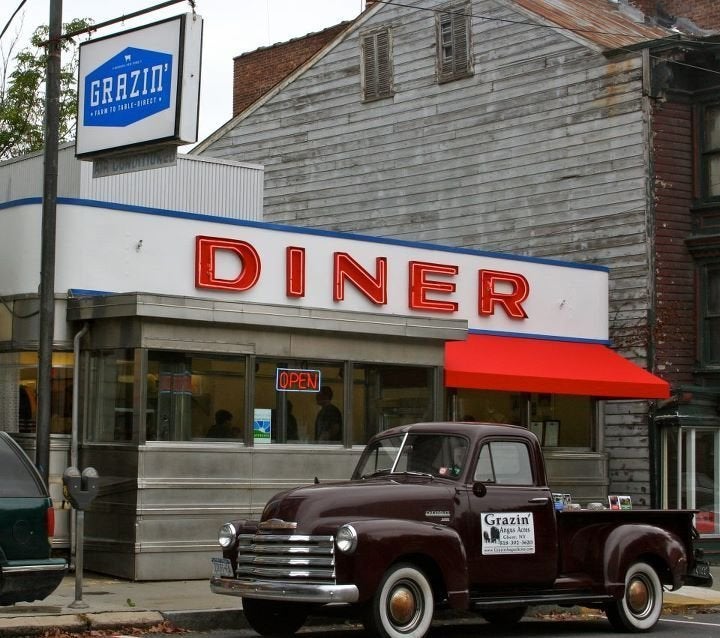 A restaurant in upstate New York has become the first ever in the U.S. to be certified Animal Welfare Approved (AWA). Grazin', a 1950's-style diner in Hudson, New York, recently re-opened its doors with several important changes that earned it the certification.
All of the restaurant's meat comes from humanely-raised and pasture-fed livestock on family farms. Local sourcing is also important for Grazin'. According to Cool Hunting, "nearly everything comes from farms within an 11-mile radius."
The diner also features burgers from the owners' own nearby farm with pasture-fed Angus cattle.
To earn the Animal Welfare Approved rating, all of a restaurant's "meat, dairy and egg products [must come] from Animal Welfare Approved farms," According to Drovers CattleNetwork.
While many other restaurants in the U.S. stock meat and other animal products that are Animal Welfare Approved, Grazin' is the first restaurant to be fully certified. According to AWA, Grazin' was the first restaurant to apply for such a certification.
"We only source our meat, milk and eggs from other Animal Welfare Approved farms who share our concerns about high animal welfare and environmentally friendly farming. And as we only use local suppliers, most of our ingredients will have travelled less than 11 miles from farm to plate, minimizing the carbon footprint of every meal," Gibson added.
Crated calves are tethered by the neck, pigs in severe confinement bite the metal bars of their crates, and hens get trapped and can even be impaled in their cages. These animals can barely move for months on end. We wouldn't force our pets to live in filthy, cramped cages for their whole lives, and we shouldn't force farm animals to endure such misery, either.

HuffPost's Lynne Peeples reported on the connection between livestock conditions and human health, writing, "Combined with the overuse of antibiotics, tightly penned livestock such as chickens and cows can also play a role in jumpstarting outbreaks (as happened recently with both salmonella and E. coli threats)."


Andrew Gunther, program director for Animal Welfare Approved and HuffPost blogger, wrote, "One of the things I love most about my job ... is that I get to meet people who are literally changing the world from the ground up."
Related
Popular in the Community