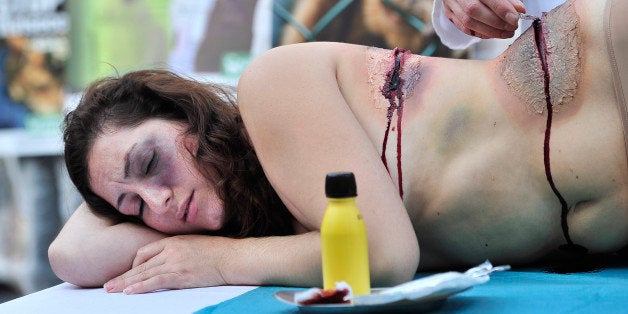 Animal rights activists have dramatically shifted their tactics over the last decade, targeting individual researchers and the businesses that support them, instead of going after their universities. That's the biggest revelation to come out of a report released today by the Federation of American Societies for Experimental Biology (FASEB), the largest coalition of biomedical research associations in the United States.
The purpose of the report—The Threat of Extremism to Medical Research: Best Practices to Mitigate Risk through Preparation and Communication—is to provide guidance to scientists and institutions around the world in dealing with animal rights extremists. That includes individuals and groups that damage laboratories, send threatening e-mails, and even desecrate the graves of researchers' relatives. In 2004, for example, Animal Liberation Front activists broke into psychology laboratories at the University of Iowa, where they smashed equipment, spray-painted walls, and removed hundreds of animals, causing more than $400,000 in damage. In 2009, extremists set fire to the car of a University of California, Los Angeles, neuroscientist who worked on rats and monkeys. And other researchers say activists have shown up at their homes in the middle of the night, threatening their families and children.
"We wanted to create an international document to get people thinking about the potential of animal extremism," says Michael Conn, a co-chair of the committee that created the report and the senior vice president for research at the Texas Tech University Health Sciences Center in Lubbock. "These activities can happen to anybody—no one is immune."
Personal attacks, in particular, appear to be on the rise. The report looks at 220 reported illegal incidents within the United States between 1990 and 2012. It finds that from 1990 to 1999, 61% involved universities, while just 9% involved individuals. From 2000 to 2012, however, only 13% of incidents involved universities, while 46% involved individuals. Actions against businesses are also on the rise, with 17% of incidents from 2000 to 2012 involving investors and business partners, two groups not even mentioned in the previous decade's numbers. These latter incidents included activists threatening to protest businesses that supply animal feed to research labs and airlines that transport research animals. "If all of a sudden companies refuse to supply you with paper towels or lab coats, you have a serious problem," says Conn, who himself was the target of animal extremism—receiving threatening phone calls and being followed through airports by activists—when he was the administrator of an animal facility at Oregon Health & Science University (OHSU) in Portland. "It makes it very difficult to get your job done."
In response, the FASEB report contains a number of recommendations. It advises researchers to limit the amount of personal information they make available on the Internet, for example. It says universities should assemble a "crisis management team" composed of scientists, security personnel, press officers, and legal consultants, so that they can quickly respond to incidents. And it recommends that researchers and institutions actively engage with the public, inviting members of the community to view their facilities, for example, as a way to combat animal rights propaganda. OHSU, for one, allows local residents to tour its primate research center on a regular basis; it also offers summer programs, such as Camp Monkey, for grade-school students.
Eric Bernthal, the chair of the board of directors of the Humane Society of the United States (HSUS), says he agrees that scientists should combat animal rights extremism. "We don't condone terror and destruction of property," he says, noting that HSUS has achieved its animal welfare goals by working with legislators. But he says the FASEB report spends far too much time on how scientists can mitigate attacks and almost no time on why these attacks are occurring in the first place. "If you're going to give advice to researchers about how to solve this problem, the most constructive way is to use fewer animals in research," he says, "not assemble crisis communication teams."
Bernthal says HSUS would like to work with Conn and other scientists to figure out ways to reduce the number of animals in biomedical laboratories. "There are still some circumstances where animal research is vitally important," he says. "But there are huge steps that can be taken to phase it out."
Calling all HuffPost superfans!
Sign up for membership to become a founding member and help shape HuffPost's next chapter
BEFORE YOU GO
PHOTO GALLERY
Explicit PETA Ads