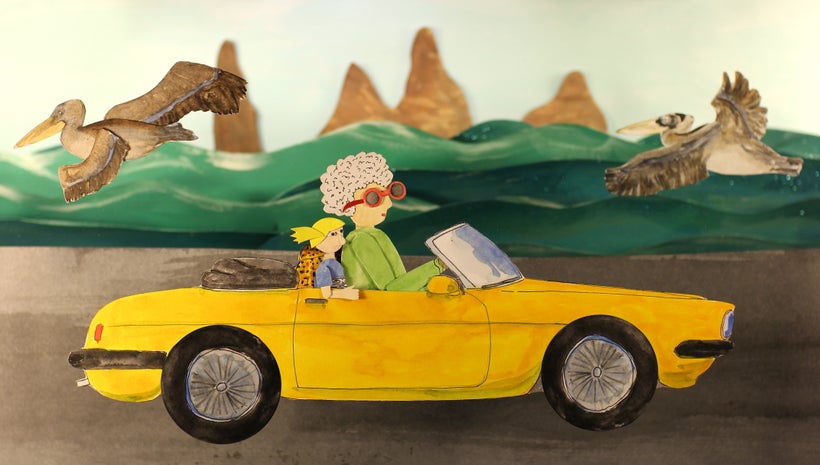 There are good movies and then there are singular works of art. Torrey Pines - a stop-motion animation coming-of-age odyssey by trans filmmaker and musician Clyde Petersen – is the latter. Based on Petersen's childhood, the film which took 3 years to complete follows a 12-year-old girl and her schizophrenic mother on a cross country car trip from San Diego to Upstate New York. Meticulously composed from hand-painted paper sets and puppets, every frame of Torrey Pines is pure joy to behold. There is real authenticity and warmth in the way all the textures and colors are lovingly arranged on the screen, capturing the tactile charm of classic animation era untainted by CGI. Petersen's narrative sensibility is equally impressive. Whether discovering comedy in every day ennui or delving into darker subject matter, Torrey Pines flows effortlessly and knowingly, never feeling too heavy-handed or didactic. The film alternates seamlessly between the whimsy of physical comedy (where the technique of animation itself becomes a character) and the steady disarming breaths of heartbreaking wistfulness. All great coming of age films succeed at conveying the indescribable wonders and mysteries of growing up. In doing so they tap into our own inner kid. Torrey Pines is by far one of the best examples of that. Aided by its ingenious DIY aesthetic, the soundtrack that consists entirely of music and quirky foley effects (no dialogue) and Petersen's keen talent for storytelling, the film really captures the uneasy metamorphosis of childhood with all its surprises, joys and occasional spookiness.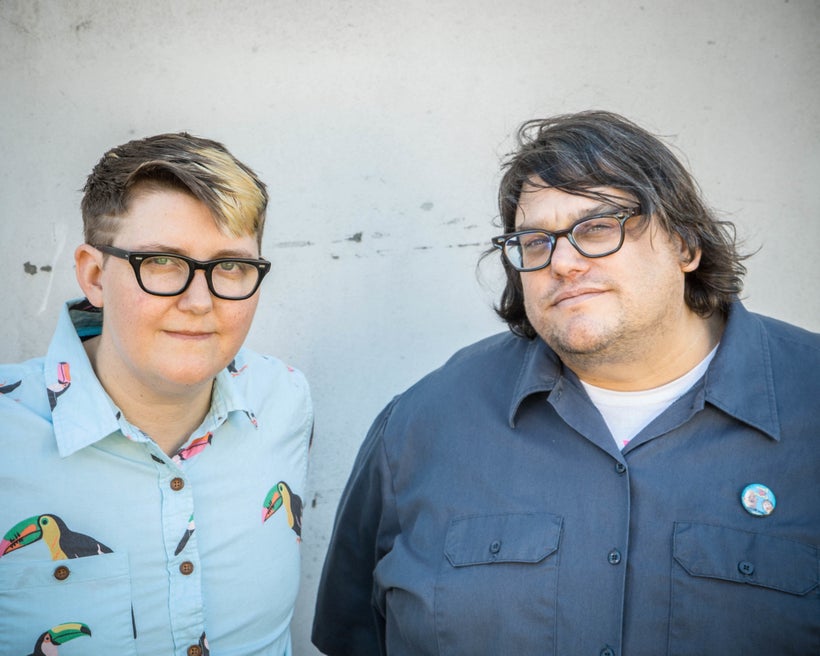 When I saw Torrey Pines in Seattle at the packed Egyptian theater, the experience was one of the most special and memorable I've had in a movie house. I left the show giddy and overjoyed at being reminded of how truly magical, pure and touching cinema can be. The soundtrack was performed live by an eclectic band of musicians and foley artists. Petersen is taking the film and a smaller version of a band on the road, so you will have an opportunity to view this gem the way it was meant to be seen – larger than life and accompanied by a live score! "My goal is to get the film to queer teenagers, weirdos, art kids, nerds and film geeks," says Petersen, "I've been touring in bands and with short films around the world since 2001, so it seemed natural to release the film in the same manner."
I highly recommend catching Torrey Pines on the big screen. It is as gorgeous and epic in its own way as any blockbuster you'll see this year. And its silent brand of humor brings to mind the masterpieces of Jacques Tati and all the lush playfulness (but none of the occasional pretentiousness) of Wes Anderson. You can look up the upcoming dates and hopefully find your city on the list HERE:
10/28 PITTSBURGH, PA // Babyland
10/29 COLUMBUS, OH // Aspire
10/31 BLOOMINGTON, IN // The Void
11/1 DAYTON, OH // The Neon
11/2 BUFFALO, NY // Sugar City Collective
11/3 TORONTO // Double Double Land
11/4 BURLINGTON, VT // Champlain College *
11/5 WHITE RIVER JNCT, VT // Main Street Museum *
11/6 PORTLAND, ME // Apohadion Theater *
11/7 BENNINGTON, VT // Bennington College *
11/08 ELECTION DAY // VOTE
11/9 PROVIDENCE, RI // AS220 *
11/10 NYC, NY // Silent Barn *
11/12 PHILADELPHIA, PA // PhilaMoCA EARLY SHOW *
11/13 DC // The Black Cat 11/14 DC // 16th Street House
11/15 BALTIMORE, MD // 2640 Space
11/16 CHARLOTTESVILLE, VA // Second Street Gallery
11/17 RICHMOND, VA // Black Iris
11/18 DURHAM, NC // The Pinhook
11/19 PIGEON FORGE, TN // Dollywood
11/20 ATLANTA, GA // Mammal Gallery
11/22 JACKSONVILLE, FL // The SunRay Theater
11/23 PENSACOLA, FL // Sluggos
11/25 NEW ORLEANS, LA // Zeitgeist
11/27 HOUSTON, TX // Super Happy Fun Land
11/30 MARFA, TX // The Lumberyard
11/2 PHOENIX, AZ // Trunk Space
12/3 SAN DIEGO, CA // Che Cafe
12/4 LOS ANGELES, CA // Last Projects
12/5 LOS ANGELES, CA // Junior High with Kimya Dawson
12/6 LOS ANGELES, CA // Gal Palace with Kimya Dawson
12/7 EMERYVILLE, CA // Scandinavia with Kimya Dawson
12/8 SAN FRANCISCO, CA // ATA
12/10 WILLIAMS, OR // Williams Grange
12/11 CORVALLIS, OR // TBA
12/12 PORTLAND, OR // NW Film Center
12/13 TACOMA, WA // Real Art Tacoma with Kimya Dawson
12/14 BELLINGHAM, WA // Pickford Film Center
12/15 SEATTLE, WA // Henry Art Gallery
Calling all HuffPost superfans!
Sign up for membership to become a founding member and help shape HuffPost's next chapter
This post was published on the now-closed HuffPost Contributor platform. Contributors control their own work and posted freely to our site. If you need to flag this entry as abusive,
send us an email
.