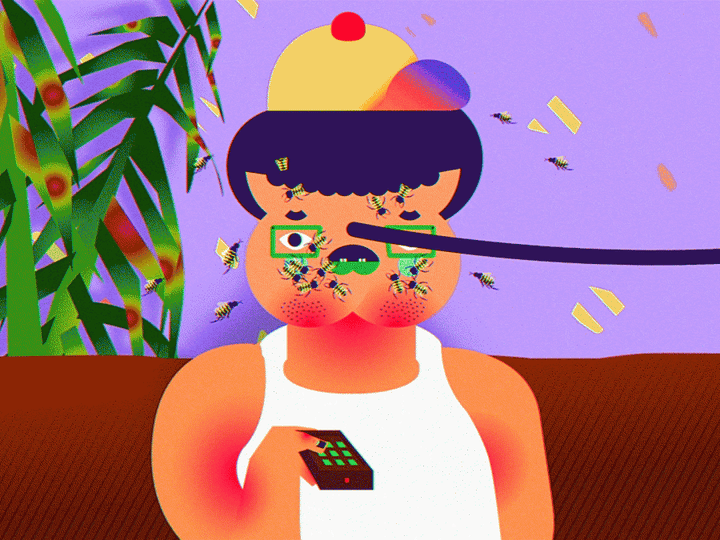 You may remember being glued to the TV screen as a kid, watching "Looney Tunes" on repeat until your parents switched off the set with a directive of, "Homework!"
You'd stare as woodland creatures sprung to life with bulging eyeballs, over the top expressions, a propensity for extreme violence, and the handy gift of immortal life. Pigs stuttered, bunnies dressed in drag, ducks lisped, and even the most puny of creatures could recover from a giant hammer accident with a mere shake of the head. Even the most mainstream of cartoons manage to create a world that existed nowhere before, born from the imagination and brought into the consciousness of who knows how many viewers. 
Over the past 15 years, thanks to advancements in technology and education, it's a lot easier to draft a world all your own and bring it to life, without the help of a major animation house or production company. More than ever before, creative individuals are making animated works on their own terms, or with the help of a very small crew. As a result, cartoons are stranger, sillier and stupider than ever before -- and I mean that in the kindest way possible.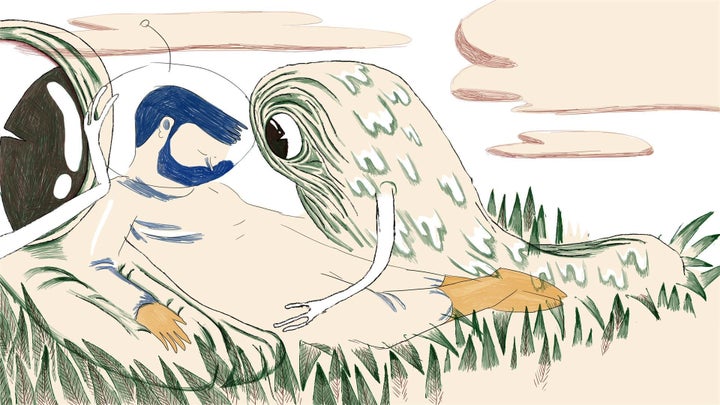 Alex McDonald and Kevin Sukho Lee are the cofounders of Animation Breakdown Roundup, a curated shorts program that will kick off Animation Breakdown, an annual event celebrating experimental animation around the world.
At Cinefamily in Los Angeles, the five-day Animation Breakdown film festival features a guide through the most deliciously weird animated shorts from filmmakers and artists around the world. In Remy Schaepman's "Pentimento," a mysterious pig-shaped piñata floats toward Earth, leaving its citizens to react accordingly, while Wong Ping's "An Emo Nose" is a hallucinatory, neon-dripped adventure about a dude who loses his nose. 
McDonald, Animation Breakdown founder, creative director and head programmer, and Lee, an animatic editor at Nickelodeon, stress that they're not interested in a creating a "best of" syllabus with their featured works. Given their interest in unbridled creativity without much dedication to convention or prestige, this feels appropriate. Rather, the two hope to create a curated tour through contemporary film that can be experienced in a theater filled with likeminded fans, instead of, you know, in your bedroom on YouTube.
This is Animation Breakdown's third year, and for McDonald and Lee, there is no better time for the field of experimental animation. "I feel like animation has gotten into the hands of independent artists," Lee explained. "It used to not be feasible in the original techniques of animating. Now the tools are a lot more accessible and affordable and there are a lot more educational resources. People are able to do amazing films without having to go to college or pay their dues. What I get excited about is that people are making stuff instinctively, being naturally innovative and not trying to please some sort of perceived establishment. You don't have to conform. People are just making cool shit."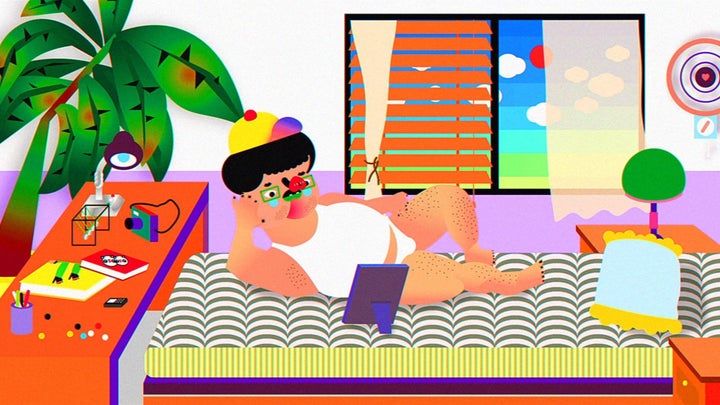 McDonald riffed off Lee's use of the word "instinctive," expanding on how this artistic intuition is at the core of animation's magic. "It's not an immediate art form, but somehow there is an instinctive quality to it that's different from film, that's closer to dance or music."
"If you come up with the idea for a film, you write a script, you get a cast, you have a producer and director -- you have all of these filters through which your vision goes," he added. "With animation, it goes from the head to the hand or whatever tool you're using and it's limitless. You're able to create whatever world you can dream of. It's the lack of boundaries in animation that fascinates me. You can, from one frame to the next, be taken someplace completely different in a way you can't in static art or live action filmed art. It's transportive in a way that other moving mediums just aren't able to be."
From December 10 through December 14, Los Angeles' Cinefamily will feature a variety of cartoon-happy programming that includes "Rick & Morty" Live!, Belladonna of Sadness, Creating Nickelodeon's "Pig, Goat, Banana, Cricket" and far more. The whole thing kicks off with "Opening Night: Animation Breakdown Roundup!" a carefully selected slew of animated shorts from freaky visionaries around the world. See the trailer below and scroll down for stills from the featured films. 
1. "Amaro and Walden's Joyride" (2015)  by Tim McCourt and Max Taylor, London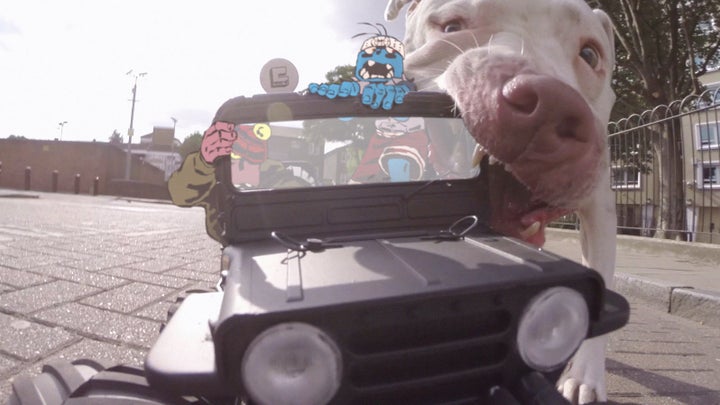 Two hooligan boy racers think they are in a music video. They're the best of friends but couldn't care less about each other's safety
2. "An Emo Nose" (2015) by Wong Ping, Hong Kong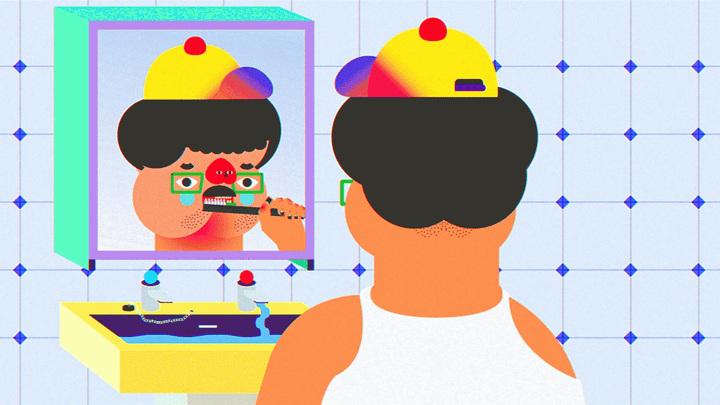 He has lost all interest of any kind in social activities after his nose left him.
3. "Apple Pie" (2015)  by Marc M. and Sick Animation, Los Angeles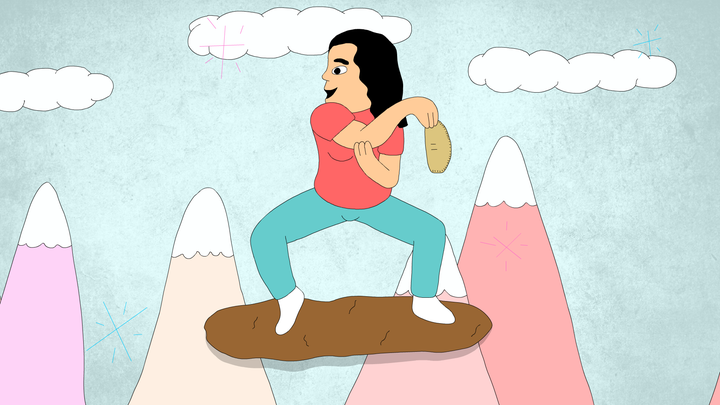 A girl is sent by her boss, to pick up dessert for the office.
4. "Bartkira the Animated Trailer" Produced by Kaitlin Sullivan, Portland, Oregon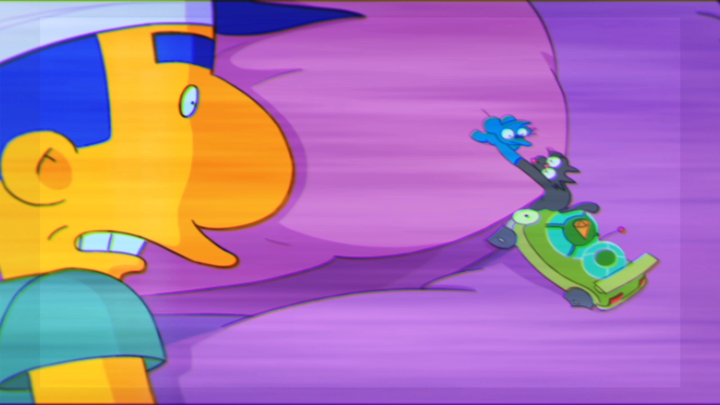 Bartkira is an animated parody of "The Simpsons" and "Akira," based on an idea by Ryan Humphrey and the comic collaboration with James Harvey.
5. "Bath House (Simhall)" (2014) by Niki Lindroth von Bahr, Stockholm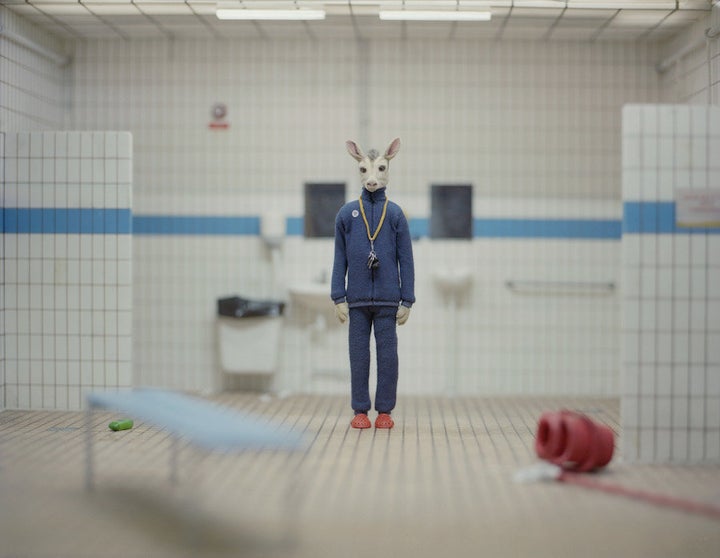 Six characters meet in a public bathhouse: the pedant bathhouse manager, a couple with a strange way of communicating, and a gang with shady intentions. Something goes wrong.
6. "Candy Power Dorothy" (2015) by Yong Hoon Joe, Korea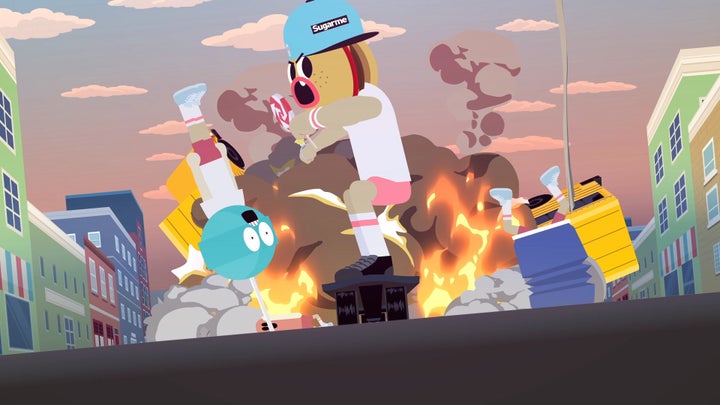 A super food action movie wherein Fat Food Quartet tries to steal the golden cheese ring and Candy Dorothy tries to regain her lollipop.
7. "Cody's Positive Affirmations" (2015) by Joseph Bennett, Los Angeles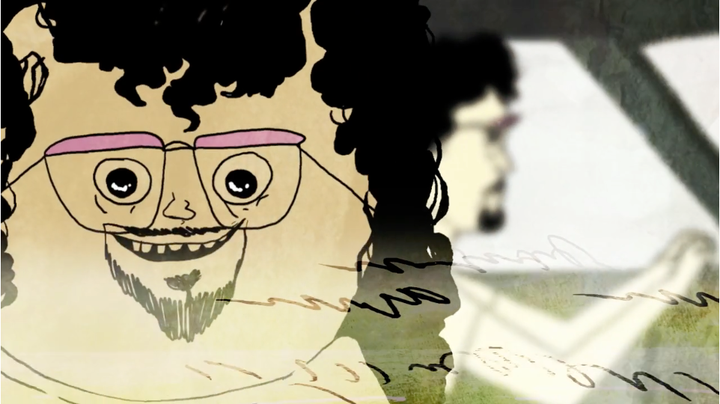 Cody tenuously struggles to outrun who he really is.
8. "Deep Space" (2014) by Bruno Tondeur, Belgium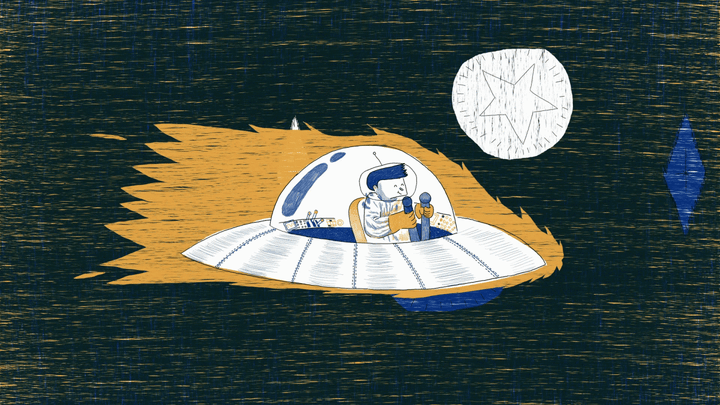 Brandon is given his first intergalactic mission: to find an intelligent species. For months he'll live a strange experience on a planet with surprising manners.
9. "First Date" (2015) by Joseph Bennett and Matt Furie, Los Angeles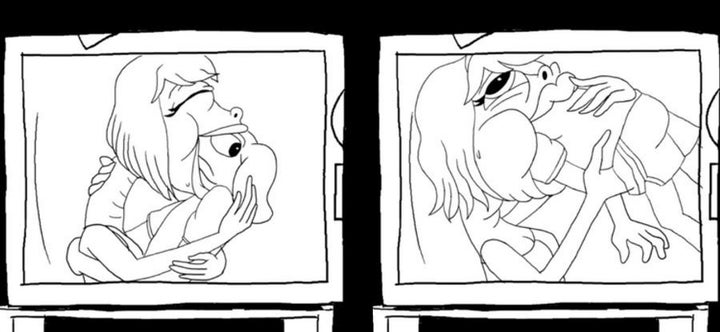 A collaboration with filmmaker Joseph Bennett and artist Matt Furie.
10. "Life with Herman H. Rott" (2015) by Chintis Lundgren, Estonia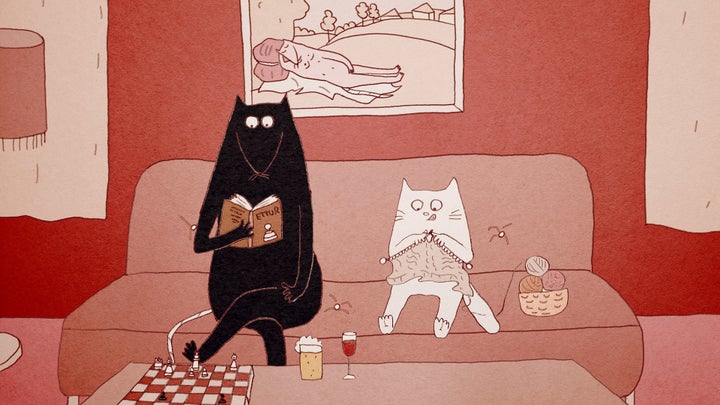 Herman is a rat who lives alone in a messy apartment. One day a very tidy cat shows up at his doorstep. With everything she owns.
11. "Loop Ring Chop Drink" (2014) by Nicolas Ménard, United Kingdom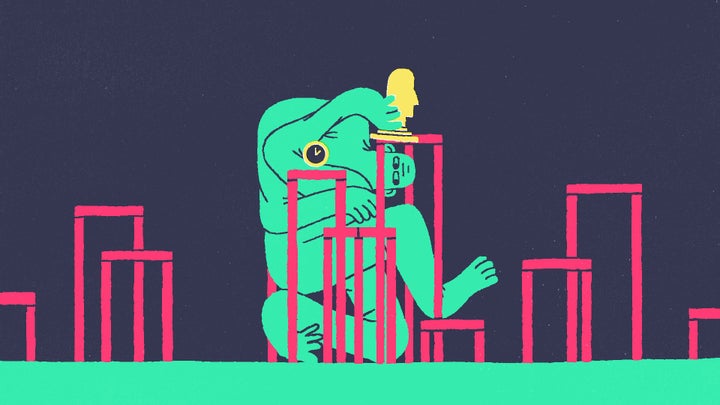 The mundane story of a heartbroken man, an online gambling addict, an alcoholic kleptomaniac and an anxious loner living in the same apartment building.
 12. "menagerie" (2015) by Julian Gallese, Costa Rica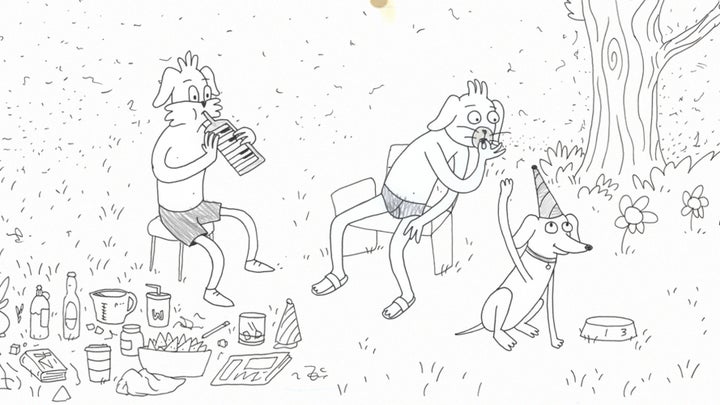 Enter a bird's dream world!
13. "Pentimento" (2014) by Remy Schaepman, France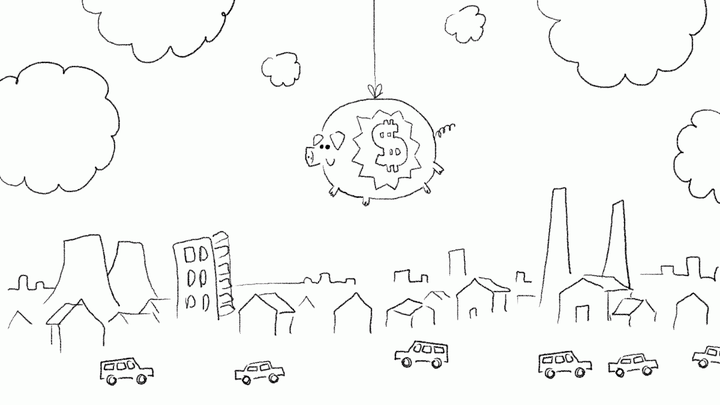 A giant pig-shaped piñata is coming down to Earth. Confronted by this apparition, mankind has to react with common sense and caution...
14. "Sports Nuts" (2015) by Marc M. and Sick Animation, Los Angeles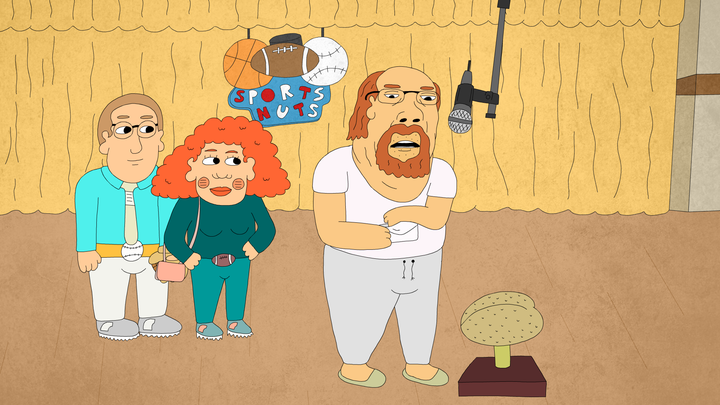 Sports nuts gather to participate in the annual sports nut competition. 
15. "Super Turbo Atomic Ninja Rabbit" (2015) by Wesley Louis, London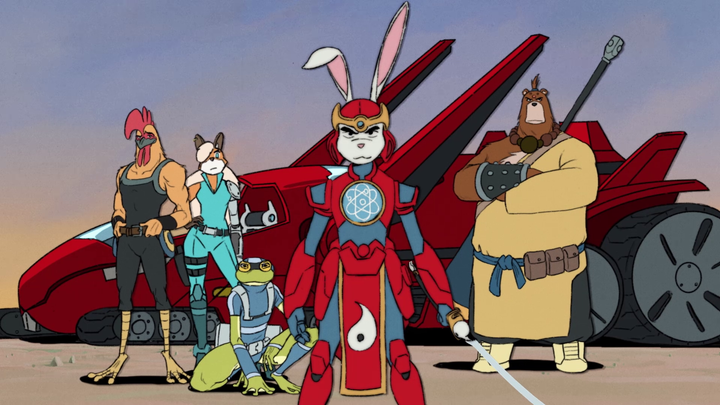 Wesley Louis drew "Super Turbo Atomic Ninja Rabbit" as a comic when he was 13. Witness now the animated intro to the best TV-series that never was.
16. "Swap Meet" (2015) by Various Artists, various locations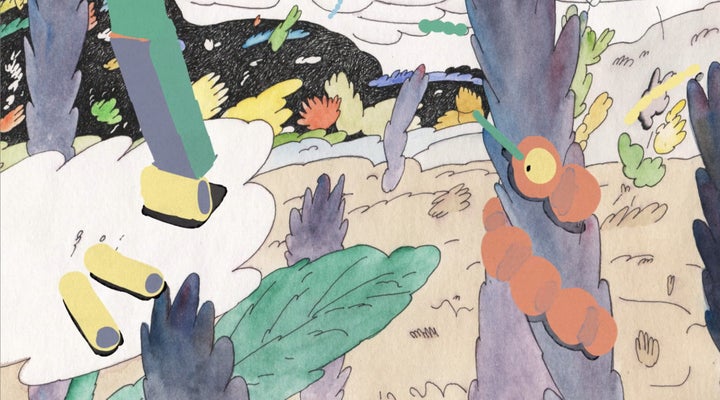 A collaborative experiment between 14 artists around the globe. Each artist creates a background, all backgrounds are traded randomly, and then animated upon freely.
 17. "Weird Simpsons VHS" (2015) by Yoann Hervo, France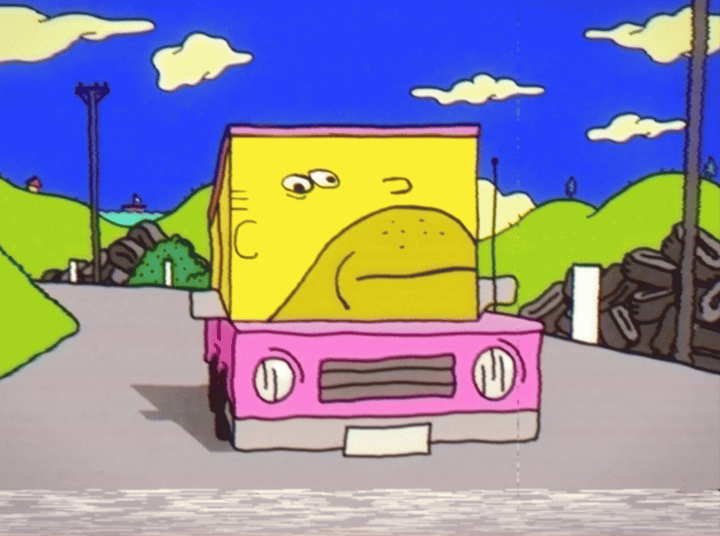 This opening is just a small part of an unfinished collaborative project for the 25th anniversary of "The Simpsons." I'm serious.
PHOTO GALLERY
2015 New York Film Festival Preview
REAL LIFE. REAL NEWS. REAL VOICES.
Help us tell more of the stories that matter from voices that too often remain unheard.