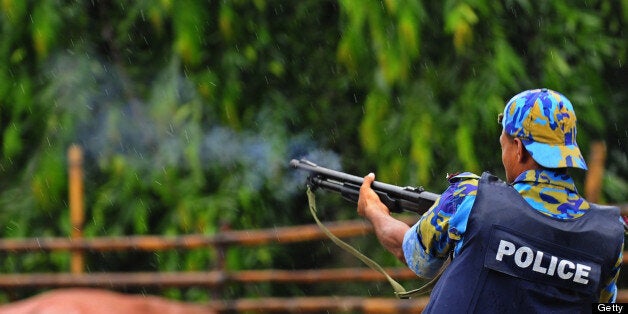 WASHINGTON-- Less than a day after discovering his mutilated body, Bangladeshi police buried labor activist Aminul Islam some 60 miles from his home. They didn't wait to consult with Islam's family before putting him in the ground.
Islam, a paid organizer with the Bangladesh Center for Worker Solidarity (BCWS), an ally of Western labor rights groups, had gone missing soon after leaving his office in the town of Ashulia, 25 miles from the Bangladesh capital of Dhaka, on April 4, 2012.
More than a year later, the Bangladeshi government, still without anyone in custody for Islam's murder, has named a suspect in the case and announced a reward of roughly $1,300 for anyone who could help bring the man to justice.
The pronouncement comes as the government faces renewed criticism at home and abroad over dangerous and inhumane working conditions in the world's third-largest garment manufacturing sector. In the absence of trade unions, Bangladesh authorities have generally turned a blind eye to workplace safety during the country's stratospheric rise in the world clothing trade.
Seven weeks ago, at least 1,127 garment workers died in the collapse of Rana Plaza after factory owners ordered them to clock in despite known structural hazards with the building. Given the dangers workers face for speaking out about safety issues, the Rana tragedy has put a new light on the murder of Islam, an outspoken activist who was informing workers of their right to join a union. Islam's murder was widely covered in the Western press during 2012, bringing international embarrassment to the Bangladeshi government, which claimed Islam's death was an international conspiracy aimed at smearing the country's booming garment sector. Then-Secretary of State Hillary Clinton said Bangladesh's failure to probe the murder would send "a wrong signal" to the U.S. buyers of Bangladesh's ready-made garments.
Despite the announcement of a reward, the government still has not made public the findings of its own investigation into Islam's death, if such a probe has even been completed. The Criminal Investigation Department has said it is investigating Islam's murder.
Authorities have, however, named an at-large suspect in the case: Mostafizur Rahman.
Rahman's name came as no surprise to Islam's family and colleagues. He was the last man to see Islam before he disappeared, according to Islam's colleagues and wife Hosne Ara Fahima. They raised his name nearly a year ago when I first interviewed them for a report on Islam's death.
In a recent interview, Fahima said the government's announcement of a suspect and a reward has provided only small consolation. She also said she wondered how the government expected people to give information about a man identified only by his name, not by a photograph.
"On the part of the government, this is a move to avoid responsibility," Fahima told HuffPost. "The government did not do anything to solve the murder. This is to escape blame under international pressure.
"The government would have solved the murder mystery had it wished to do so," she added. "The Criminal Investigation Department is doing nothing."
Islam's colleagues told me at the time of his death that they believed Bangladeshi intelligence officers, likely from the National Security Intelligence agency, were involved in his killing. Given the Bangladeshi media's fear of its own government, I believe that's why my story never ran inside the country.
The government did not return repeated requests for comment on the allegations. NSI declined to comment.
"NSI is not the kind of organization that should have a press relations department. I can't help you more than this," an NSI official told HuffPost. He cannot be named because he was not supposed to take calls from press.
According to Fahima and colleagues of Islam, Rahman was a former garment worker who lost his job in 2009. In a country where most workers barely eke by on poverty wages, such a job loss would quickly lead to economic ruin. But Rahman somehow found a way to survive in the garment hub of Savar without an obvious source of income, they said. And unlike the typical out-of-work factory line worker, Fahima and Islam's colleagues said Rahman seemed to enjoy open access to any garment factory he pleased, walking in as if he were management.
Islam, on the other hand, had few friends among the garment business elite. In a country where the factory owners are cozy with government officials, Islam was kidnapped at least twice by plainclothes agents due to his labor activism surrounding low wages, according to BCWS Executive Director Kalpona Akter.
Each time, Islam resurfaced.
Police arrested him just one month before his death, according to his wife and to Akter. He was accused of recruiting protesters for an anti-government demonstration in March of 2012 in Ashulia, but he was released on the condition that he spend the duration of the protest with cops.
"Police called him the morning of the demonstration, and he had to spend the whole day with them," Fahima recalled.
Babul Akhter, president of the Bangladesh Garment and Industrial Workers Federation (BGIWF), a BCWS-backed platform for workers, recalled another incident of Islam being hassled, in June 2010. (Islam was the regional president for the BGIWF in the Savar-Dhaka region.)
According to Akhter, Islam was picked up by a group of men when he was on his way to a tripartite meeting among workers, factory owners and government representatives. Workers had recently taken to the streets to press for raising the minimum wage. Islam was heading to a meeting at the labor department in Dhaka when he was kidnapped. Islam later told Akhter he believed the men were with NSI.
"Aminul was taken straight to the NSI's office and tortured," Akhter alleged in an interview.
According to Akhter, Islam fled his captors and was hospitalized for two weeks after the ordeal.
Akm Nasim, Islam's lawyer and an attorney with the American Center for International Labor Solidarity in Bangladesh, said he had a detailed conversation with his client immediately after the kidnapping.
"It is beyond doubt that an NSI officer was involved in the kidnapping," Nasim said in an interview.
A former colleague of Islam's said he called her after his escape. The woman asked that her name not be printed.
"He told me he was calling from a small shop in a village," she said. "He probably called me because he was afraid of disclosing his location by calling his colleagues directly. It's widely believed that the government intelligence agencies record phone conversations of garment labor leaders."
The woman passed word of Islam's whereabouts along to his friends, who picked him up. Babul also corroborated a story told by Fahima, about her husband being picked up by a group of men earlier in 2006.
It was in 2006 that garment workers first took to the streets in an organized protest for pay hikes -- the largest show of worker unrest since the garment boom began in the late 1970s. The demonstrations went on for a month, finally forcing the government to formulate a board to establish a minimum wage. The wage floor ultimately wasn't set where workers demanded, but it was a start.
According to Fahima, when he was picked up, Islam could only see that his kidnappers wore all black. They blindfolded him and questioned him for information on the whereabouts of another labor activist, Fahima said.
Islam knew the activist but refused to acknowledge as much, she said. He was tortured and then taken to the neighborhood where the activist lived. After convincing his captors he could lure the activist out of his home, he fled on foot.
"He ran so fast that his pajamas were torn," Fahima said, adding that he hid in a house in the village.
Babul tried to explain why men in power would have felt threatened by Islam.
"His eloquence left workers mesmerized," Babul said. "He had the charisma to communicate in a way easily understood by workers. He could organize workers anywhere, anytime."
In 2005, Islam became one of the first worker representatives ever elected in Bangladesh's garment industry. He defeated a candidate who'd been hand-picked by the owner of a factory, Shanta Denims LTD, to become head of the Workers Representative and Welfare Committee (WRWC).
The WRWC is the only workplace-based labor group allowed in the government-controlled export-processing zones. Nonetheless, Islam's victory earned him suspension from his job -- a common tactic used by garment factory employers against activists. Islam then became a paid, full-time organizer.
Islam's job was to make workers understand their rights to organize -- rights which are routinely undercut by factory managers in Bangladesh. According to an official government inspection report, more than 60 percent of garment factories do not allow the government-approved WRWC to operate within their walls, let alone an actual trade union.
Workers are now much more aware of their rights in Bangladesh, in part because of the activism of people like Islam. Although workers are still coerced, as they were in the Rana Plaza disaster, workers are now willing to protest publicly when they're treated poorly.
Islam's friends believe he ultimately paid for his life through his activism, and that the government was involved. Kalpona Akhter said shortly before Islam's death, she received a phone call from a man identifying himself as NSI. The man said Islam should no longer be organizing workers, Akhter said.
Before they buried him, police took photos of Islam's body. His captors had mutilated his legs and mouth worst of all. Horrifically, they had drilled into his right leg below the knee and plucked his toenails out. His teeth had been pulled out of his jaws.
Fahima, a mother to three young children, has only a few photographs to remember her husband by. She keeps them in the folds of her robes, tucked away in a wooden dresser. She still puzzles over his murder, and over his torture.
"He was so skilled at running away that they mutilated his legs," Fahima said. "But why did they have to pull out his teeth?"
Popular in the Community