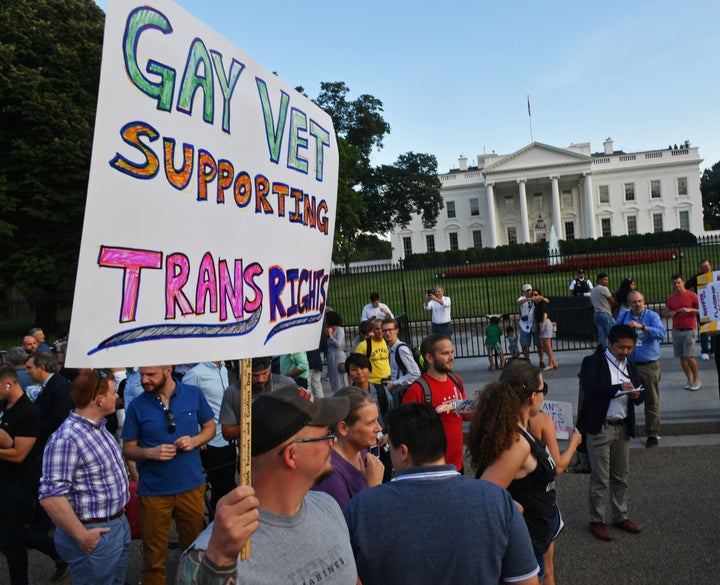 This week, I learned that the United States officially wants to discriminate against me.
This week, my president said he wants to prohibit trained and able transgender military personnel from serving our country and protecting us.
All in all, not a good week for the LGBT community.
Remind me again: how is this making America great again?
We have traveled so far (backwards) in just a year. At last summer's Republican convention, our future president said, "As your president, I will do everything in my power to protect our LGBT citizens from the violence and oppression of a hateful foreign ideology. Believe me."
Unfortunately, hateful domestic ideology was not mentioned. Oppressing LGBT citizens based on hateful domestic ideology is A-OK, apparently. This will lead to violence for the LGBT community. Believe me.
The animus brief – I mean, amicus brief ― that the Department of Justice submitted this week states that an employer may legally discriminate against a gay employee if the employer treats "homosexuality differently for reasons such as moral beliefs about sexual, marital, and familial relationships." In other words, if my boss decides to fire me because I am gay, that is permissible, as long as that boss has a moral belief against my marriage to a man. Even though I am legally married in the United States, if my boss thinks that my relationship is icky, I am out of a job. [Fortunately for me, my actual employer has an inclusive non-discrimination policy. But that is not the case for many of us in the LGBT community.]
… these issues are deliberate distractions to shield us from this administration's bigger assaults on our democracy.
… these are political tactics to vex liberals and to motivate social conservatives against them.
Although these statements may be true, I do not like being chosen as the bait to whip my fellow citizens into a political frenzy. But that is the administration's modus operandi: (1) target the most vulnerable, (2) use them as chum, (3) start a political feeding frenzy, (4) divert attention away from corruption, obstruction, injustice, nepotism, unscrupulousness, fraud, abuse, profiteering, crime, misconduct … and general shadiness.
Is this the Art of the Deal I have heard so much about?
Remind me again: how does this make America great again?
No tea no shade: this is not normal. It is not appropriate, either. Eventually, it may be proven illegal.
In the meantime, Americans endure daily assaults. Each day there are new targets: Muslims, Mexicans, immigrants, refugees, women, people of color, scientists, educators, the disabled, the poor, the sick, the LGBT community.
To find out, check the president's morning tweets.
I usually crack snarky jokes to keep sane through all the craziness. But this is not funny anymore. I cannot even bring myself to come up with a good wisecrack for the Department of Justice's focus on the phrase "but for" in its amicus brief.
The most unfunny part of all of this is the fact that Republican leaders are turning a collective blind eye to the outrageous behavior. I want to strap them all down and force them to watch the president's Boy Scout jamboree speech. Telling boys about sex parties on a yacht? Does this promote the family values agenda that the Republicans have been espousing for decades?
I guess if "Grab them by the pussy" did not set off any alarm bells for them during the election, nothing will today.
Is this really what the Republicans want for America? Tell us, please, how is any of this making America great again?
Popular in the Community