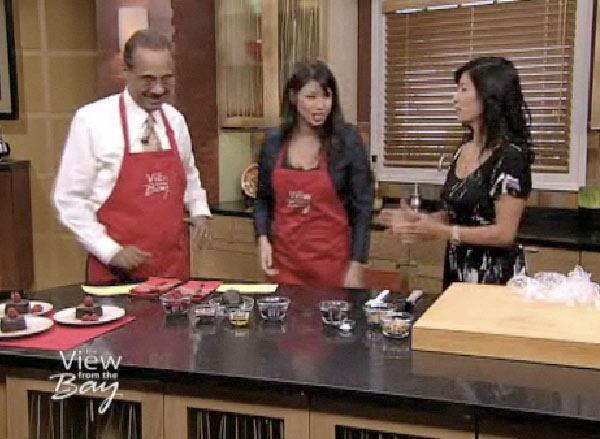 Watch my return appearance on The View from the Bay in SF from Friday Nov 13th. It was awesome to see Janelle Wang and Spencer Christian again. They're super cool and loved my Chocolate Raspberry Ganache Cake. The frosting's made with avocado, which adds a rich, smooth, creamy texture that's free of guilt and empty calories.
Raspberry Ganache Fudge Cake
Say hello to home-style frosting-fresh and not from a plastic tub. It's goodness without
guilt! This recipe uses carob to cut down on the caffeine.
Fudge Cake
3 cups dry walnuts
2⁄3 cup unsweetened cacao powder or
carob powder
1⁄4 teaspoon sea salt
1 cup pitted Medjool dates
Frosting
1⁄3 cup semi-soft pitted Medjool dates
1⁄4 cup agave syrup
1⁄2 cup ripe avocado flesh (from about 1 medium avocado)
1⁄3 cup cacao powder
Filling
1⁄2 cup raspberries
To make the cake, combine the walnuts, cacao powder and salt in the food processor
and pulse until coarsely mixed. Avoid overprocessing. Add the dates and pulse
until mixed well. Shape into two stackable cakes of desired shape and set aside.
To make the frosting, combine the dates and agave syrup in the food processor
and process until smooth. Add the avocado and process until smooth. Add the
cacao powder and process until smooth.
To serve, frost the top of one of the cakes with half the frosting and top with
the raspberries. Stack the second cake on top and frost the top and side. Serve
immediately, or place in the refrigerator for a couple hours to firm up.
The cake on its own will keep in the fridge for many weeks. The frosting will
keep separately in the fridge for 1 week. The assembled cake with raspberries will
keep in the fridge for up to 3 days.
Makes about six servings.