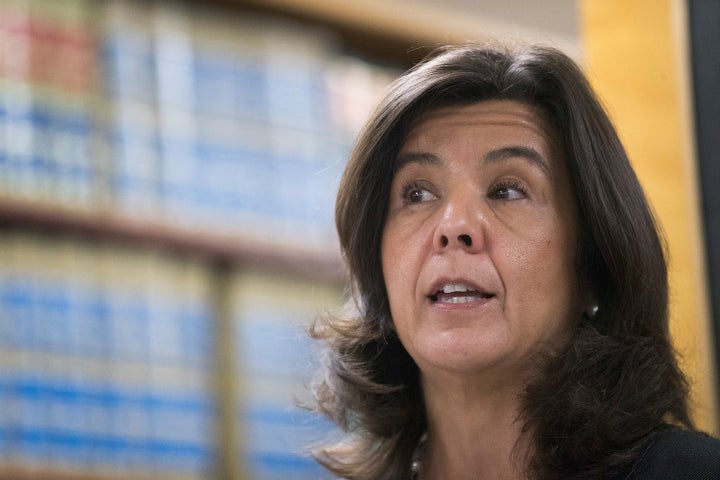 Cook County State's Attorney Anita Alvarez announced on Thursday that she will recuse herself from prosecuting the case against Jason Van Dyke, the Chicago Police officer accused of murdering 17-year-old Laquan McDonald in 2014. Alvarez has asked that a special prosecutor be appointed.
"While it has not been an easy decision, I believe that it is the right one because it will help to avoid unnecessary legal delays and provide continuity in the handling of this very important and complicated case," said a statement from Alvarez's office. "It would also ensure that one designated prosecutor will handle this case as it proceeds to trial."
Alvarez has been heavily criticized for the way her office handled McDonald's death. In October 2014, Van Dyke shot McDonald 16 times as the teen walked away from police. Alvarez's office received the dashcam footage of the shooting two weeks after the incident. But Van Dyke wasn't charged with first-degree murder until November, when video of the shooting was made public via a court order.
Following the video's release, large-scale protests were held throughout the city. Activists made "16 shots and a cover up" a battle cry, demanding Alvarez's resignation. The #ByeAnita campaign used social media to inform voters of Alvarez's professional history. In March, Alvarez, who has a record of being harsh on juvenile offenders and lenient on police misconduct, lost her shot at re-election to challenger Kim Foxx in Chicago's Democratic primary.
Alvarez cited the recent election as a reason for her recusal on Thursday.
"While there is no legal conflict of interest that would prevent the state's attorney's office from continuing the prosecution of this case, I believe that the results of the recent election and the impending transition of this office make this the best and most responsible decision," the statement from her office said.

In February, several organizations filed a legal petition in criminal court claiming that Alvarez's close relationship with Chicago's police union was a conflict of interest. The close political allegiance, the petition said, would prevent her from "zealously and effectively" prosecuting Van Dyke. The petition was signed by the Cook County Bar Association, the Chicago Urban League and Reps. Danny K. Davis (D-Ill.) and Bobby Rush (D-Ill.). 
Alvarez's recusal still needs to be approved by the presiding judge, who will address the issue in court on June 2.
Calling all HuffPost superfans!
Sign up for membership to become a founding member and help shape HuffPost's next chapter