At least once a year in Silicon Valley there is a gathering of top technical talent that for one night, at least, turns the world on its head.
Yes, there are speeches and the artfully-arranged plates of so-so food; and the sort of chatter about algorithms, transfer protocols and Hadoop typical of these sorts of things. But there is something else: Women. A whole room full of women, hundreds of them, easily outnumbering the men.
The Anita Borg Institute's annual Women of Vision dinner is an odd sight in a land known for islands of brogrammer culture where cliques of programmer dudes snicker like school boys at the word dongle and where, in an extreme case, a couple of guys at a tech conference thought themselves hilarious for announcing on stage that they'd come with an app to take selfies of men staring at women's breasts.
But this month's Borg Institute dinner was something more than just an odd sight. It was a night to see the possibilities -- brilliant, energetic, determined and successful female technologists celebrating the best among them.
And this year's dinner left me feeling optimistic that the status quo -- the status quo of not even one quarter of computing jobs being filled by women -- is going to change. It left me believing that more and more women will soon be pursuing and sticking with tech careers for two key reasons.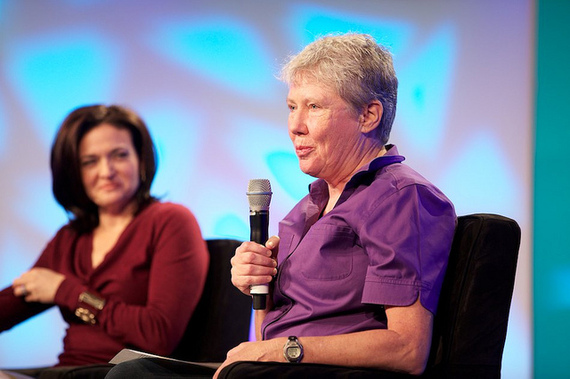 "Every single problem in the world that faces us, requires great technologists who are not just great technologists, but who recognize the effect of their work," Klawe said as she accepted the Institute's leadership award.
And no doubt, if women are going to achieve parity in technology's ranks, it's key to have a deep pool of women trained in technology. But that is only part of the answer. An even bigger cause for optimism came from the dinner's keynote speaker, Accel Partners data scientist in residence Hilary Mason.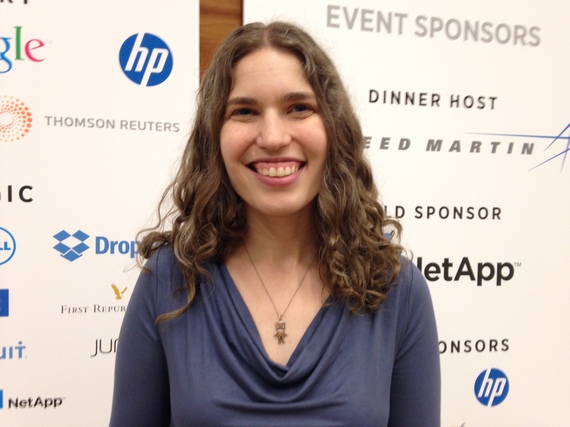 Mason pointed out just how new the field of "data science" is -- so new that some are not even quite sure how to define it. But for Mason, it's not that complicated. Sure, it's a discipline that combines math, statistics and writing code, she said. But at its core, it's a field for people who are interested in "asking good questions and trying to understand the world."
Mason, who made the Forbes "40 under 40: Ones to Watch," grew up in an era when it was unusual for a girl to want to work with computers. But she provides hope that that could be changing for the coming generation.
The well-meaning and significant efforts of schools like Harvey Mudd and non-profits like Code.org, which is working to broaden the appeal of coding among elementary, middle and high school students, are no doubt making a difference.
But the big difference will come from our changing economy and the changing nature of computing work. Industry leaders are already making a strong case that without full participation of women in the tech economy, the United States has no chance of maintaining its lead in innovation.
But perhaps the greatest hope is in Mason's observation of what the field of data science is all about and what it will continue to be about as it grows at break-neck speed. Silicon Valley companies, among others, are employing data scientists to solve a raft of problems -- from making Internet shopping a one-to-one experience, to finding you a parking place, to cooling global warming, to curing cancer.
The tools that are used to make sense of data are becoming simpler and more powerful, meaning they are more accessible to more and more people -- including people whose key interest might not be crunching data, but rather learning what the crunched data can tell them.
The reason we have data scientists today and didn't 30 years ago, Mason said, is because one person can now be the expert in a given field and have the capability to do the data gymnastics necessary to bring new insights to a given field's key mysteries.
It is the sort of paradigm shift that opens up data science to a vast population that never thought of math or computer science or technology as being for them, whether that is women, people of color or, as Kwave says, "poets and football players."
"One of the things that's wonderful about data science as a field right now," Mason told me, "is that people come to it from many different kinds of backgrounds. So, I know data scientists who are psychologists, who are political scientists, who are economists, who are mathematicians, who are computer scientists, who are physicists, who are chemists. And so, perhaps, if we sort of refine what it means to be a data scientist, we can keep that kind of open-mindedness in the training and then have a pretty broad pool of people who might choose to try that kind of position."
Which brings a whole different kind of power to data science -- the power to finally bring women into a corner of our economy that has been a male bastion for decades. Maybe data science will even go so far as to move us to a day when a Silicon Valley tech gathering dominated by women is just another day at the office.
Photo of Maria Klawe with Facebook's Sheryl Sandberg by the Anita Borg Institute published under Creative Commons license. Photo of Hillary Mason by Mike Cassidy.

Mike Cassidy is the storyteller at BloomReach, a Silicon Valley big data marketing application company.
Calling all HuffPost superfans!
Sign up for membership to become a founding member and help shape HuffPost's next chapter