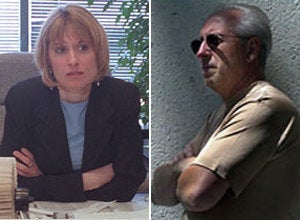 Anita Busch, a former L.A. Times reporter who was allegedly threatened by Anthony Pellicano -- has released the following statement regarding Pellicano's conviction:
I'd like to thank the judge and jury for their patience and wisdom on this case as well as the honest people in law enforcement who stopped others from being relentlessly attacked and terrorized. For that, I am eternally grateful.

The full story of Pellicano's reach has yet to be told. To Pellicano and his wealthy clients, 'winning' meant completely obliterating someone's life and livelihood. They saw the media as just another weapon in their arsenal and used and abused it to go after anyone in their crosshairs. For example, they used their PR connection to plant items in the New York Post's Page Six to slam victims like Bo Zenga and Garry Shandling. And when their targets became FBI agent Stan Ornellas and U.S. attorney Dan Saunders, they tried to smear and discredit these decent men in the pages of the L.A. Times. The Pellicano case coverage in the L.A. Times as reported by Chuck Philips (who told the NY Times that Pellicano was his longtime news source) should be examined. It's a case study of how Pellicano worked his media relationships to try to destroy his adversaries.
REAL LIFE. REAL NEWS. REAL VOICES.
Help us tell more of the stories that matter from voices that too often remain unheard.