Anita Hill on Wednesday said the Senate Judiciary Committee should "absolutely" honor Christine Blasey Ford's request for an FBI investigation into her claims that Supreme Court nominee Brett Kavanaugh sexually assaulted her when they were in high school, urging lawmakers not to rush the process and potentially turn it into "a sham proceeding."
"The American public really is expecting something more," the law professor said in an interview on ABC's "Good Morning America." "We are really under the impression that the Senate doesn't take this seriously and doesn't see this as part of their core responsibility."
Attorneys for Blasey said Tuesday night that she will not agree to testify before the Senate, which has planned a hearing next week, until the FBI investigates her claims.
In 1991, a Senate panel of all white men, led by then-Sen. Joe Biden (D-Del.), humiliated Hill when she came forward with sexual harassment claims against Supreme Court nominee Clarence Thomas. They asked her graphic questions about Thomas' behavior and seemed dismissive of her claims, demonstrating a lack of understanding about the issue. They also declined to hear testimony from other women who accused Thomas of sexual misconduct or could corroborate Hill's claims, and he was later confirmed.
On Wednesday, Hill raised the question of whether history could repeat itself with Kavanaugh and Blasey, "whether or not it is going to be anything more than just a sham proceeding so that the senators can say, 'We gave her a chance to talk,' and then move on to doing exactly what they were intending to do before she came forward," she said.
"Six days is not enough for the senators, who probably know very little about these kind of claims," she continued. "It's not enough for them to inform themselves, and so that's why it's important to have an investigation."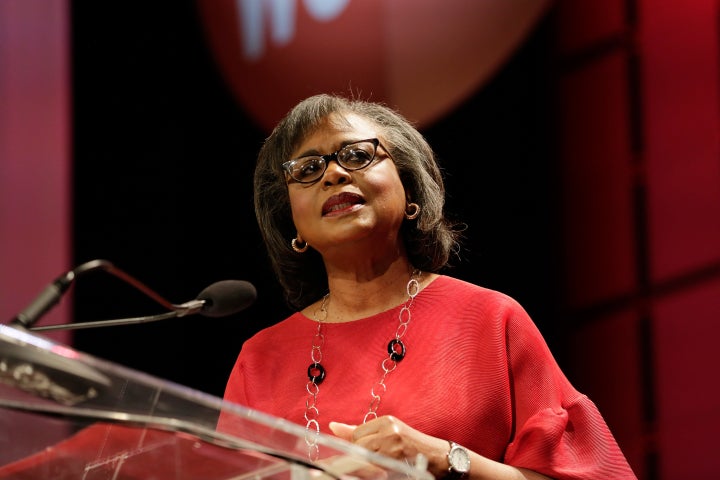 Asked if she had any advice for Blasey, given her own experience in the spotlight, Hill put the onus on the members of the Senate Judiciary Committee.
"My advice is to push the pause button on this hearing, get the information together, bring in the experts and put together a hearing that is fair, that is impartial, that is not biased by politics or by myth, and bring this information to the American public," she said.
Hill's 1991 testimony is widely credited with changing attitudes and rhetoric about sexual misconduct in the workplace. Since the groundswell of the Me Too movement last fall, Hill has chaired a commission formed to improve Hollywood's handling of sexual misconduct and gender inequality. 
Calling all HuffPost superfans!
Sign up for membership to become a founding member and help shape HuffPost's next chapter