Twenty-seven years ago, Anita Hill became one of the first women to publicly accuse a powerful Supreme Court nominee of sexual harassment, shifting the public eye toward the poor treatment of women in the workplace.
Hill, now a professor at Brandeis University, called for the Senate Judiciary Committee to investigate the sexual assault claims in a "fair and neutral way."
"The reluctance of someone to come forward demonstrates that even in the #MeToo era, it remains incredibly difficult to report harassment, abuse or assault by people in power," Hill said in a statement.
The New Yorker on Friday reported the bombshell allegation of a woman who said that Kavanaugh held her down and "attempted to force himself on her" in the presence of a classmate of his while at a party in high school.
The woman's identity was not released to the public and Kavanaugh has denied the accusation. The classmate told The New Yorker he has "no recollection" of the incident.
"The Senate Judiciary Committee should put in place a process that enables anyone with a complaint of this nature to be heard," Hill said in her statement. "I have seen firsthand what happens when such a process is weaponized against an accuser, and no one should have to endure that again."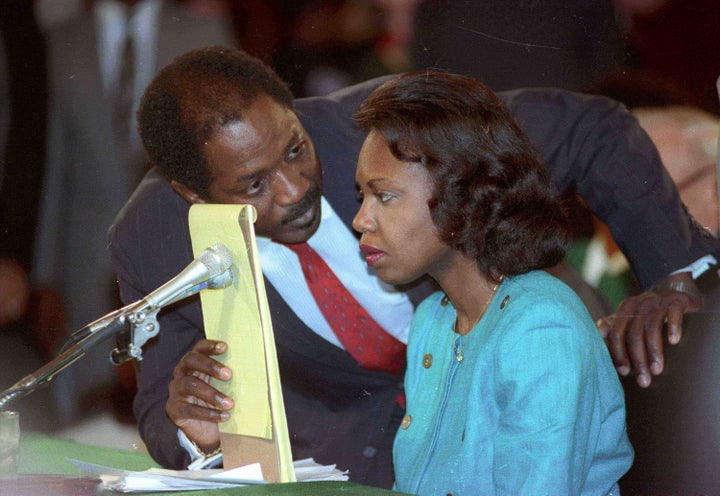 When Hill testified against then-Supreme Court nominee Clarence Thomas in 1991 ― accusing him of making unwanted advances and talking to her about sex and pornography ― she launched a movement that for the first time highlighted the kind of harassment and abuse women regularly faced in the workplace.
A lot changed for women in the decades that followed, with a crescendo in the recent Me Too movement, which toppled some of the most powerful men accused of harassment or abuse across industries, including entertainment, media and politics.
And while, as Hill recently said, there has been "a tremendous amount of change" in the treatment of women, a lot has stayed the same ― especially with the way accusations are handled.
As HuffPost's Amanda Terkel pointed out, Feinstein knew of the accusations against Kavanaugh in July, and rumors about their existence swirled on Capitol Hill, but Feinstein didn't publicly acknowledge them until August.
She was reluctant to bring the issue up because she thought Democrats would be better off focusing on "legal, rather than personal, issues in their questioning of Kavanaugh," sources told The New Yorker.
Feinstein said Thursday that she received a letter with the accusations and forwarded it to the FBI.