When Tootsie Kline was a University of South Carolina law student, a professor asked her a question that would come to define much of Kline's professional life: What do you think about Anita Hill?
It was 1991. That very same week, Hill had rocked the nation with sexual harassment allegations against then-Supreme Court nominee Clarence Thomas. "I believe her," Kline said.
And so Kline got invited to the very first meeting of "I Believe Anita Hill."
Part protest, party, support group and remembrance, "I Believe Anita Hill" has become an annual tradition for hundreds of professional women and students in Columbia, South Carolina. What started as a gathering of just a few dozen women, each of them horrified at how the Senate handled Hill's testimony and searching for like-minded company, has ballooned into a yearly tradition to celebrate Hill and evangelize for equal treatment in the workplace.
Sometimes, they're graced by Hill herself. Now a Brandeis University professor, Hill makes sparing public appearances linked to her 1991 testimony but has been the guest of honor at "I Believe Anita Hill" twice. These were occasions, attendees said, to get to know and understand Hill beyond her televised statements. 
It wasn't difficult to gather women together that first year. Kline, her professor and the handful of other women in their huddle were among the countless women who found that in certain circles their belief in Hill put them in the minority.
"My circle of family and friends didn't all feel the way I did by a long shot," said Kline, now a Columbia-area attorney. "This gave me a comfortable camaraderie. I think we each in our own way have all had similar experiences." 
All of the members today are inexorably focused on the testimony of Christine Blasey Ford, who has accused President Donald Trump's Supreme Court nominee, Brett Kavanaugh, of attempted rape when the two were in high school. Her testimony will unfold, like Hill's, before the Senate Judiciary Committee, which appears hesitant, like last time, to allow her story to stand in his way.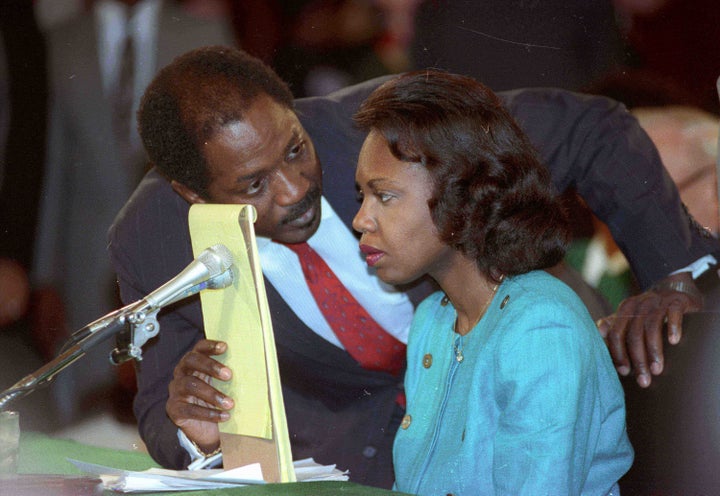 For a group of women who have never stopped thinking about Hill, the parallels are overwhelming.
"I don't see a whole lot of change from 1991, in terms of how very slow to act, painfully slow," the committee has been, Kline said.
Given that several of the same senators during Hill's testimony still serve on the committee, "I'm wondering, how much have we really learned? How much have they really learned?" said Barbara Rackes, a businesswoman in Columbia and an early member of "I Believe."
"Maybe they're going to be a little less pointed" — in lieu of asking questions, Republicans on the committee have hired a prosecutor, she added. "But the notion that we're hearing from many of the same people, I carry some anxiety."
Among the "I Believe Anita Hill" members who will be watching the hearing are many young members, who weren't born yet or were children at the time of Hill's testimony. Lydia Royals, a recent college graduate, doesn't think she would have known about Hill or understood the extent of her impact without the annual event.
Not having lived through Hill's testimony, Royals finds Thursday's hearing more difficult. "I don't want to say, 'oh yeah, of course, we're here again,'" she said, "because I want to stay surprised."
It gave us the ability to examine and explore what it was in our lives that was so oppressive. Her courage and her presence did that.

Marjorie Hammock, an early "I Believe" attendee
It was in its second year when "I Believe Anita Hill" marked the first anniversary of her testimony. The organizers had to confront what the event would stand for in the long run. By then, Justice Clarence Thomas was serving on the Supreme Court; the Senate Judiciary Committee's mistreatment of Hill was more of a scar than an open wound. The "I Believe" originals decided that the best way to honor Hill was to keep talking frankly about sexism in the workplace and swapping solutions. The annual event became a place for women to name and recognize the sexual harassment they faced in their own workplaces and to keep memories of Hill's bravery, as many of them described it, alive.
As the events of 1991 receded into the past, the organizers also made it a mission to keep the memory of Hill's testimony fresh. "Bring someone along" — meaning, a young woman — became the group's informal motto.
"You can't let your guard down," Rackes said.
"[Hill] gave us language and descriptions to behaviors that we knew were happening but had nothing to name and label them with," said Marjorie Hammock, an early "I Believe" attendee and a leader in the SC Progressive Network. "It gave us the ability to examine and explore what it was in our lives that was so oppressive. Her courage and her presence did that."
That was back then. Today, as Blasey testifies, Hammock considers Hill's example to be a different kind of gift.
"She helped prepare us for what was to come," Hammock said. "She helped prepare us for the fact that it was going to happen again."
Calling all HuffPost superfans!
Sign up for membership to become a founding member and help shape HuffPost's next chapter