Anyone can tell you who's already made it, but HuffPost Arts & Culture's On Our Radar series is here to tell you who's about to blow up -- and, in some cases, go pop.
Anj Smith's eerie paintings blend Pre-Raphaelite luminescence, Symbolist weirdness and a modern detachment from certainty. The British painter's works are as seductive as they are ominous; her single-bristle brush crafts worlds unhinged. We caught up with the artist before her show at Hauser & Wirth in Manhattan. Scroll down for a slideshow of her work.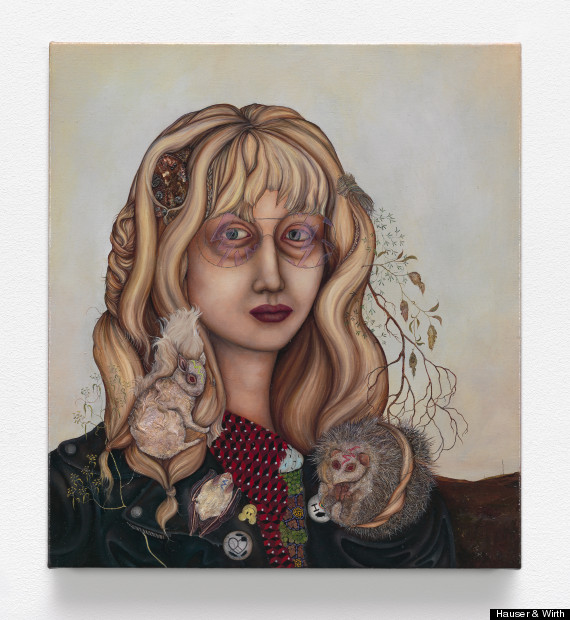 HP: What are you trying to say with this project? Why does it matter?
AS: Very loosely speaking, the flowering 'phantoms' of the show's title relate to the way that language operates in a relentless process of evolution, with new meanings constantly springing from the death throes of their predecessors. The art historical context of painting now is dragged into this as much as any other language (a skull in a Dutch Golden age still-life now seems to signify McQueen rather than mortality. Not even that, thanks to the market rip-offs, perhaps the old sign for death has now just emptied out to solely indicate genericism). To me this process appears as a perfect reflection a current metaphysical state, where the ground underfoot feels marshy, with no stable structures are around to help us define our identity, or to quantify things.
In terms of making an image, the process of painting is an odd choice in the context of our sleek technology -- it's clumsy, awkward and it compromises the image, and takes months! But for me, that's where its profundity lies. There is something gratuitous about it, pointless even, and yet painting's seductive power remains unabated -- which explains its survival. For these reasons, I think it brilliantly reflects a contemporary headspace now, and how it feels to negotiate basic aspects of existence now. It's the whole point. Interview continues below the slideshow.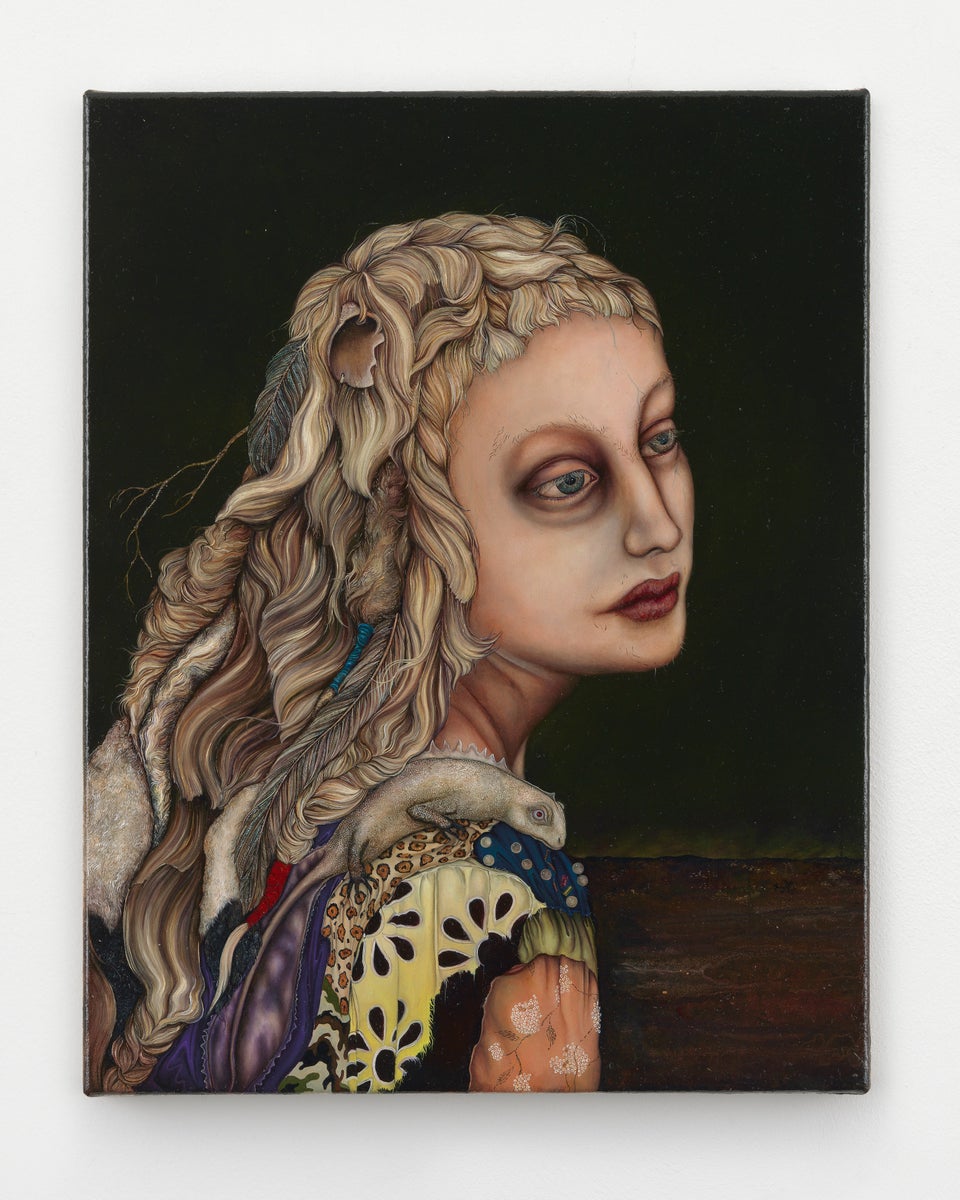 HP: Who has influenced your work?
AS: Persian miniature painting, Bosch, Botticelli and the Netherlandish still-lifes, the Ballets Russes, Blake, Dadd and Darger, Bataille, the streets, certain subcultures, night life, high fashion, Currin, Cooke and Peyton, Butler, Yuskavage, Sasnal, Bujinowski, lepidoptery, botany, costume, armor and weaponary...
HP: What was the lowest point in your career so far?
AS: The lowest point I suspect, was a brief flirtation with welding vaginal slashes into huge metal sheets whilst studying for my BA at The Slade School of Fine Art, in London.
HP: What are you obsessed with right now, or what's inspiring you?
AS: I recently took the train to Paris to see the original Van Cleef & Arpels "zip" at the Musée des Arts Décoratifs. For me, it's jewelry at its most flawless -- the hidden rails pioneered in the 1930's, house individually cut stones whose grooves allow the zip to travel. So it can be worn on the arm as a bracelet or unzipped, as a necklace... and it is exquisite either way. It was worth the trip -- I was mesmerized. Of course, my next reaction was to wonder what it would be like to paint it!
Willem Kalf always maintained that the rivalry between representing objects through painting and the objects themselves is at its most intense when the latter belongs to the very pinnacle of human accomplishment. I cannot get this idea out of my head right now, because I think it's a great ambition for painting.
HP: What movie/book/artist are you embarrassed about not knowing?
AS: I'm embarrassed by my scanty knowledge of other languages. Amongst other things, I'd love to be able to read the books Nabokov wrote in Russian. A friend of mine told me recently that it's a completely different experience. I should really do something about it.
HP: How would your childhood art/music teacher describe you?
AS: Mrs. Deacon... I remember her well! She taught me art when I was about five. She wasn't overly fussed about maintaining order and let us make whatever we wanted whilst reading us stories and folk tales from her own childhood in the West Indies. Anansi the spider was a great favourite -- I made an entire Roman garrison out of waste paper whilst she read us that. It had horses and everything. She gave me the annual art prize for that garrison... I reckon she'd have my back now.
Anj Smith's "The Flowering of Phantoms" runs from January 15 until February 23 at Hauser & Wirth in New York.