UPDATE: 6:15 p.m. — Ann Coulter will be permitted to speak on campus May 2 instead of on the originally planned date, University of California, Berkeley, officials said Thursday.
University Chancellor Nicholas Dirks said that the university had no choice but to find another time and venue for Coulter's speaking event after she insisted on coming to the campus on April 27 ― the original date ― regardless of the safety concerns that prompted the postponement.
"Given our serious reservations and concerns regarding Ms. Coulter's stated intentions, last night I asked my staff to look beyond the usual venues we use for large public gatherings to see if there might be a protectable space for this event that would be available during the compressed, and extremely busy, window of time between now and the end of the academic year," Dirks said in a statement Thursday.
During that expanded search, university officials identified an alternative venue available on May 2 that will be disclosed at a later date.
"While it is not one we have used for these sorts of events in the past, it can both accommodate a substantial audience and meet the security criteria established by our police department," he said.
Officials at the University of California, Berkeley, have postponed Ann Coulter's scheduled lecture on immigration at its campus over safety concerns and fear that the event could spark violent protests.
Dan Mogulof, a university spokesman, told The Huffington Post that police learned that groups responsible for the recent violent demonstrations on campus and in the city of Berkeley planned to target Coulter's event, initially scheduled for April 27.
After news of the event's cancellation spread, Coulter maintained that she would make an appearance at Berkeley next week to deliver her speech.
In a letter sent Tuesday night, university officials told the Berkeley College Republicans, one of the student organizations responsible for the event, that they were rescheduling Coulter's appearance after consulting with campus police over safety.
The letter said, in part:
We therefore must now work together to reschedule her appearance for a later date. We regret this outcome — especially given our unqualified support for our students' right to bring speakers of their choosing to the University, and our deep commitment to the values and principles embedded in the First Amendment of the U.S. Constitution. ...

We realize that this is disappointing news, but the good news is that UCPD and Student Affairs remain firmly committed to working with you to find an alternative time and date for Ms. Coulter to come speak here at Berkeley.
In the letter, officials also blamed the student organizations for setting a date for Coulter's event without first notifying the university.
"UCPD's concerns and recommendations were significantly influenced by escalating violence during demonstration-related events on the campus and surrounding areas of the city," Mogulof told HuffPost.
On Wednesday, Coulter claimed that UC Berkeley officials sent her a list of demands that had to be met before her appearance.
"I've acceded to all their silly demands, which they thought would end it," she told The Hollywood Reporter. "When I said, 'yes, yes, yes,' they canceled anyway. No more clear-cut proof that taxpayer-supported universities will not allow conservative speakers."
A blog post by Young America's Foundation, which was co-sponsoring Coulter's event, said that the university demanded she speak in the afternoon at a site to be announced shortly before the event and to admit only students.
Asked about the reported demands, Berkeley spokesman Mogulof said, "We actually have no idea what she's talking about because we've never actually been in direct contact with her."
Mogulof said that they've only communicated with Coulter through the student organizations that were sponsoring her. The only requests the university has made were safety-related, he added.
"Why she sees those as demands we're uncertain, because they were simply the recommendations we received from our police department about what would be required to protect her and, most importantly, to maximize the chances that the event could be held successfully and safely," Mogulof explained.
"In other words, we can't hold an event when our police department says, 'No, sorry. We can't provide safety and security.'"
It is unclear where in Berkeley Coulter might be speaking next week, but the conservative pundit tweeted Wednesday that she has instructed a "Berkeley student group" to rent out a venue.
The Berkeley College Republicans did not immediately return HuffPost's request for comment.
Before You Go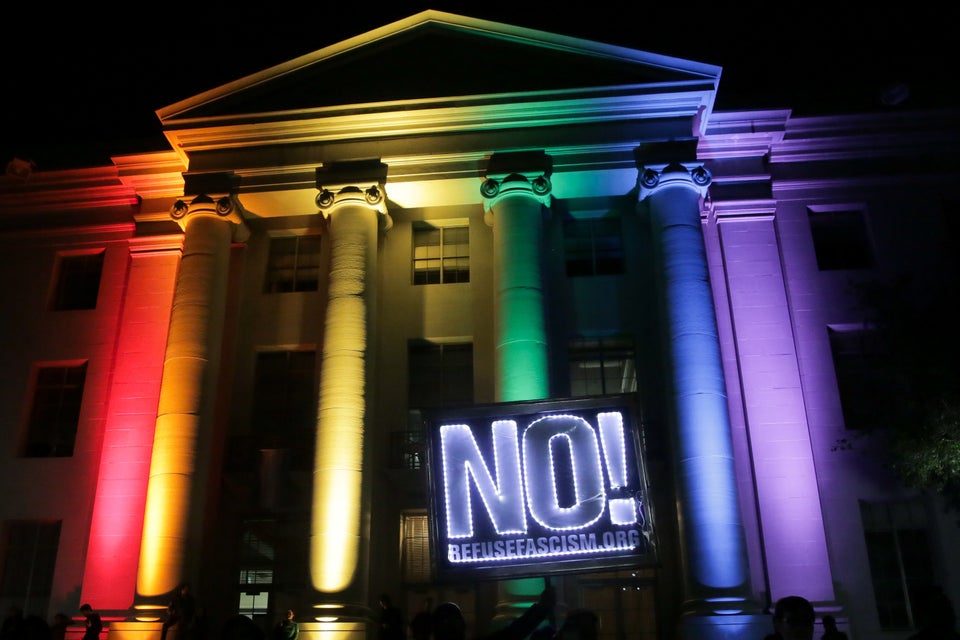 UC Berkeley Protest Milo Yiannopoulos Speech
Popular in the Community