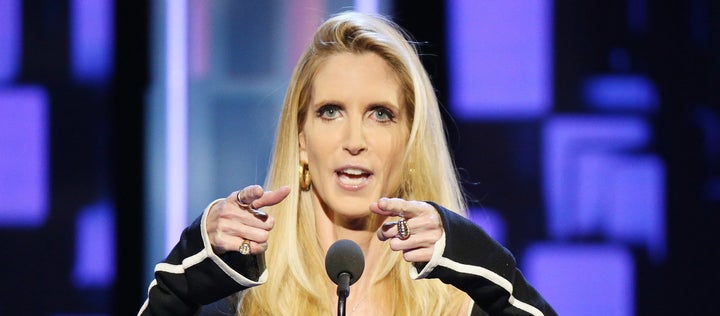 The conservative political commentator often unleashes her anger on social media, but instead of her usual political rants, Coulter used the power of her platforms on Saturday to berate Delta Airlines.
In a series of scathing tweets, Coulter called Delta "the worst airline in America" and claimed the airline gave away the "extra room seat" she purchased before the flight departed. A spokesman for the airline confirmed with HuffPost that Coulter was on a flight from La Guardia Airport in New York to Florida on Saturday.
"We are aware of the customer's comments and we're reaching out to her to address the complaints," Anthony Black of Delta said, adding that the airline was still looking into the situation.
Coulter, who has 1.6 million followers on Twitter and more than 685,000 likes on Facebook, also tweeted photos of a Delta flight attendant, whom she says replied "I don't know," when the political pundit asked "Why are you taking me out of the extra room seat I specifically booked."
In a second photo, Coulter showed a woman seated in an aisle seat who she claims took her original seat.
Coulter's rant against the airline, which lasted about two hours, included complaints about the flight's WiFi, which she claims wasn't working, "probably to prevent passengers from tweeting from the plane about how they're being treated."
Coulter claimed she was upset over the alleged seat change because she took the time to "investigate" Delta's aircraft and meticulously chose her "pre-booked seat." She pointed fingers at the female passenger in the above photo, claiming that she had "waltz[ed] at the last min" and took her seat.
"But at least @Delta was nice @ it," Coulter continued, "summarily snatching my ticket from my hand & ordering me to move w/o explanation, compensation or apology."
Amid her diatribe, Coulter took a brief break to praise JetBlue and their free WiFi for some reason. Of course, she ended that tweet with "Delta sucks."
Brown, the Delta spokesman, couldn't disclose details of the incident, but said that airline representatives would reach out to Coulter, as they would any customer with similar claims.
However, one of Coulter's last tweets Saturday that she had not been offered any compensation or apology for her woes.
While people are usually sympathetic to passengers who have high-profile customer service problems with airlines, a lot of smug people on Twitter were apparently pleased with Coulter's Delta despair.
After her Twitter tantrum, the tides turned quickly on Coulter, who often slams liberals and people of color for playing the "victim card."
And by late Saturday night, the controversial right-wing commentator found herself at the butt of a whole lot of jokes.