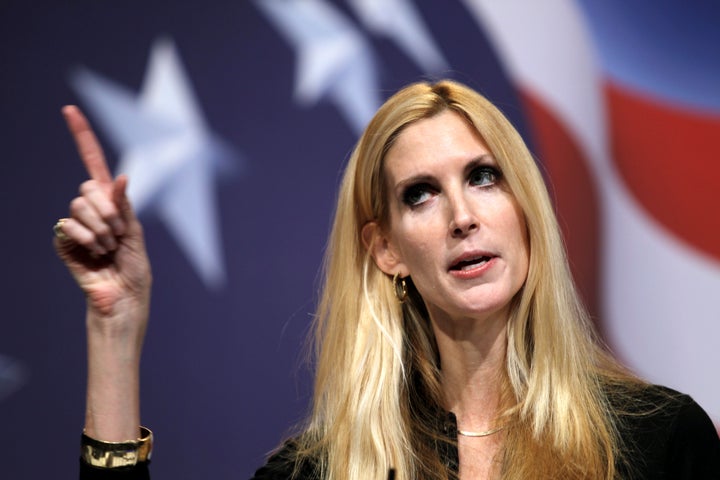 Nobody ever said Ann Coulter was going to play nice during her time at Homocon, a summit held by the gay conservative group GOProud over the weekend, not even the organizers who insisted that she be there. Perhaps it came as little surprise to them, then, when the conservative pundit stood before the group of 150 attendees and aggressively railed against gay marriage.
Marriage "is not a civil right -- you're not black," Coulter told the crowd, building upon an argument that claimed the equal protections provided by the Fourteenth Amendment -- and potentially used to build a case for marriage equality -- were only applicable to black people.
Coulter, who was dropped from a recent event by conservative publication WorldNetDaily for her supposed traitorous behavior in headlining the gay event, wasn't done taking social issues to the heart of perhaps the most socially liberal faction within the GOP.
In fact, despite opening her speech with a joke about the difficulty of "coming out" as a fiscal conservative to one's parents -- something she congratulated the attendees on -- Coulter's speech to GOProud mystifyingly focused on social issues and not the fiscal and foreign policy issues that brought most of the attendees there. For instance, she told GOProud that the conservative gay rights movement ought to make common cause with the anti-abortion movement because, she said, "as soon as they find the gay gene, you know who's getting aborted." Coulter also made a forceful case against sex education in schools, accusing liberals of attempting to teach kindergartners about "fisting" (which garnered her a heckler, who shouted out "What's wrong with fisting?") and told the crowd that most parents didn't want their children learning about the "homosexual lifestyle" instead of reading and writing.
But the attendees of Homocon can't say she didn't warn them -- literally.
"I should warn you: I've never failed to talk gays out of gay marriage," Coulter said at the beginning of the speech.
And the organizers of the event didn't seem surprised.
"We didn't invite her here because we agree on everything," GOProud Executive Director Jimmy LaSalvia told the Daily Caller. "We invited her here because we know she gives a great speech and we had a great dialogue on that subject tonight."
As for Coulter, she told the Daily Caller that the gay crowd was actually more receptive to her anti-gay marriage message than they were willing to concede.
"The truth is...they're already against gay marriage, they just wont admit it publicly," said Coulter. "I'm trying to get these gays to come out of the closet."
Popular in the Community