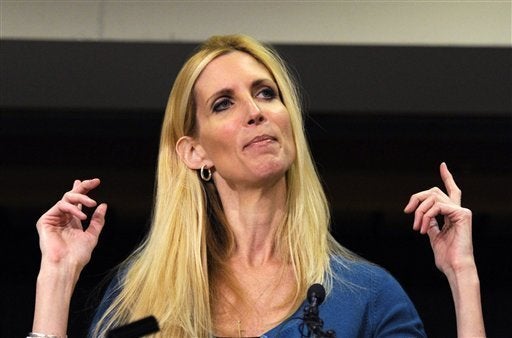 Conservative pundit and unlikely gay ally Ann Coulter is set to headline the first annual Homocon, "a party to celebrate gay conservatives" put on by GOProud, the "only national organization representing gay conservatives." The festivities are scheduled to take place in New York City on September 25.
"The gay left has done their best to take all the fun out of politics, with their endless list of boycotts and protests. Homocon is going to be our annual effort to counter the 'no fun police' on the left," said Christopher Barron, Chairman of the Board of GOProud, in a statement. "I can't think of any conservative more fun to headline our inaugural party then the self-professed 'right-wing Judy Garland' - Ann Coulter."
"I can promise you, Homocon 2010 will be a hell of a lot more fun than chaining yourself to the White House fence," Baron pledged, making light of an incident earlier this year where gay soldiers protesting the military's "Don't Ask, Don't Tell" policy chained themselves to the gates of the White House.
In choosing Coulter, the organizers of GOProud appear willing to ignore her past transgressions against the gay community. The conservative pundit was condemned by gay-rights groups in 2007 when she notoriously called then-Democratic presidential candidate John Edwards a "faggot."
But Coulter's selection probably won't be surprising to many gay rights groups who have pointed out that GOProud sometimes exhibits self-destructive behavior. Earlier this year, the gay conservative group planned a fundraiser with Doug Manchester, a California businessman and hotelier who donated $125,000 to anti-gay marriage Proposition 8.
That fundraiser was held earlier this month in an event that GOProud called an effort by Manchester to "make financial amends with the gay community," which had mounted a boycott of Manchester's hotels and accused him of treating his gay employees poorly.
Calling all HuffPost superfans!
Sign up for membership to become a founding member and help shape HuffPost's next chapter