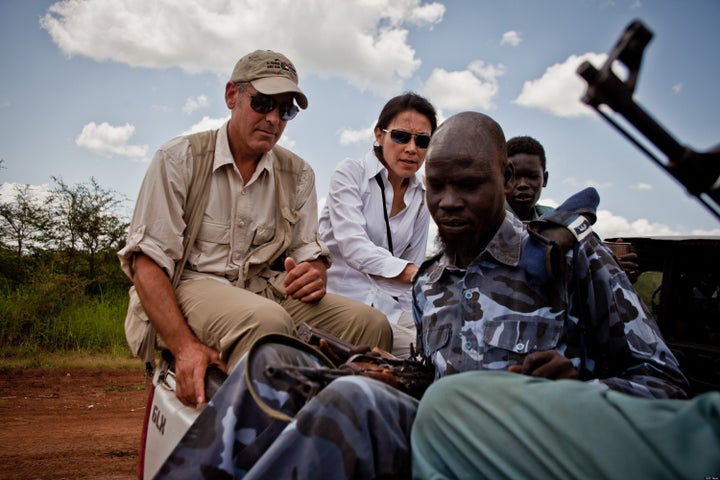 In an interview with The Huffington Post, NBC's Ann Curry said her new documentary following George Clooney's travels through Southern Sudan is so revealing about the star that she had to send him an email to warn him about it.
In the new hour-long special, "Winds Of War: George Clooney In Sudan," which airs Friday night at 10 on NBC, Curry and Clooney travel to one of Africa's most volatile regions. Southern Sudan is set to decide whether or not to secede from the rest of the country in a January referendum. The vote is a condition of an agreement that Southern Sudan signed with the Sudanese government after a decades-long civil war in which 2 million people were killed. But experts believe there is a large possibility that the Sudanese government will not allow the oil-rich region (it contains 80 percent of the country's oil) to split off, setting in motion a brutal conflict.
The special follows Clooney as he meets with victims of governmental atrocities, walks over mass graves and speaks about his devotion to the Sudanese cause.
"We have some raw images of George Clooney near the end of our journey," Curry told HuffPost. "He's just weary from talking to to all of these people, and you see him in this honest way, spelling out [why he's committed]... I'd never expected to see him so unguarded. When you hear this, you get this sense of the man that maybe everything up till now has just hinted at...I had to email him to warn him about how revealing this hour would be."
Like Clooney, Curry has paid special attention to the Sudan during her reporting career -- first in her coverage of the genocide in Darfur, and now with the unfolding situation in Southern Sudan. Asked why she has followed the country so closely, she said she almost did not have a choice.
"There are stories that are 'must-covers,'" she said. "When there are stories that raise questions about whether genocides may be coming...it crosses a line." In addition, she said, the crisis in Southern Sudan is unique one, since it focuses on a possible genocide, not one that is already occurring. That made it even more important to bring attention to the region.
Curry remembered learning about the Holocaust when she was 12, and being stunned that people would risk their lives, and the lives of their families, to save Jews from the Nazis. "I thought, 'my God, could I ever do that?'" she said. Ever since, she said, she has paid special attention to stories and situations that require people to "stand up for what's right."
She traveled to Southern Sudan with Clooney and John Predergast, a prominent anti-genocide campaigner, in early October. One of the places they went was Abyei, a heavily disputed border town that Curry said would likely be the place that any war will start, if war does indeed start. It was not an easy experience.
There, she and Clooney talked to people who, she said, told them of "terrible atrocities" committed by government forces: children and elderly people with their throats slit, women raped, bodies dumped into mass graves. Watching Clooney as he took these tales in, Curry said, was fascinating.
"Because we had an hour, we spend a little bit of time on what it is that may have made George Clooney go back [to Sudan] again and again," she said. She was impressed with how clear-eyed Clooney was about his celebrity.
"He's allowing himself to be used, essentially," she said. "He said, 'the cameras are going to follow me everywhere anyway. Why not follow me to a place where they should be going?'"
Curry also spoke to top American officials, including Susan Rice, Ambassador to the UN, who brought the Security Council to Southern Sudan while Curry and Clooney were there. Curry said Rice told her that the potential crisis is a top priority for her, and that there are extensive negotiations going on behind the scenes to stave off an outbreak of violence.
Despite the gravity of the story she is telling, Curry said she is hopeful about the way the world is evolving.
"I believe that humankind is evolving, she said. "We are moving away from considering atrocities as acceptable...[I think] we are a species that will actually stop it, that will step up."
She also admitted to being frustrated about the relative lack of attention places like the Southern Sudan get in American news coverage, but added that this made her special all the more important.
"For network television to do an hour like this is a very big deal," she said. "It is very difficult to get this kind of reporting on network television...it's very difficult to get people to watch this kind of material. I'm not a shill, but I hope people watch...I want people to care about inhumanity and about the risk to these people who have no voice."
"Winds Of War: George Clooney In Sudan" airs Friday at 10 PM on NBC.
Related
Popular in the Community