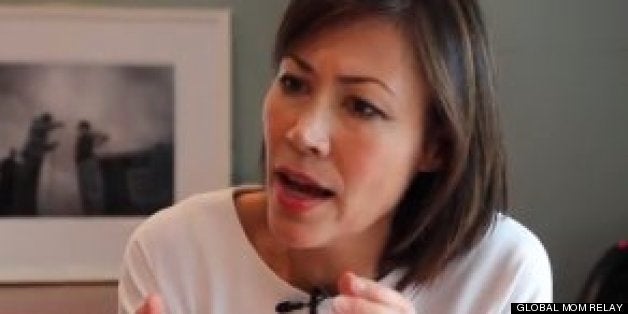 This post is part of the Global Mom Relay. Every time you share this blog, $5 will go to women and girls around the world. Scroll to the bottom to find out more.
As a journalist, I've had the opportunity to meet with mothers around the world who are facing tough challenges in war zones and remote areas without access to medical care for themselves and their children. This is unacceptable. Every mother and every child deserve to live a happy and healthy life no matter where they live.
As a mother, I often think about the world I want my children to inherit. My children inspire me to address global challenges such as climate change because I want them to have the best possible future.
That is why I'm honored to be part of the Global Mom Relay to help raise awareness about the issues mothers and children face around the world and how we can help create a brighter future for all of us. Please watch my video interview and share it forward to help unlock donations in support of moms and babies everywhere. Together we can make a difference.
Each time you share this Global Mom Relay piece on Facebook, Twitter, or Email, or donate $5 or more through clicking on the above graphic, a $5 donation (up to $500,000) will be donated by Johnson & Johnson and the Bill & Melinda Gates Foundation to Shot@Life. $5 protects a child from polio and measles for his/her lifetime. Funds go to WHO, UNICEF and the GAVI Alliance who distribute them to the programs and countries with the greatest need at the time. Join us by sharing it forward and unlock the potential for women and children around the globe. For more information, visit www.unfoundation.org/globalmomrelay. The United Nations Foundation, Johnson & Johnson, BabyCenter, The Huffington Post, and the Bill & Melinda Gates Foundation created the Global Mom Relay, a first-of-its-kind virtual relay with a goal of improving the lives of women and children around the globe.