A tearful Ann Curry announced to viewers on Thursday that her time as a co-host of "Today" has come to a sudden end.
After 15 years on the show, Curry was given a brief four minutes and twenty-three seconds to say goodbye to her audience.
"This is not easy to say but today is going to be my last morning as a regular co-host of 'Today,'" Curry said. "I will still be part of the 'Today' show family but I will have a new title and a new role. And this is not how I ever expected to leave this couch after fifteen years. But I am so grateful, especially to all of you who watch." Curry called viewers the "real 'Today' show family," saying, "I have loved you and I've wanted to show you the world."
Speaking of the network, Curry briefly described her new role as a national and international correspondent. "They are giving me some fancy new titles...we're going to go all over the world and all over this country...We're going to do great work I hope, and be given a chance to do great work, and these stories are going to air on all the platforms of NBC News."
"For all of you who saw me as a groundbreaker, I'm sorry I couldn't get the ball over the finish line, but man, I did try," she added.
Co-host Matt Lauer told Curry she has the "biggest heart in the news business," and he, Al Roker and Natalie Morales each shared a memorable moment from her career. Then, she was gone, and the show moved swiftly along.
While the network has not yet announced a replacement, Savannah Guthrie, who co-hosts the 9:00 a.m. hour on "Today," has reportedly been offered the job. Guthrie was conspicuously absent from Curry's departure.
Curry's exit came about one week after news broke that NBC News executives were planning to replace her. Early Thursday morning, Curry told USA Today that she was planning on announcing her departure on Thursday.
"Today" executive producer Jim Bell released a statement saying, "I know of only one journalist who in just a matter of years has travelled to Sudan six times, broken exclusive world news with top world leaders, and broadcast live from both the South Pole and Mount Kilimanjaro. Ann has quite literally reached amazing heights in her career, and with this new role, she will continue her intrepid climb bringing viewers her signature brand of humanitarian reporting."
It's been a bumpy year for Curry, who assumed the role of co-host last June. After spending fourteen years as the show's news reader, and being passed up for the role of co-host in 2006 when Katie Couric left the show, Curry finally ascended to the "Today" show's top spot after Meredith Vieira left the show in June 2011.
During the past year, Curry experienced a barrage of negative press, criticizing her performance, her chemistry with Lauer, and even holding her responsible for the "Today" show's ratings woes. Critics wrote that Curry, who has admitted her preference for hard news, had trouble acclimating to the show's news diet, which required her to switch from fluffier stories to serious subjects constantly.
For the first time in 16 years, "Good Morning America" beat the "Today" show in weekly total viewers, a defeat that further heightened tensions within NBC's morning show. After months of speculation, The New York Times reported last week that NBC News executives were readying a plan to replace Curry before the network started its London Olympics coverage in late July.
It was quite unfortunate, though, when excerpts from Curry's upcoming interview with Ladies Home Journal were released just one day following the Times story. Curry spoke candidly of her "Today" experience, admitting that it was hard to not take criticism personally. She said she wondered, "Am I not good enough?" Curry added that she would like to stay on the show for another five years -- a detail that painfully contrasted with what NBC News executives were moving to do.
Curry has signed a longterm deal with NBC News as a national and international correspondent. She will produce specials and cover harder news, something she has said comes easiest to her. Curry denied that she would be making $10 million a year with the network, a fact that has been making its way through the rumor mill.
Related
Before You Go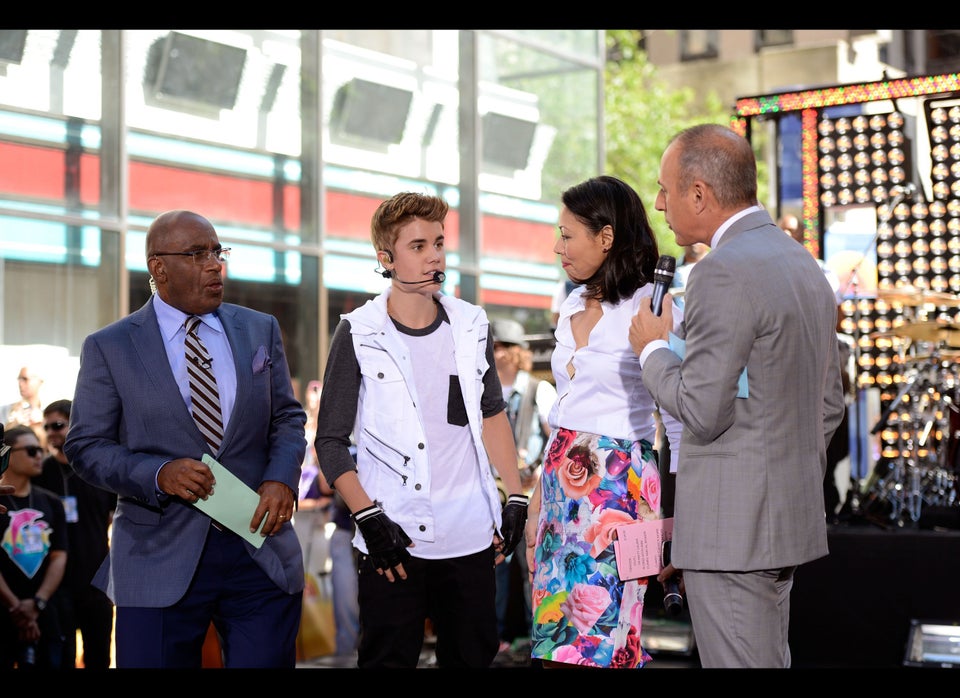 Ann Curry's On-Air Style
Popular in the Community