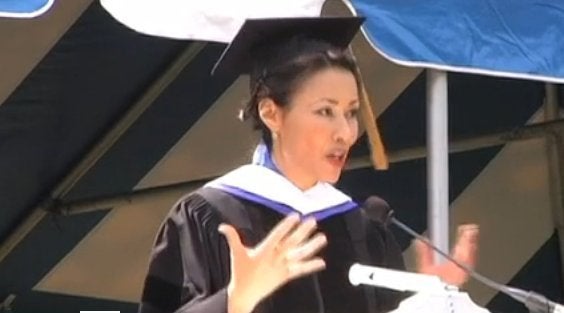 Curry, a graduate of the University of Oregon, cited evangelist Billy Graham, horror director Wes Craven, and 9/11 hero Todd Beamer, who was a passenger on United Airlines flight 93. While it's true all three attended Wheaton, it was the Christian liberal arts college in Illinois, not the school in Norton where Curry was speaking.

To the Wheaton community:

Wheaton's 2010 graduation ceremony this past Saturday was the most delightful I have ever experienced, as the warmth the students showed for their faculty and for each other was so overwhelming it was felt even by me, an outsider.

So it is with a heavy heart that I ask you to forgive me for mistakenly naming graduates of the other Wheaton College in my address.

I now know I should have named National Medal of Science winner Dr. Mary Ellen Avery, former New Jersey Governor and former EPA Director Christie Todd Whitman, literary agent Esther Newberg, Oscar-nominated actress Catherine Keener and Ken Babby, the youngest senior officer in the history of the Washington Post, among others. Thank goodness I got Leslie Stahl right.

I am mortified by my mistake, and can only hope the purity of my motive, to find a way to connect with the graduates and to encourage them to a life of service, will allow you to forgive me.

But whether or not you can, I want you to know that my brief visit left me deeply impressed with the quality of Wheaton. It was evident in the confidence of your graduates as they collected their diplomas, that they have been exceedingly well nurtured. And even with my blunder, the students were also gracious enough to react with a standing ovation. Now THAT is good manners.

With respect and every good wish forevermore,

Ann Curry
WATCH or READ Ann Curry's speech here (her mistake was edited out of both video and text of the speech).