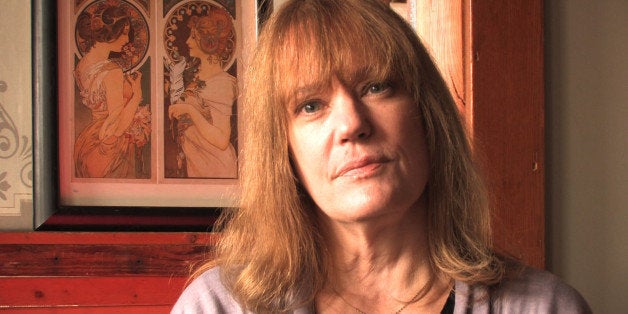 Ann Kristin Neuhaus, was charged nearly $93,000 for the state-run proceedings, which were initiated in 2006 by anti-abortion activist Cheryl Sullenger, a senior policy advisor at Operation Rescue in Kansas and a convicted felon who spent time in federal prison for her role in an attempted bombing of a San Diego abortion clinic in 1988.
"It was so contrary to anything I would normally do," Neuhaus told HuffPost over the phone Friday. "But my husband has been trying to get me to do this for a while, and we desperately need it. We have no disposable income. We literally don't have running water right now. I have to get a payday loan every two weeks just so we can stay solvent."
In addition to raising the much-needed money for her family, the campaign is also a way of fighting back, Neuhaus said.
"It's a kind of payback to the state," she said. "It's a way of promoting the issue, to show there's actually support for women's rights."
So Neuhaus went ahead and started the online campaign on crowd funding website Indiegogo. Since it was created Aug. 20, the campaign has raised more than $11,000. As of Friday, there are 50 days left to meet the $92,672 goal.
Unlike Kickstarter, another online fundraising platform, Indiegogo will allow Neuhaus to receive the donations even if the funding goal isn't met, although the site takes a larger cut of the proceeds for campaigns that don't reach their goals.
Part of the reason Neuhaus's bill is so high is because the Kansas Board of Healing Arts, the doctor-regulating agency that held the hearing to strip her of her medical license, flew in an expert witness from Washington, D.C., to testify against Neuhaus at a cost of about $74,000.
Ultimately, the hearing officer in the case determined that mental health consultations Neuhaus provided for 11 young women seeking late-term abortions didn't "meet the standard of care."
Those mental-health exams were, at the time, mandated by state law. Neuhaus was working with George Tiller, a doctor who performed late-term abortions at a Wichita clinic until he was murdered in 2009 by a man professing passionate anti-abortion opinions, when she performed the consultations. She freely admits the documents from those exams were light on details, and she told HuffPost earlier this month that she kept them that way on purpose, because even in 2003 (when the exams were conducted) she suspected that one day the records might be obtained by state officials who would use them to wage a campaign against her.
"We all knew that we were operating in a fishbowl," she told HuffPost earlier this month. "I made [those records] skimpy because I realized that they could get into the wrong hands. And sure enough they did."

REAL LIFE. REAL NEWS. REAL VOICES.
Help us tell more of the stories that matter from voices that too often remain unheard.