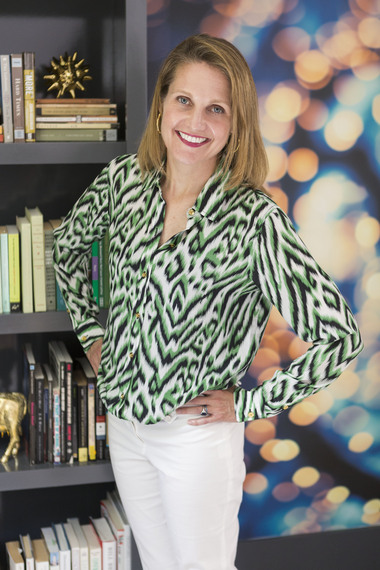 Business for the creative minded can often be a challenge, but for Annie Lowengart of Ann Lowengart Interiors, creativity and business are one in the same. The Bay Area has become a central hub for interior designers so standing out is crucial to success in this niche field. Each firm or designer must contribute something unique to their clients, something only they can provide. What sets Lowengart apart from other firms and designers is her sharp business acumen and transparency.
"In college, I dreamt of interior design and city planning," recalled Lowengart, "but I didn't think I could make a living doing it." Right before graduating from the University of California of Berkeley in the early '90s, she was recruited by the multinational consumer goods company, Procter & Gamble. In addition to learning the ins and outs of a multi-billion dollar corporation, she also acquired skills such as system organizations, time management, and even active listening. Lowengart was unknowingly collecting knowledge for a future dream she did not yet know would come true.
During the late 90s, Lowengart decided to quit her corporate job and pursue a career in design. After purchasing a property in San Francisco and remodeling it herself, she was able to easily sell it for profit. This was the beginning of her reputation as colleagues and friends began to consult her advice for their own remodels. When she realized how seamlessly she was able to transition to a design job, she knew it was time to go full force in the direction of her dreams. Ann Lowengart Interiors was established in 2000 and though it began with a focus on bathrooms and kitchens, the company soon flourished into full home remodeling projects.
With the knowledge she gained from Procter & Gamble, Lowengart was able to run her design company like a well-oiled corporation. This was not only ideal for her, but for her clients as well. Her fine-tuned techniques of crafting budgets up front and running the numbers before the project begins creates a stress-free process for everyone involved. "When the financial stress is taken away," stated Lowengart, "we can actually enjoy the creative process." By offering a service that provides projects on-time and on-budget, she is not only ideal for homeowners but also for business owners. A well-managed design company means a loyal client base.
In addition to her business acumen, her eye for design and bold use of color is another attribute that makes Ann Lowengart Interiors a favorite in the Bay Area. While she can beautifully design a classic Victorian era home, she is also unafraid to splash walls with shades of Caribbean blue or shamrock green, breathing new life into the often "safe" world of interior design. She also uses geometric patterns in both textiles and wallpapers creating a look that is both modern and multi-dimensional. Her imaginative design spectrum can range from colorful and bohemian to classic and chic.
A mind that is both business savvy and creative is rare, as these two crafts are usually split into two jobs. Ann Lowengart is yet another example of women entrepreneurs who are intelligent, ambitious, and most importantly, unafraid to pursue their dreams. Her colorful designs are a reflection of herself, a vivid woman who proudly lets the many hues of her mind shine. Aspirations are always riddled with challenges and obstacles but focus and determination can get you through anything. "When you do what you were meant to do," she stated, "you can weather the storms and setbacks of business."
REAL LIFE. REAL NEWS. REAL VOICES.
Help us tell more of the stories that matter from voices that too often remain unheard.