On October 30, 2015, 2014-15 Alabama Teacher of the Year Ann Marie Corgill resigned from teaching after being informed by the Alabama State Department of Education that she would need to complete further certification requirements to teach grades that she had been teaching for decades -- including the grade level she was teaching when she was chosen as Alabama's 2014-15 Teacher of the Year.
On that occasion, Alabama state superintendent Thomas Bice considered Corgill to be qualified:
"Ann Marie Corgill is a shining example of professionalism and dedication to Alabama's most valued asset - its children," Bice said in a release. "She is a role model for current and future teachers to emulate, and we are honored to have her represent our state as the 2014-15 Alabama Teacher of the Year."
In an excerpt from her October 27, 2015, resignation letter to Birmingham City Schools, Corgill notes, "After 21 years of teaching in grades 1-6, I have no answers as to why this is a problem now, so instead of paying more fees, taking more tests and proving once again that I am qualified to teach, I am resigning."
In the days that followed her resignation, Corgill still had other goodbyes to say, including the following to her fifth grade students:
November 2, 2015

Dear Corgill Kids,

I wanted to tell you goodbye in person today, but school leaders thought it was best for you to have a regular day at school and move on without any stress or drama. I'm sure you've seen the news or read the articles posted by now. My resignation is an adult issue. NOT at all related to you!! This is why I'm writing this letter. I could not let you go without saying the true things you need to hear from me and know in your heart.

The reporters and news media and adults who make decisions don't know that you are growing together as a team, learning ways to solve problems, are writing pages about your thinking from read aloud, love graphic novels, look forward to recess, and would eat Takis and candy all day if given the chance. [smiley face] But I do.

The reporters and people at the Birmingham City district office and State Department of Education don't know how hard you work in football practice during the week, that you grow and sell fresh vegetables for the Farm Lab, that you cheer and dance, and are the only ones in the school who know all the words to the learning pledge and the correct way to pledge allegiance to the flag. But I do.

The reporters and the payroll department and the Federal Government, and the commenters on AL.com don't know that you go home and write blog posts, that you can teach others how to make avatars (and tell the old folks what they are!), write beautiful poetry, multiply large numbers, and share your thinking about how you see images in number talk. But I do.

The CBS, FOX, ABC, and NBC news media can't begin to share the beauty of your faces, the brilliance of your minds, and the deep desire to learn in your heart. They have no way of knowing that sometimes you cook dinner, go home alone, or take care of your siblings and wipe their tears when they are sad. They don't know what you've experienced in your 10 and 11 years oflife, what you wonder about the future, and who you dream of becoming. But I do.

Rules and regulations and certification requirements can separate us physically, but they will never be able to separate your hearts from mine. I will help you, learn with you, write you, and even talk on the phone with you (even though I hate talking on the phone).

I want each of you to always remember that YOU are more important than tests, scores, federal laws, teacher certifications, or hurtful words that others say. It's your hard work, your never-give-up-attitude, your determination to become a team, your willingness to apologize and forgive others, and your character that matter most....not just now, but forever.

Please remember that I know what it is that makes each of you special and unique, and I want you to promise to continue to learn, live hopefully, and tell the complete and wonderful story of you. Once a Corgill kid, always a Corgill kid. Don't ever forget that.

Love you [First names of students]
Thank You and What Matters

11/6/2015

Many of you have heard or read the news of my resignation this past week. It's been emotional to say the least. I'm writing this morning to say thank you. Thank you to colleagues, family, and friends from all over the country and world who have written to encourage, support, and stand beside me as I made the most difficult decision of my life. This does not replace a personal message, phone call, or in person thank you, but because there are so many of you, I wanted you to at least know for now how much I love and appreciate you all.

Children are more than numbers, more than test scores, and deserve to be treated as humans who will lead us into a bright future. This week I made the decision to take the stand for teachers who deserve the same respect. The work we do with children, the lives we invest in, the years we prepare to be the best professionals we can be, cannot be measured by a test or by a federal government regulation. I had to make a difficult choice to stand for future of teachers, future classrooms of children, and the future of our profession- or simply allow bureaucracy to win again.

What's most difficult is leaving those fifth graders, that community, those ten and eleven year olds who put on their own armor of protection and challenged my every teaching move. What's hardest is leaving those children who, underneath the armor and the anger have hearts that are tender and emotions that are raw and lives that are difficult.

What's wonderful is that we live in a time where we can connect at any time, in almost any way. The kids and I are blogging now, and oh, what powerful words they are speaking. They are pouring their hearts and their lives into these posts...on their own time, in their own way, for their own purpose. It proves to me that writing can lead us out of our pain and into a world of hope, connection, and possibility. I wasn't allowed to say goodbye in person, but here's the letter I wrote to the kids to make sure they knew that THEY are what matter. Our certifications do not define us. It's the lives we touch and change that matter most.
Best wishes to Ann Marie as she turns the page.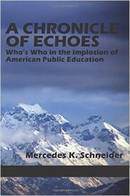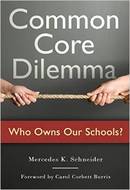 REAL LIFE. REAL NEWS. REAL VOICES.
Help us tell more of the stories that matter from voices that too often remain unheard.