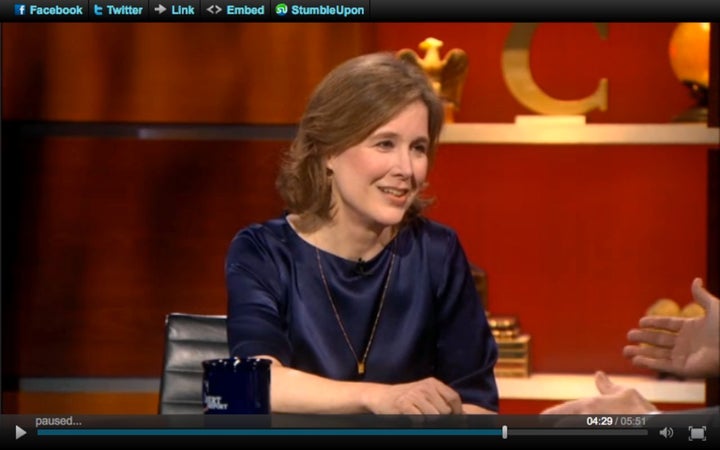 Last night, Ann Patchett appeared on "The Colbert Report" to defend physical bookstores everywhere.
Colbert opened with the question, "Why would a writer open a bookstore?" Patchett relayed that the two big bookstores in Nashville closed down.
Despite competition from Amazon and the demise of Nashville's other bookstores, Patchett doesn't worry. She believes the industry has come full circle. "Suddenly," she said, "People are waking up and going, 'But I want to have some place to take my kids for story hour on Saturday. I want to have someplace to go to book club and see an author read.'"
Colbert later asked, "What can I get from a local bookstore that I cannot get from shopping online?"
Patchett quickly replied, "Smart people...we have so many smart people working in our store. You come in, you tell us what you just read, what you liked, I'll tell you what you should read next." She followed with, "If you never, ever talk to people and you meet all of your needs on the Internet, you wake up one day and you're the unabomber."
If book buyers remain unconvinced (even after the unabomber bit), Patchett has something else to offer. At the end, she noted, "If you buy 'State of Wonder' on parnassusbooks.net you can get it signed." Well, that's something you're definitely not guaranteed on Amazon.
WATCH:
Calling all HuffPost superfans!
Sign up for membership to become a founding member and help shape HuffPost's next chapter