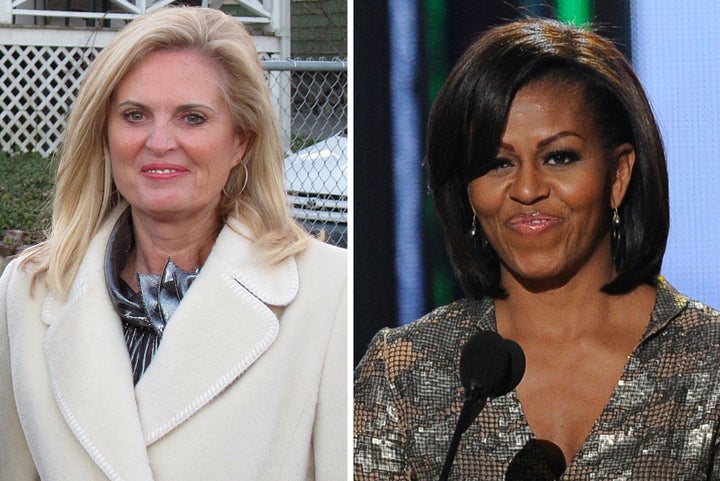 WASHINGTON -- As Mitt Romney moves into full-scale general election mode this week, his wife faces more than the challenge of boosting her husband's candidacy. Ann Romney meets a tough competitor of her own: first lady Michelle Obama, an international style star who enjoys sky-high approval ratings.
Over the past four years, the first lady has crafted a near-flawless signature style built around mixing patterns, combining high and low labels, kitten heels, and clean lines that highlight her admirable physical fitness.
Ann Romney has so far focused on appearing approachable and appropriately dressed for the occasion and not evoking the Stepford political wife stereotype. During the GOP primary, her style strategy proved effective in a field that included the ultra-dressy Callista Gingrich and the often casually outfitted Karen Santorum.
But this is the general election, and Romney -- who has already answered the questions in voters' minds about her ability to serve as first lady and her crucial-asset status in her husband's campaign -- should be prepared for near-microscopic scrutiny of her look.
To that end, Fashion Whip has three wishes we'd love to see granted by Ann Romney.
Red Carpet Tresses. It's no secret that a great hairdo can be a bear to maintain, but now that Romney is appearing on television nearly every day, a smooth blow-out a few times a week would go far to putting her on par with Michelle Obama's consistently perfect 'do.
Romney's hair looks smashing with a layered cut and side-swept bangs, and some of her best looks have involved a big injection of volume. That said, she has her off days, too, and we've spotted frizz and dark roots.
While this may sound trivial, the fact is that in an age of digital images, the vast majority of pictures of Ann Romney that voters see in the near future will be headshots. Ideally, each one of them will help reinforce a positive impression of her. Romney is a major player in this election -- there's no reason voters should be distracted by a bad hair day.
A Signature Style. Ann Romney needs to create her own look, something Michelle Obama did not fully develop until her first year in the White House. So far, Romney has clearly shopped her own closet -- a savvy move in an election in which her wealth has been a political liability -- and emerged favoring separates and button-down collared shirts.
But what has looked best so far on the wife of the presumptive Republican nominee hasn't been those conservative button-downs, which add bulk to her frame and compete for space in photos with her hair. Nor has it been the classic campaign trail color, red. On the contrary, Romney's most memorable looks have combined neutral shades, scoop-neck tops and feminine details.
We would encourage the angular collars on some of Romney's jackets to drop out of the race and a few more dresses, as opposed to her separates, to jump in.
Romney is fortunate that her best ensembles are so different from Michelle Obama's signature looks. She can carve out a style niche that's truly her own and present voters with a visual contrast to her counterpart on the left.
A Touch of Glamour. Ann Romney is a beautiful woman, and we wish she would stop blending into the background so often -- and start stopping traffic.
Few other candidates' wives rival her ability to connect with everyday Americans. But as the new sartorial standard-bearer for the Republican Party, Romney still has some work to do before her polish is on par with former GOP style stars like Nancy Reagan and Sarah Palin.
As she heads into the high-octane general election, Romney could benefit from a little spritz of Hollywood before going on camera -- a perfect shoe, a dab of lip gloss and an occasional (but never acknowledged) hint from a stylist.
Ann Romney is a modern woman, and there's a lot we admire about her. But in politics, optics often win out over substance. Romney is in a great position to compete on both fronts.
Below are some of our favorite Ann Romney looks on the campaign trail, and a few that should stay home. How do you predict the Romney/Obama style showdown will play out this summer and fall? Let us know in the comments.

Follow Fashion Whip, @christinawilkie and @styleauteur on Twitter.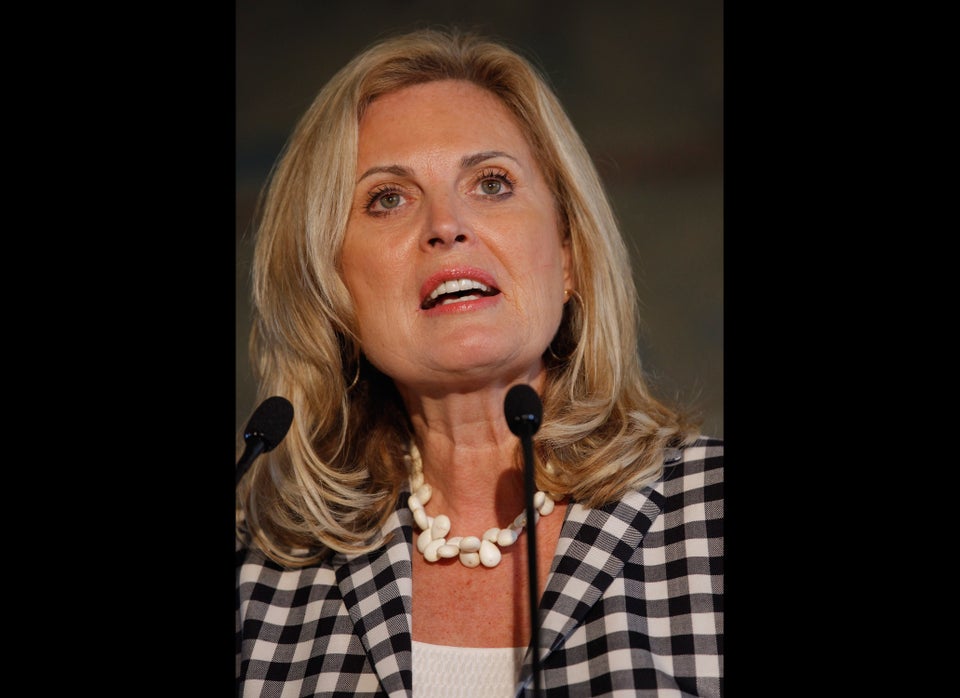 Ann Romney vs. Michelle Obama: 2012 Style Showdown
Related