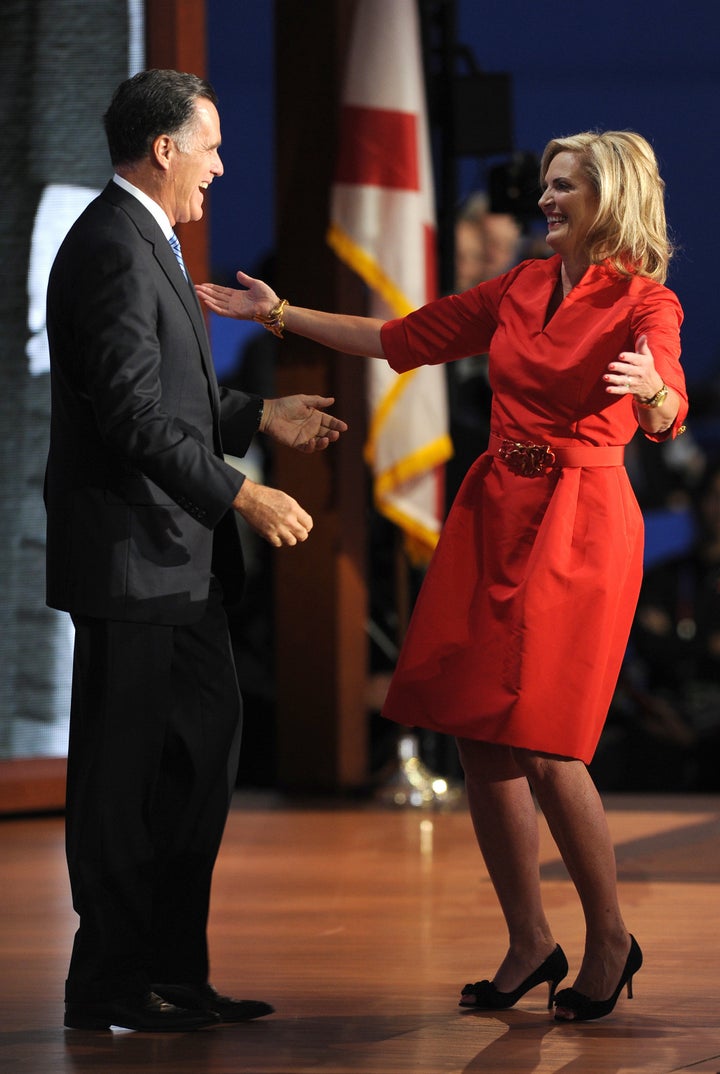 Last night, Ann Romney took the stage at the Republican National Convention to tell us all that she (and, by extension, Mitt) understands the troubles of the average American. She told us all that she knew what it was like to struggle, to worry about putting food on the table. That she knew what it was like to be one of us.
The problem with that, obviously, is that she doesn't.
I hope I'm not dating myself too terribly by recalling that old Pulp song, "Common People." If you haven't heard it, you can listen to it here. Or, if you would prefer a William Shatner cover set to suggestive clips from Star Trek: The Animated Series (and who wouldn't?), you can check that out here instead. The song is about a sort of poverty tourist -- a privileged woman who thinks it's very novel and amusing to slum it for a bit. The narrator, of course, doesn't find his own meager means nearly so amusing because, unlike his delighted companion, his poverty is real, not pretend. "If you called your dad," he points out, "he could stop it all." Still, she persists.
Last night, Ann Romney was that woman and we were the common people.
Romney opened with a long, agreeable "I feel your pain" routine that, at times, seemed to resonate. She, like most speakers last night, was especially interested in appealing to women. She then applied it to a personal narrative, portraying her upbringing as exceedingly modest. In fact, her father -- admittedly a remarkable self-made man -- was a manufacturing magnate and mayor of the affluent Bloomfield Hills by the time Ann was growing up. Finally, she went on to describe her early days with young Mitt in rather humble terms:
We were very young, both still in college. There were many reasons to delay marriage. And you know what? We just didn't care. We got married and moved into a basement apartment. We walked to class together, shared the housekeeping, ate a lot of pasta and tuna fish. Our desk was a door propped up on saw horses, our dining room table was a fold-down ironing board in the kitchen. But those were the best days.
The image is adorable, you must admit. Two struggling students, madly in love, happily eating tuna off of an ironing board. Even doing their own housekeeping! No staff at all. These people actually had to wash their own dishes. Mitt Romney, we are told, started out with nothing.
Happily for them, the Romney idea of "nothing" is probably not yours, mine or even that of a lucid billionaire. Before they got married, Mitt Romney's regular "allowance" from his parents was large enough to buy him regular flights back and forth from Stanford, where he was attending college, to Ann's home in Michigan. When they did get married and move into that "basement apartment," both were spared the inconvenience and indignity of actually having to get a job -- Mitt just sold some of his stock to "get by." And while they may have walked to class together, they probably didn't need to; even they acknowledge that Mitt's parents had given them a car. And when they moved to Boston -- after Mitt Romney obtained his MBA and JD from Harvard -- his parents "helped" the young couple buy a house.
Even slogging through that pile, Romney came across as sweet, good-natured and, to the best of her ability, genuinely empathetic. There were even moments that felt truly candid -- a rare thing coming from a convention stage -- as Romney spoke about her battle with MS and her no-doubt horrifying brush with breast cancer. After Rick Santorum's long whisper through a fog of insanity and Nikki Haley's jarringly oblivious implication that companies like Boeing don't need the government to succeed, Ann Romney was one big, huggable breath of fresh air. But the financial narrative she presented contrasted so strikingly with reality that I actually found myself wondering if she really is crazy enough to believe that she has at any point in her life been genuinely poor.
The Romneys ate off of an ironing board. They seem to think that's what poverty feels like. Well, I went camping once. I'm pretty sure that wasn't what homelessness feels like. Trying to pass this situation off as anything like the fear and heartbreak experienced every single day by millions of Americans living in genuine poverty is insulting, insensitive and, frankly, deranged.
The people living out of cars, in homeless shelters and on the streets didn't have more stock to sell. They don't have two rich daddies they could turn to if things got scary. Or two rich mommies. Or every rich person doing business in one entire state and two entire industries, who knew that helping out an influential person's son or daughter might benefit them later.
Just to be perfectly clear: I do not mean to imply that Mitt Romney has been some sort of slouch. Whatever you or I might think of his methods, the man has obviously worked hard for his fortune. Not "digging ditches" hard or "nursing home orderly" hard, but hard. A lot of trust fund babies waste their lives partying and pretending that they're important, instead of working hard and actually becoming important. It's a sad thing to see, but you see it often. Young Mitt Romney took full advantage of every opportunity he was granted and is clearly a genuinely successful businessman. Anyone can -- and should -- applaud the young Romneys' frugality, determination and dedication.
But that success must also be credited in large part to his unique level of privilege, which clearly shielded the young couple from the true nature of poverty. And real poverty, I am afraid to inform Mrs. Romney, is not merely a series of choices in décor. It is not some sort of a lark. It is not an act of youthful defiance. It is not living frugally simply because you want to prove a point. It is having nothing to fall back on. It is knowing that if you fail or run into even a tiny bit of bad luck, you and your family will not have food or shelter.
Real poverty is not knowing where your children's next meal is coming from. It's not being able to put shoes on their feet or take them to the doctor. It's living in constant fear of losing your job or getting sick. It's not having a car to take you to that job. It's wondering if you'll still have a home two months from now. It's hunger. It's cold. And, above all, it is fear. It's a thousand other worries that millions upon millions of Americans have endured that Ann Romney never will. It is not a cute anecdote about how cheap your insanely privileged husband is.
I don't say this to pick on the Romneys, or to suggest that anyone resent their circumstances. I say it because, unlike many others who have never really known these fears, either, they sometimes seem incapable of discerning the difference between their reality and everyone else's. That is an enormous problem.
You see, a man with this mindset might understand what it takes for the very wealthy to succeed, but cannot possibly fathom what it takes to allow the rest of America to do the same. In Mitt Romney's world, college kids can just borrow tens of thousands of dollars from their parents -- if they can't bring themselves to part with more stock. In the real America, there are over one million students who are currently homeless. Still, in Mitt Romney's world, there's nothing wrong with wasting billions in taxpayer money that could be used to pay down the national debt or lift these students out of poverty, so long as the nation can also move more money from those college kids to private lenders. In Mitt Romney's world, unemployed with $200,000 million in the (known) bank is somehow comparable to unemployed with nothing. In Mitt Romney's world, people say things like, " I'm not concerned about the very poor," and "corporations are people, my friend!"
His wife may have just given the common people another glimpse of it, but Mitt Romney's world is nothing like the one in which we live and our nation cannot be effectively governed from it. Sounds like a nice place, though.
Popular in the Community