By BY KASIE HUNT, ASSOCIATED PRESS
TAMPA, Fla. — Meet Mitt Romney's sweetheart.
Ann Romney, 63, was making her national debut at the Republican National Convention late Tuesday in a speech designed to introduce the country to the man she knows better than anyone.
"Tonight I want to talk to you from my heart about our hearts," she plans to tell the crowd at the Tampa Bay Times Forum. "Tonight, I want to talk to you about love."
The goal: Help people understand the warm, personal side of her husband, a longtime candidate who has sometimes struggled to connect with voters – and who isn't nearly as well-liked as his opponent, Democratic President Barack Obama.
"This is the man America needs," she will say, according to excerpts from her prepared remarks. "This man will not fail."
The woman whom Romney often introduces as "my sweetheart, Ann Romney!" has played the role of humanizer for months now. Together, she and Mitt Romney have five children and 18 grandchildren who range in age from 16 years to just a few months old. She'll often appear onstage at campaign events with her husband, who's obviously more at ease when she's by his side.
On stage in Tampa, she'll emphasize the struggles they went through together. Mrs. Romney has suffered from breast cancer and multiple sclerosis – trials she often cites as evidence of her husband's character.
"I read somewhere that Mitt and I have a `storybook marriage,'" she says in her prepared remarks. "Those storybooks never seemed to have chapters called MS or breast cancer. A storybook marriage? No, not at all. What Mitt Romney and I have is a real marriage."
Mrs. Romney has never appeared before a crowd the size of the one gathered at the convention. The speech was viewed as so critical by the campaign that it moved her appearance, originally scheduled for Monday, a day later after the networks announced they wouldn't cover the first evening's events live.
"I've never gone off a written text. So this is a unique experience for me," Mrs. Romney said as she and her husband flew from Bedford, Mass., near their home, to Tampa on Tuesday morning.
Still, aides say, she is a better campaigner now than she was years ago, when her husband ran for governor and then for president in 2008.
"She's really warmed to the challenge of campaigning. She's gotten better," longtime Romney adviser Eric Fehrnstrom told ABC News.
She's also occasionally played the role of political operator. At campaign events, it's often Mrs. Romney who remembers to thank a long list of friends and acquaintances in attendance. She'll point out familiar faces in the audience to her husband and remind him to acknowledge a particularly important contribution or longtime friend.
Mrs. Romney has suggested she played a significant role in shaping her speech.
"I did say it's going to be pretty, pretty tough to actually write a speech that I feel like I can actually give, and so I had a lot of input in this, I must say," she told reporters. "And a lot of tweaking where I felt like I was getting what I really wanted to say from my heart."
Romney's campaign is trying to show more of the two of them together – and emphasize their love story as an essential part of his biography. When Romney did an interview for "Fox News Sunday" ahead of the convention, the couple also invited anchor Chris Wallace to their lakeside home in New Hampshire, where Mitt Romney flipped pancakes on a griddle and Mrs. Romney, son Tagg, and several of his grandchildren looked on.
And when the pair sat down for a long interview with CBS News, they drove an hour out of their way to the Birmingham, Mich., movie theater where the couple used to go on dates as high school students.
Throughout, Mrs. Romney offered up family anecdotes and stories – and sometimes deeply personal heartache. In that CBS interview, she outlined her struggle in the wake of a miscarriage in her 40s.
"I knew I was losing the baby," she explained, saying she woke early in the morning but didn't wake her husband until 6 a.m. "I decided not to wake Mitt up." Before he took her to the hospital, they woke up the couple's oldest son, Tagg, so he could get his brothers off to school.
She has also discussed her own long struggle with multiple sclerosis, a chronic disease that she and her husband once feared would leave her in a wheelchair. She's recovered, but she still has to carefully manage her time on the trail and be cautious about how often she flies. She's acknowledged she experienced a small flare-up of the disease during the primary season.
But her health crisis has also become a way she can testify to her husband's character – and to his ability to connect with the struggles of average Americans.
She's called it her "darkest hour" – and said he was there with her the entire way.
"Each of us faces struggles of one kind or another," Mitt Romney told Parade Magazine. "Our life was not characterized by financial stress as much as it was by health issues."
Before You Go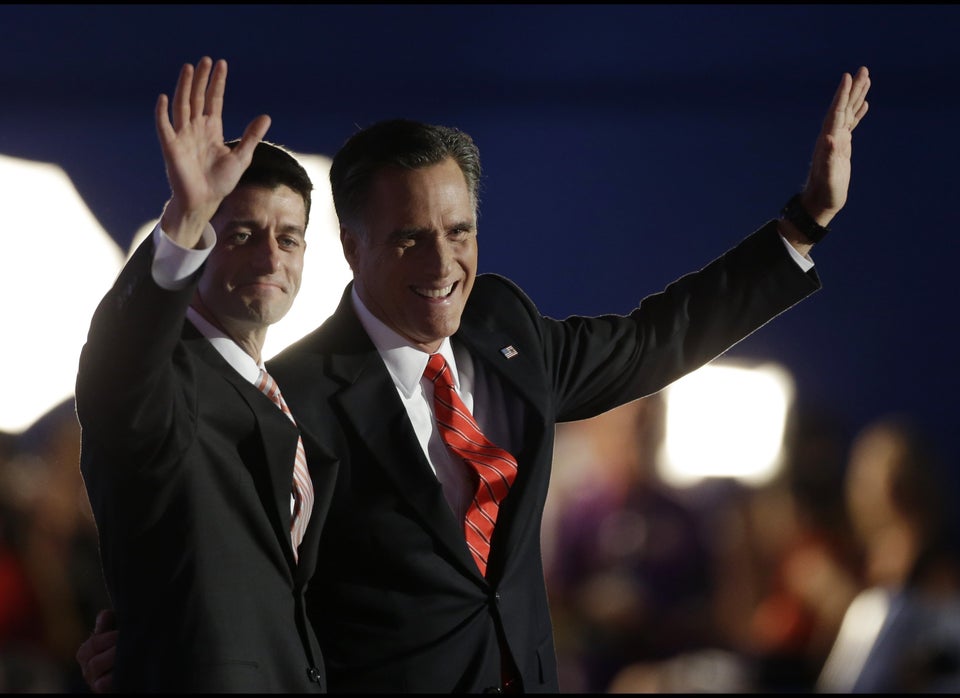 Republican National Convention 2012
Popular in the Community