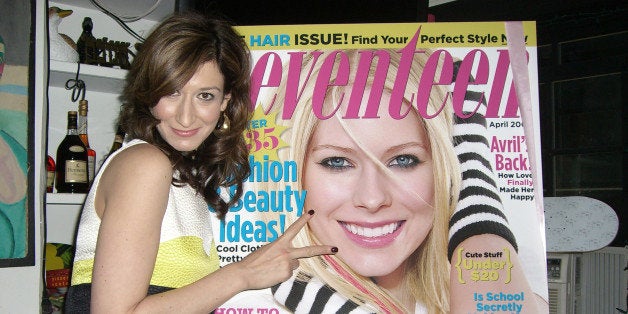 What does it take to get to the top -- without losing your center? Our "Making It Work" series profiles successful, dynamic women who are standouts in their fields, peeling back the "hows" of their work and their life, taking away lessons we can all apply to our own.
Like millions of girls, I grew up reading Seventeen. Many Saturday afternoons were spent intensely analyzing my horoscope, cutting out photos to make elaborate "vision boards" and carefully ear-marking the pages containing the love tips. In the summer of 2010, I found myself on the 17th floor of the Hearst Tower where I officially began my foray into the teen world as a features intern for Seventeen, during which I was given the incredible opportunity to interview Editor-in-Chief Ann Shoket (and even tried on her gorgeous Louboutins).
Fast-forward nearly four years later, and I had Ann in the hot seat again. But this time, I already knew the basics -- like the way she first fell in love with magazines through her internship at Rolling Stone, how she got her start as a business reporter for The American Lawyer and later went on to work as senior editor for Parade's teen magazine, React, and as the executive editor of CosmoGIRL!, where she took on the magazine's leadership campaign. Today, the expectant 41-year-old mother is on her seventh year running the No. 1 teen magazine in the country, while living in West Chelsea with her husband and "delicious" 15-month-old son.
Why do you do the work you do?
I love the business of magazines. It's like candy. Every day you get something new, something delicious. I am driven by the fear of boredom. I couldn't imagine doing the same old, same old, all of the time. And I think what's so good about our business is we have really hard problems to solve. We're having really important conversations with massive numbers of people and it's hard to do that. It's hard to break into somebody's day and have a conversation. So that's why I do magazines.
The "teen" part of why I do what I do was sort of by accident. I started out as a reporter for The American Lawyer magazine and I loved being a reporter. I loved calling up people and asking them really nosey questions. It was so great -- and The American Lawyer was run by this legendary journalist, Steve Brill. I left that job and went to go write about legal issues for teenagers. I was really young and wanted to try new things and it was for a teen news magazine called React, which was like the teen version of Parade.
I got there and I started writing for teenagers and I thought, "Wow, this is awesome." I had always been at The American Lawyer -- I had always been the young reporter who was interested in fashion and beauty and I had a very anti-establishment way about thinking of things. And when I started writing for teens, I was like, "Wait, they're interested in the same things as I am." And [being a teenager] is this amazing moment in your life where anything is possible, and to be able to talk to girls at that moment in their lives feels like such a special privilege. So it wasn't exactly by design that I ended up writing for teens, but thank goodness that I did because it has given my career a real depth and sense of purpose.
Was there ever a point in your career where you said to yourself: "I'm getting older -- this isn't really my demographic anymore. I want to work for a different audience."
No. Teenagers keep me young. I feel like I'm deeply in touch with my inner-16-year-old. And I can't believe I've been here for seven years. It's been more than 15 years that I've been working in teen magazines, so the girls I first started talking to are now grown women running businesses, and I am very proud of the fact that I had some part in inspiring them. But teenagers keep you young and fearless and constantly innovative.
You say you feel very in touch with your inner-16-year-old. How do you do that?
Well, I certainly have a grown-up life. [laughs] You wouldn't know by looking at me that I have this inner-16-year-old who's alive and well, but every single day I think about what it feels like to be a teenage girl and there's some things that are very different from when I was a teenager. We didn't have cell phones. We didn't have digital cameras. We didn't have the Internet. So the texture of girls' lives is very different today than when I was a teenager, and I do not write this magazine for myself.
But there's a lot of things about being a teenager that are eternal. It's that feeling of wanting to be independent and feeling like you know everything and yet knowing that you know nothing. The idea that your life is pure possibility. The idea of sitting in your room and dreaming bigger than anything you can see around you -- that's what it means to be a teenage girl. You know there's a gigantic future out there for you, and that's what I try to imagine for our girls all the time. That's how I stay in touch with my inner-16-year-old and that's how I stay connected to what our readers are feeling.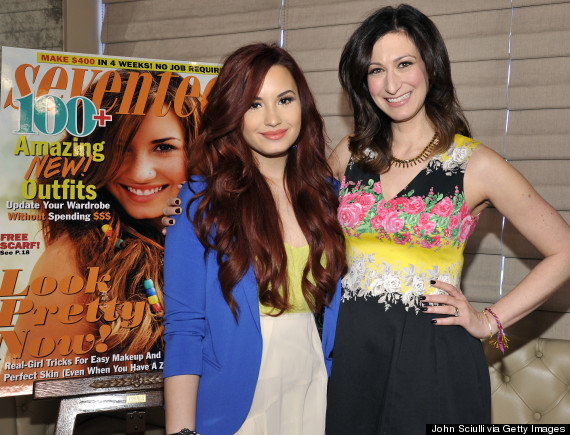 Shoket with Demi Lovato (2012).
Who is your role model?
One of the coolest interviews I ever did was with Barbara Walters, when I was at CosmoGIRL! and running the leadership campaign there. We asked Barbara we she wished she knew when she was a teenager that she didn't learn until much later. And she got very quiet and sort of very thoughtful and said: "Don't imagine that your life now is the way it's always going to be. You have no idea the adventures that are in store for you." And that to me, is such amazing advice for people of any age. There are adventures and opportunities out there for you if you just go get them. Never imagine that this is it for you -- that's you're wrapping it up. That's a terrible feeling to me -- that idea of standing still.
Do you still think that there's a glass ceiling for women?
It's interesting because I was just talking about this at dinner last night, and I think that the world is changing and is being changed by this generation of girls. They're no longer interested in going up towards some apex or some glass ceiling. They're interested in carving their own path -- and that's what success means. It's about finding your own way and doing it on your own terms and making your own decisions. The idea of climbing a corporate ladder really doesn't exist anymore. It's much more meaningful to be an entrepreneur, to create your own job and to find independence in your work. The glass ceiling has disappeared. There's not one ultimate "at the top" for young women these days.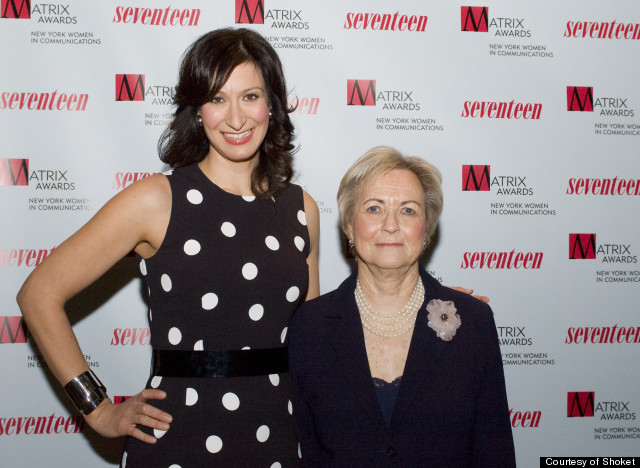 Shoket and Midge Richardson, editor-in-chief of Seventeen from 1975 until her retirement in 1993.
How would you define success?
There is nothing more satisfying than having a good idea and working on it like crazy and seeing it come to fruition. And that to me, it almost doesn't matter how it does in the world because you had this vision -- and it has to be a big idea -- and seeing it happen is massively rewarding.
By that definition, would you consider yourself successful?
Yes. I have these great markers of success every month. I'm so proud of the Girl Power issue that we just pulled off. We asked teenage girls what makes someone powerful in the world, and they said it was independence and giving back. The third was money and down at the bottom was fame and awards. I'm so proud of the work we did with that issue and I feel like every month there's a huge new opportunity. Our world is so 24/7. We live in the world of ideas and it's our job to dream big for our girls.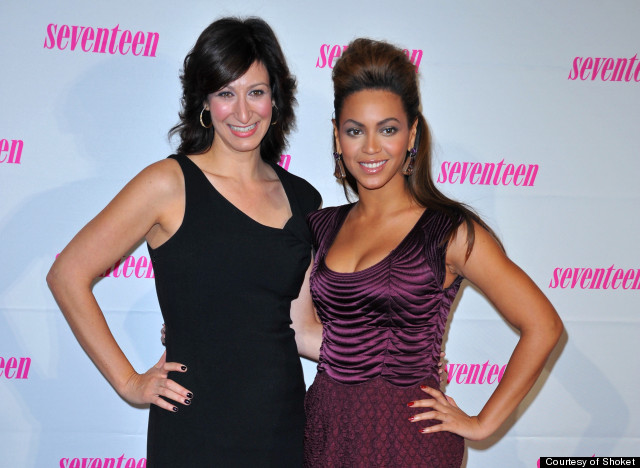 Shoket and Beyoncé at the cover reveal of the December/January 2008-09 issue in the Hearst Tower. Beyoncé was named Seventeen's Style Star of the Year (2008).
How would you define happiness?
Can there be cupcakes involved?
I hope there's cupcakes involved.
And maybe some really good shoes?
Always. I'm on board with that.
I think those are some nice things to be surrounded by. I like working hard. I'm not one of those people who would say, "I find happiness on a beach, relaxing under a palm tree with a cocktail." I think that would be lovely for a minute but I don't think that's ultimately satisfying. It's satisfying to be heard in the world and to be smart and thoughtful.
I'm turning 25 this weekend and selfishly, I have to ask: If you could go back in time and give your 25-year-old self one piece of advice, what would it be?
Ugh, just dump that guy already [jokingly]. So when I was 25, I was just leaving my first job and the world was about to change because -- and this is embarrassing to say -- the Internet became a big thing. My advice to myself then and my advice to you now, is to just be fearless. You can't screw up so badly that anything you do is irrevocable. It's so much more interesting to be daring and to try new things and to be the young hotshot who knows stuff that nobody else knows because you have been bold enough to try something new. The best thing about being 25 is that you have endless time and energy to pursue every single interest that you have -- even if some of those interests are once in a while binge-watching "Pretty Little Liars" on Hulu. But that's all really valuable stuff. Don't feel like you're locked in. Don't let anyone else lock you in. You have to resist the idea of being pigeon-holed -- because you've done this before, you can only do things like that again.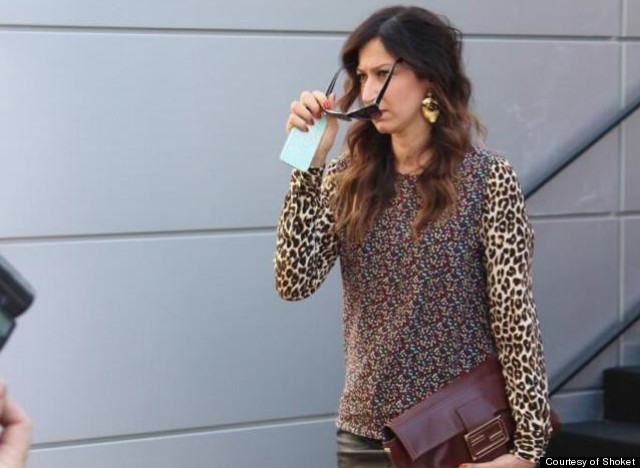 Shoket during New York Fashion Week.
What do you do to relax?
If I can get that spin class at Flywheel, then that's an amazing thing to me. You know, I don't have specific "I must relax" time. Like, I will take such tremendous pleasure in having a cappuccino and a brownie at 4:00 in the afternoon. To me, that's relaxation. Twenty minutes to myself.
And looking at People.com.
Right, for sure. Like planning outfits on Net-a-Porter. There's not like, "let's go to the spa" or "let's have a zen moment." I find I can get plenty of relaxation just from the little bits and pieces throughout the day.
Do you think you have a "work" persona and then an "at-home" persona?
Nah, that sounds like a lot of work. The only thing I'm very aware of, is that as the editor of Seventeen, I have a big responsibility to a lot of girls. I am their ultimate cheerleader and they're not interested in the adult stuff that goes on in my life. So I don't go there because it's not about me. It's about them, and I'm there for them. That's the only place where I draw a distinction.
Who does the grocery shopping at home?
Fresh Direct.
Vacation planning? Who's mostly responsible?
You know, you really do need a team. Things also get done a lot faster and a lot more efficiently when you don't have time to spend on them. Vacation planning can be done in 25 minutes. You trust the reviews on Jetsetter.com, book your tickets, book your hotel and you're done. You don't spend a lot of time agonizing. I planned my entire wedding in about six weeks and we made decisions like this: Did we want chocolate cake or vanilla cake? I think we wanted chocolate. I went to Saks and they said, "Great, you're getting married in six weeks. Do you want this dress or this dress?" I said, "This dress." It was great, pure decision-making and less agonizing, and I loved every minute of my wedding. It was exactly how I wanted it and perfect. So things get done. When you're busy, you get good at making decisions and you know who to trust and you just go.
Did you ever have a big meeting collide with a personal event or commitment?
Everything happens on my husband's birthday or anniversary. He doesn't even care. One of the best pieces of advice I ever got -- it's from an executive here at Hearst -- is that it matters very much who you marry. You need to find somebody who is going to be your partner and who is going to be supportive of your ambitions. It was seven years ago that she told me that. I have tucked it away and every single time I see her, I remember how fondly she spoke about her husband and I think people who speak fondly about their spouses -- they get extra, extra bonus points.
It matters very much who you allow in your life -- whether it's your boyfriend, your girlfriend, your husband, your partner, your wife. It's important that the people you surround yourself with set you up for success.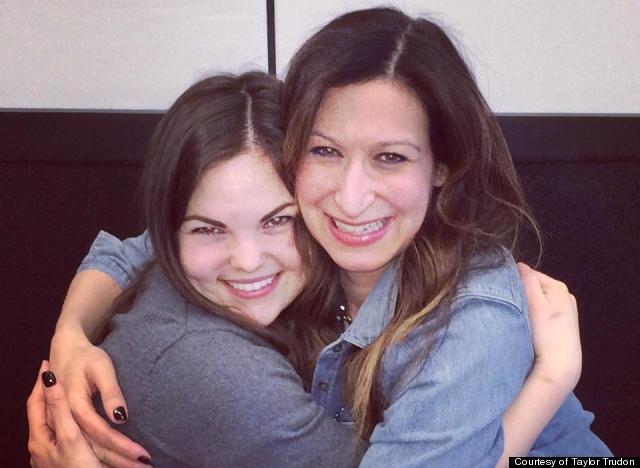 HuffPost Teen Deputy Editor Taylor Trudon and Shoket.
This interview has been edited and condensed.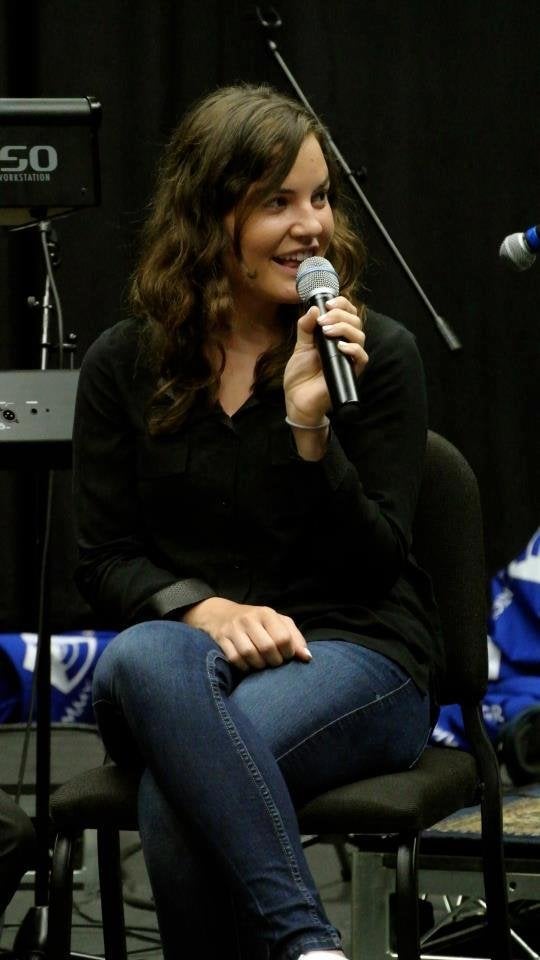 Seventeen Magazine's 2013 "Pretty Amazing" Contest Finalists