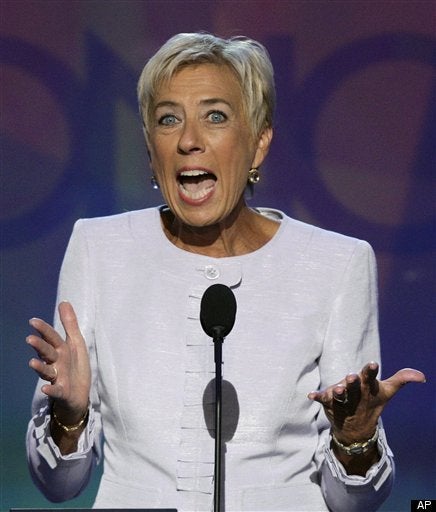 Freed by her retirement to offer unbidden reflections on the state of politics, Anna Burger, one of the foremost figures in the labor community, painted a picture of the Democratic Party that remains hindered, in part, by competing interests and frictions.
The soon-to-be former secretary-treasurer of SEIU and chairwoman of Change to Win said she had few regrets about her many years in the labor movement. But there were some. Among the foremost was the recognition that the progressive movement flubbed a historical moment to implement its agenda.
"There was too much of a belief that you could actually have bipartisanship in Washington," Burger said. "I think the president jumped through great hoops to try to bring the Republicans on board ... and at the end of the day they would always say no... I think that we gave them too much space for too long and I think that that is a shame. We had the magical moment of 60 in the Senate and we didn't take advantage of it."
Speaking to the Huffington Post in what was the first interview since announcing her retirement, Burger made the case that for all the partisan frictions that defined the past year-and-a-half, the legislative accomplishments were still uniquely powerful (health care, The Recovery Act, the Lilly Ledbetter Act, to name a few). Barack Obama, she stressed, was "the best president that we've ever had in my lifetime."
But that didn't mean she was entirely pleased with what she had seen from the White House. Reflecting on the most recent tiff between the administration and the progressive base (sparked by Press Secretary Robert Gibb's dismissal of the "professional left"), Burger chose her words diplomatically. Both parties, she argued, had valid points for frustration. When pressed ever so slightly to expand further, however, she let it slip.
"I think there have been a couple of people in the White House who have been mean to [labor]," she said. "I think that there are a couple of people in the White House who have been too narrow and limited in terms of where we go. I think that there have been a few people in the White House who have at times held back when they should've charged forward."
She declined to name names. The union community from which she's retiring (though still will consult) still has to do business with the administration after all.
But Burger's reflections -- while unique for their public utterance -- would hardly be surprising to those who have watched the labor community's relationship with the White House over the past year. The enthusiasm felt on Election Day dissipated, with time, into heated disputes over the prioritizing of legislation. When several unions threw their support behind the primary challenge to Sen. Blanche Lincoln (D-Ark.) the acrimony morphed into anonymous sniping with the White House accusing labor of flushing money down the toilet.
"We were proud of the fact that we did it," Burger said, when asked about the decision to back Lt. Gov. Bill Halter in that race. "We didn't think it was a sure shot that we were going to win, but we believed that it was an important thing to do because elected officials need to understand that when they don't live up to commitments they make to working people about the basic rights of working people, then there are ramifications of it. And so I think that we need to do more and more of that."
A leading progressive voice and a trailblazing figure in the labor community, part of Burger's portfolio included modernizing and streamlining the Democratic Party's infrastructure. As chair of Change to Win, she led a renegade group of unions that was built to be an electoral juggernaut. As vice chair of the Democracy Alliance, she served as a conduit between wealthy donors and party causes.
As time went by, however, concerns grew that neither entity had become the force it was envisioned. On a broader level, grumblings have begun to surface as to whether the groups that broke off from the AFL-CIO in 2005 (to form, in part Change to Win) would be better served merging back with the union federation.
"I think that structurally it's going to continue the way it is," Burger said, when asked if reconciliation was on the horizon. "I think that there are unions in both federations who work together on different issues... some of the other unions come together around organizing. So I think that you'll see us coming together when there is a common agenda. We'll come together on electoral instances... But I don't think there's going to be any Kumbaya in the labor movement. There's been some discussion about that [in the past]... and we ended up finding some common interest around some certain campaigns, but not enough synergy to actually do something different.,. I think the only way that it would ever change is if people came together and said: 'We want to create a new labor movement for the 21st Century.'"
Popular in the Community