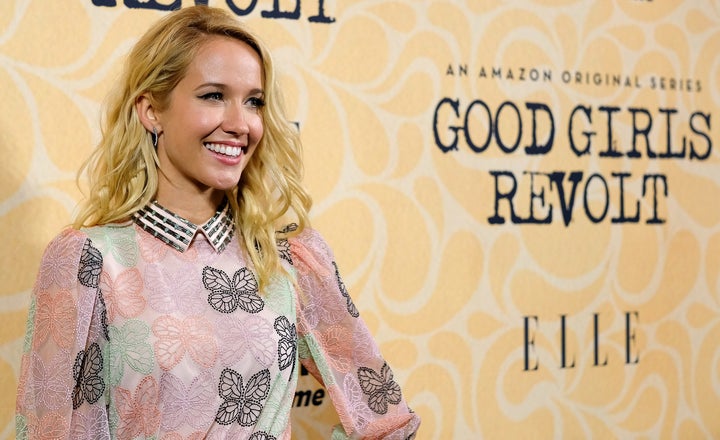 Anna Camp understands firsthand the sexual harassment her fictional character Jane Hollander has to endure in the new Amazon series "Good Girls Revolt." 
On Monday, the 34-year-old actress sat down with People Magazine and her "Good Girls Revolt" co-stars to discuss the upcoming series, which is centered around a group of young female researchers fighting for workplace equality at fictional News of the Week Magazine in 1969. (The series is based on a true story about the young women that worked at Newsweek in 1970.) 
Camp told People that her "Good Girls Revolt" character Jane repeatedly gets hit on by a co-worker ― one that she maintains an important professional relationship with. And, unfortunately, Camp said she's had similar experiences working in the entertainment industry:
I'm happily married now, but [I have had moments] on sets where I have been shooting a scene with someone, it's going very well, but I can tell… "Oh God, I think he's going to ask … Oh God, is he going to ask me out?" But I have to work with him tomorrow! And then I have to work with him for the next month. How do I maintain that balance of not offending him, but getting my point across that I don't want to go out on a date?
The actress hopes that young women watching "Good Girls Revolt" will learn the importance of pushing back on sexism and inequality.  
"Young girls ― stand up. Stop competing with one another and come together and stand up for yourselves in the moment," she said "I've had times where I was sexually harassed or sexually discriminated against, and I go home and I don't say anything in the moment and I mull over it and I can't go to sleep and I think: 'Why didn't I just stand up for myself?' It's OK to stand up for yourself."
As Camp described her experiences, her co-stars Genevieve Angelson and Joy Bryant nodded along knowingly. "Hollywood is just as racist and sexist as any other industry," said Bryant. "We're in America. It doesn't exist in a vacuum."
Angelson added that she too has been confronted with sexual harassment, and acknowledged that often it's difficult for women to figure out how best to respond.
(Watch the discussion below.) 
"When something happens to you, the response isn't immediate ― it's a process of recognizing that you're uncomfortable," Angelson said. "And I think for a lot of people, because of that organic pause that happens, I have felt like I no longer have a right to address it because too much time went by."
Angelson added that it's OK to speak up against harassment like this, whether it's at the time or later once you've gathered your thoughts: "Whenever it is time for you to say something in your own defense for your own well-being, do it." 
Head over to People to read the full interview.
REAL LIFE. REAL NEWS. REAL VOICES.
Help us tell more of the stories that matter from voices that too often remain unheard.
BEFORE YOU GO
PHOTO GALLERY
Women Who Reported Sexual Harassment