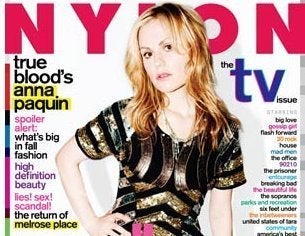 In the new issue of Nylon, Anna Paquin dishes about onscreen sex scenes with her 'True Blood' costar and real-life fiance, Stephen Moyer.
Here's what New-Zealand raised Paquin had to say about her nude scenes:
"I don't think a naked body is particularly shocking or interesting... It's not the culture I was raised in. I was not brought up in the United States. I don't share the [attitude] that you can have graphic violence, but - God forbid - you see someone's nipples."
Moyer also weighed in on the vampy onscreen sex scenes he shares with his fiance:
"The thing about vampirism is that it taps into a female point of view - you have an old-fashioned gentleman with manners who is a fucking killer... it's an interesting duality, because in our present society it would be an odd thing for a woman to say, 'I want my man to be physical with me.' How, as a modern man, can you fucking work that? It's one thing to be polite and gentle... But when do you know it's OK to crawl out of the mud and rape her [as Bill does in one scene]?... It's difficult stuff for a bloke, but a vampire gets away with it..."
Calling all HuffPost superfans!
Sign up for membership to become a founding member and help shape HuffPost's next chapter