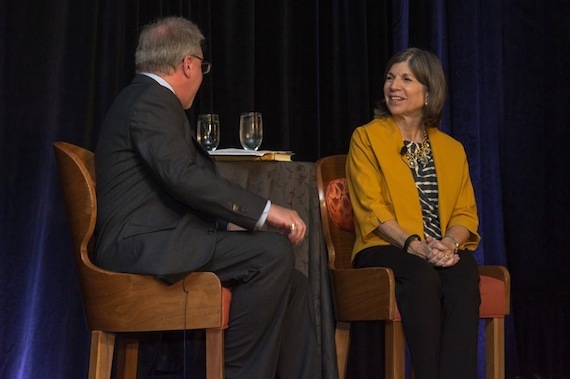 Anna Quindlen has been a huge influence on my life. Her "Life in the 30s" column in The New York Times was my bible when my kids were little and I've read every one of her books, columns and essays.
Luckily, she's a few years older than I am so she's currently preparing me for life in the 60s with her recent memoir, Lots of Candles, Plenty of Cake, and her latest novel, Still Life With Breadcrumbs.
I'm apparently not the only reader the Pulitzer Prize winner has touched with her words, as was proven by the sold out crowd at last week's annual Author's Luncheon for Words Alive, a San Diego non-profit organization whose mission is to open opportunities for life success by inspiring a commitment to reading.
After the luncheon, I got to ask her a few questions.
With your last two books, you've written about women at 60 from real and fictional points of view - or, as Joni Mitchell would say, from "both sides now." What is the defining theme of middle age to you? What areas were you able to explore differently in Still Life With Breadcrumbs that maybe wouldn't have been the right fit for Lots of Candles, Plenty of Cake?
Clearly a lot of women of my age are facing the question of reinvention and identity. Many of us devoted a good portion of the middle of our lives to caring for our children, and some of us will make the decision to take a different path professionally or perhaps to step back from a 9-to-5 life. (Does anyone lead a 9-to-5 life in a digital world?) I think those issues were part of both the memoir and the novel. In Still Life, however, I was also interested in looking at how a woman takes the next step when the balloon of her reputation has lost its air. I haven't experienced that yet, but after living with Rebecca for several years I will be ready if I do.
At one point, in Still Life with Breadcrumbs, someone says to Rebecca, "You will always be Rebecca Winter." How does that resonate with your own life? To your legions of fans, you will always be Anna Quindlen! What does that mean to you? Do you think your readers have an accurate view of who Anna Quindlen really is? Does it matter whether they do?
I love the idea that readers feel as though they know me, that there's this personal connection between and among us. And I would say that from reading my work they probably know about 80 per cent of me. The group that knows me down to the ground is much smaller: family, friends. When my kids were small and I would come downstairs in a suit and full makeup, they would refer to me as the amazing Anna Quindlen doll. Their mom is someone quite different. Got to keep something for yourself.
I love that Rebecca's photographs are celebrated for turning "the minutiae of women's lives into unforgettable images." I would bet your readers would say the same thing about your ability with words. How do you relate to this? Does this make you one of the "warm" writers you were talking about today -- someone who comes from a place of emotion? Are there male writers who you would consider "warm?" Maybe John Irving?
I wouldn't put that many men in the warm column. Dickens, which may be why I love him so. But even Irving is a bit cerebral. I think many more women fall in the emotional/warm class of fiction that I mentioned, perhaps because they do deal with ordinary life. The kitchen table tells as true a story as the battlefield.
I gasped twice during your talk today. First, because I've always wanted to get an Ideal Bookshelf like the one your children gave you as a gift, and I actually hinted about it to my own kids recently. Would you share with us which books they included on it for you and the significance of one or two of them? Second, because Edith Wharton is one of my all-time favorites and I would probably include both House of Mirth and The Age of Innocence on my personal Ideal Bookshelf. Can you tell us why she's important to you as well?
Two girls' books about writers, Little Women and Betsy-Tacy. David Halberstam's The Best and the Brightest, because David was one of our dearest friends. An Unsuitable Job for a Woman, because I love mysteries/PD James, although I think it's there as a double entendre. The House of Mirth, because Wharton understands so much about the quiet desperation of women constrained by societal mores. A Christmas Carol, which we read aloud in its entirety as a family on December 24. It takes about four hours, if anyone is curious. The Phantom Tollbooth and A Wrinkle in Time, which were my two favorite books as a young child. Pride and Prejudice, because Austen is a giant. How Reading Changed My Life - because my kids are the best.
See some of my favorite Anna Quindlen quotes here.
Calling all HuffPost superfans!
Sign up for membership to become a founding member and help shape HuffPost's next chapter