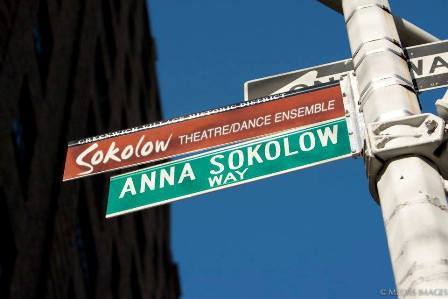 NYC street, dedicated in honor of the late Anna Sokolow; Anna Sokolow Way, a new production at the Theater at the 14th Street Y, Dec 4-8, 2013
"I learned more about acting in her dance classes than I did with any of the acting teachers I studied under at Juilliard." - Singer and actress, Patti LuPone
"Her class was amazing! If she saw a push up, she would say, 'what is that? I don't want to ever see a movement without an emotion attached to it!'" - Actor, Kevin Kline
These comments, some from the 2003 PBS documentary, American Masters: Juilliard, are just a small peek at how the theater and dance community admired the life and work of Anna Sokolow (1910-2000), one of the premiere modern dance choreographers of the 20th century.
Anna choreographed for Broadway Theater (Street Scene, Camino Real, Candide and the original Hair). She taught at New York's Clark Center, at The Juilliard School in the dance and drama divisions, at HB Studio, the Actor's Studio and the American Theater Wing. Her work is in the repertories of the Joffrey Ballet, Alvin Ailey American Dance Theater, Royal Winnipeg Ballet (and more). She helped influence Israeli dance and had a lifelong association with the dance and theater arts in Mexico, and returned to both frequently as teacher and choreographer.
Anna Sokolow's extraordinary legacy will be honored in a new production, Anna Sokolow Way, Wednesday, December 4 to Sunday, December 8, at the Theater at the 14th Street Y in New York City.
Featuring Sokolow Theatre/Dance Ensemble and From the Horse's Mouth, this collaborative season will include a multi-disciplinary dance/play covering Anna Sokolow's personal struggles and the creation of Theater Dance. Conceived and directed by Jim May, Sokolow Ensemble's founder, artistic director and former dancer (Bessie Award), Anna Sokolow Way will include new choreography, rare video, live performance and narrative script along with highlights from Anna's master works, Dreams, Rooms, From the Diaries of Franz Kafka, Opus 65 and Magritte, Magritte.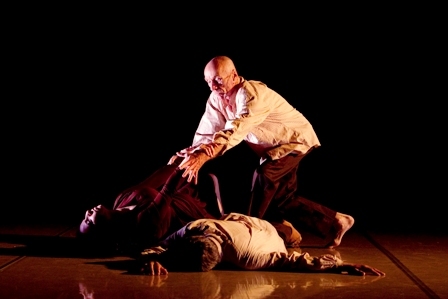 Jim May (top), Samantha Geracht and Roberto Garcia in Anna Sokolow's Dreams. Photo: © Melissa Sobel
From the Horses's Mouth, the acclaimed dance/narrative series co-directed by Tina Croll and Jamie Cunningham, will present its unique blend of movement, storytelling and supportive visual imagery to bring Anna vividly to life. Through From the Horse's Mouth "talk/dance" format, Anna Sokolow Way will offer a firsthand look at the personal experiences of dancers, actors, critics and musicians who worked with Anna over the course of her 60-year career in dance.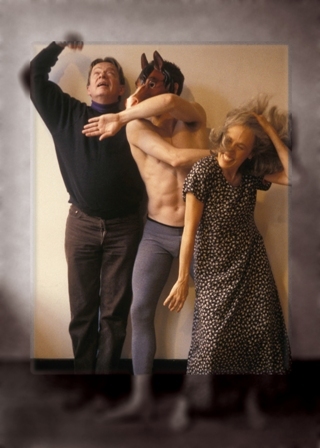 From the Horse's Mouth - Photo: Tom Brazil
Jim May and Tina Croll answered some questions about this innovative production, giving an inside peek at the creative process behind it. Here are some excerpts from our conversation:
Tell, us, Jim, what made you decide to choreograph an original dance/play about the life of Anna Sokolow?
Since Anna passed away over a decade ago, I have been re-creating her dances for the community at large, and also to enable the dancers in the Sokolow Ensemble to become experts of her choreography. This year I am trying to inform both groups about Anna's process as an artist.
How will this Sokolow Theatre/Dance Ensemble season be different from others?
Because of the huge cutbacks in government, we will be presenting a New York season without any funding or grants from the NEA or NYSCA. If people want Art, they are going to have to step up to the plate and I'm not talking some of the millions they give to baseball.
What made you bring From the Horse's Mouth into the mix?
Anna was not only a choreographer but an amazing teacher, who influenced actors, dancers, musicians and playwrights for over six decades. Let's hear from them!
Do you think Anna's work is as valid today as when it was created?
No! I think her work is more valid today. She deals with "humanities" troubles. We still have wars, are confronted with loneliness, protest poverty and need our inner feelings expressed. I wish these subjects would become dated. Goya said, "We have Art so that we won't perish from the 'truth.'" That is Anna's gift.
Tina, how does From the Horse's Mouth help the audience learn more about Anna and her work?
The stories that you will hear will be personal stories from people who worked closely with Anna and knew her personally, revealing a multifaceted personality. The movement also will reveal her passion and her unique style, and tell us much about her.
Would you consider the production a "teaching moment?"
Teaching sounds so academic! This is more a celebration of an extraordinary individual where you get to see the many different sides of her character.
Are there any surprises in store? Tell us who is participating and why?
There are definitely surprises in store! You will hear comments from Robin Williams, Patti LuPone, Kevin Kline, as well as from many of her dancers including Ze'eva Cohen, Margo Sappington, Daniel Lewis and many more.
REAL LIFE. REAL NEWS. REAL VOICES.
Help us tell more of the stories that matter from voices that too often remain unheard.