One of the four American journalists detained this month by the government of Bahrain says officials there interrogated her and her team for two days, all while depriving them of food, water, medicine and sleep.
Freelance journalist Anna Therese Day told HuffPost Live host Caroline Modarressy-Tehrani on Thursday that she and her colleagues plan to file a lawsuit against the government of Bahrain -- a small island country in the Persian Gulf, and a close ally of the U.S. -- over their alleged mistreatment.
She claimed that there were long stretches when Bahraini officials separated the crew from one another and prohibited them from talking to an attorney -- which is against Bahraini law -- or calling the U.S. Embassy.
Officials, she said, also confiscated $20,000 worth of the team's equipment, which they have yet to return.
Day, along with director Alan Bucaria and two crew members who asked not to be identified, were in Bahrain reporting on protests marking the fifth anniversary of the massive Arab Spring uprising in the country.
The Bahraini government cracked down on the 2011 demonstrations with great force, killing dozens of people and imprisoning hundreds, of whom many were tortured and some were later killed.
Over the past five years, journalists have been targeted by the regime. The Committee to Protect Journalists says that since 2011, it has "documented three journalist deaths, including a shooting death in April; dozens of detentions; arbitrary deportations; government-sponsored billboards and advertisements smearing journalists; and numerous physical assaults."
The U.S. counts Bahrain as an important ally in the war on terror, and maintains a base there for the U.S. 5th Naval Fleet. Citing human rights concerns, the U.S. suspended sending arms to Bahrain in 2011, but resumed doing so in 2015.
Day said that while Bahrain might look like a "glittering Gulf kingdom," it is actually still in deep turmoil, and the country's ruling monarchy is once again coming down hard on protesters. Day said she and her team documented one city, Sitra, that is under "occupation" by its own police force.
"The public thoroughfares are off-limits" and the neighborhoods with high concentrations of protesters "have been entirely sealed off" by police barricades, Day said. Police raid the neighborhoods nightly, rounding up and arresting protesters.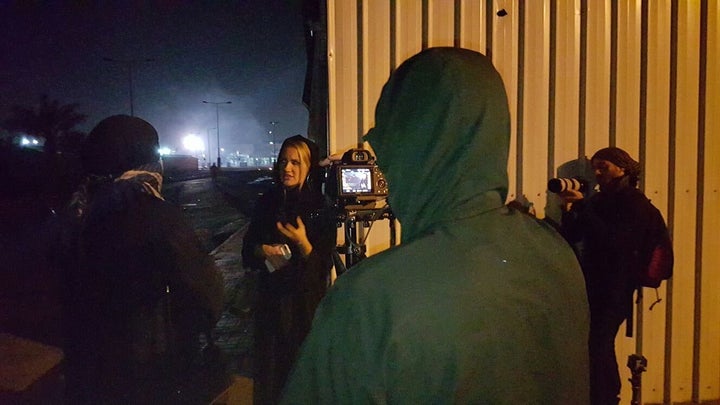 Day said she and her team climbed over barbed wire fences and concrete barriers to meet secretly with activists in these neighborhoods.
"It reminded me of 'Les Mis,'" she said. "Young people were building barricades to prevent police from assaulting their neighborhoods."
On Feb. 14, according to Day, the crew's sound engineer was nabbed by police while following a group of protesters. Day, Bucaria and the other crew member called the U.S. Embassy.
Although they wanted to go retrieve their captured colleague, Day said, State Department officials advised them to stay put while it tried to negotiate the sound engineer's release.
But activists were so excited at the presence of foreign journalists in Sitra that they started taking pictures of Day and her crew and posting them to social media.
The journalists called one of Day's emergency contacts, who picked them up in a vehicle on a nearby highway.
"The police were looking for us and they immediately pulled us over and took us to the police station," Day said. She added that she managed to get a message out to another emergency contact: "In two hours if you don't hear from us, mobilize the embassy."
The crew was brought to a police station where, Day said, police started a "cordial professional interrogation." But then the police realized she was a journalist.
"You're a journalist, you hate our government, you're working with terrorists!" Day said one interrogator yelled, according to Jezebel.
The problem was that Day and her crew, working freelance for a company called Fixture Media, entered the country with tourist visas.
"Journalists come in without media visas because they want to report on real stuff and not take a PR tour," she said.
Coming in as a "tourist" gave her crew the freedom to go and film what they wanted, without being surveilled or followed by government officials.
""Sources in Bahrain are so vulnerable. People are hunted on a daily basis for speaking out. We wanted to protect their safety.""
"We decided it was worth the risk," she said.
But now they faced charges of posing as tourists and taking part in illegal demonstrations, and they faced up to two years in prison.
"They started asking for our sources," Day said. "Of course, we refused. Sources in Bahrain are so vulnerable. People are hunted on a daily basis for speaking out. We wanted to protect their safety."
Day said officers bound her hands and feet and moved her from one jail to another four times during the night. She said she was separated from her colleagues.
Meanwhile, the U.S. Embassy in Bahrain started to negotiate her release, and news of her team's detainment reached the United States. Day's friends and colleagues back home used social media to spread awareness of the situation, using the hashtags #FreeAnna and #JournalismIsNotACrime.
After 48 hours -- a period that Day said included other instances of mistreatment that she doesn't want to speak publicly about -- Bahrain deported the four journalists.
Although officials allegedly confiscated $20,000 worth of the crew's equipment, Day said she managed to save the footage they took in Bahrain, and she looks forward to sharing it with the world.
""As much as were certainly terrified, we left in circumstances based entirely on privilege while our colleagues are languishing in prison.""
Day said she thinks the work of the U.S. Embassy and media coverage of their detention both played a part in securing their release. But other journalists in Bahrain, she added, aren't so lucky.
One of her contacts in Bahrain, a reporter named Nazeeha Saeed, was allegedly beaten and electrocuted while in custody, Day said.
"Those are the high stakes of being a journalist in Bahrain," she said. "As much as were certainly terrified, we left in circumstances based entirely on privilege while our colleagues are languishing in prison."
Officials at the Bahraini Embassy in the United States didn't respond to a request for comment on Day's allegations. The U.S. State Department also didn't respond to a request for comment.
Day said she wants to go back to Bahrain, and that she's communicated to the Bahraini government that she'd like to interview government officials about the protests and get their side of the story.
But she probably won't be going back anytime soon, she said -- at least not until the charges against her and her crew are dropped.
Once the charges go away, she added, she and her crew intend to pursue their lawsuit against Bahrain.
Day said that she and her crew see one silver lining to their detention. They hope they can "use this publicity of this case" to shed light on the "repression in Bahrain."