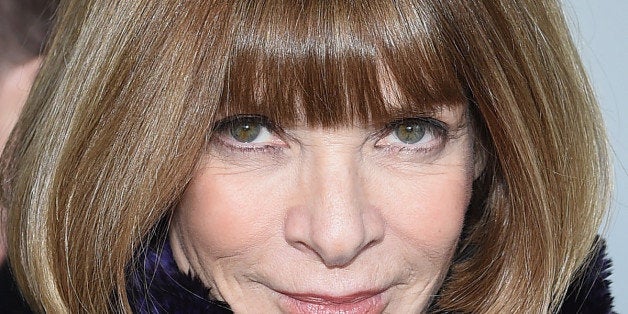 Wintour Is A Big Supporter Of Gay Rights
Asked what she wants to hear talked about this election cycle, Wintour listed gay rights at the top of her priorities list:
Obviously gay rights, although I feel that's a case that's well on the way. It's incredible how it's changed in, what, five years? … And I'd like to see more conversations about gun con­trol. … Politically it's very tricky territory, and obviously the NRA is a very powerful lobby, but I remember a 3- or 4-year-old getting their hands on a gun and shooting their mother and I don't understand how guns could even be anywhere near a child. It's just insane.
She's A "Game Of Thrones" Watcher
Oh, Homeland, Game of Thrones, which has just set the bar so high for everybody. I wonder how much one of those episodes costs! The costumes are so good. But I don't watch Mad Men. I can see that it's wonderful, but it's so depressing. Or House of Cards. Everyone is so evil!
She's No Social-Media Maven
Look, social media has changed the way we look at everything, and I think it's amaz­ing and incredible and fascinating. Obvi­ously, there's a voyeuristic quality to it, but I also think it's quite human and it's a way of sharing and talking and, you know, maybe it's a little bit less about talking on the phone and more about sharing your life through social media, and I don't criticize it at all, Amy. I think it's fascinating and fantastic and wonderful, and I think it's another way of keeping in touch, and it would be ridicu­lous to not embrace it. It's just not person­ally something that I choose to do.
She Doesn't Think Of Herself As An Icon
I don't think of myself in that way. I get up every morning, Amy, and I, you know, work out, I go to work, I try to do the best job I possibly can, whether it's for Condé Nast or for the museum or anything else that I might be involved in, but you know, I'm not thinking, I'm an icon.
In The Internet Age, Wintour Thinks Print Must Distinguish Itself
One of the things that I've started is that I ask various CEOs from different companies to come in and talk to the editors-in-chief and the digital directors about where they see media going and for any advice they can give us. About three or four months ago, Eric Schmidt came in and he asked me whether the company still believed in doing Annie Leibovitz–type portfolios, and I said, 'Well, I think that it's very important to make the print publications even more luxurious and even more special just to differentiate us from everything else that's out there.' Print publications have to be as luxurious an experience as possible. You have to feel it coming off the page. You have to see photographs and pieces that you couldn't possibly see anywhere else.
Calling all HuffPost superfans!
Sign up for membership to become a founding member and help shape HuffPost's next chapter